February 2019
Akshar was awarded the 2nd Prize for the ILEADOSCOPE Film Making Competition.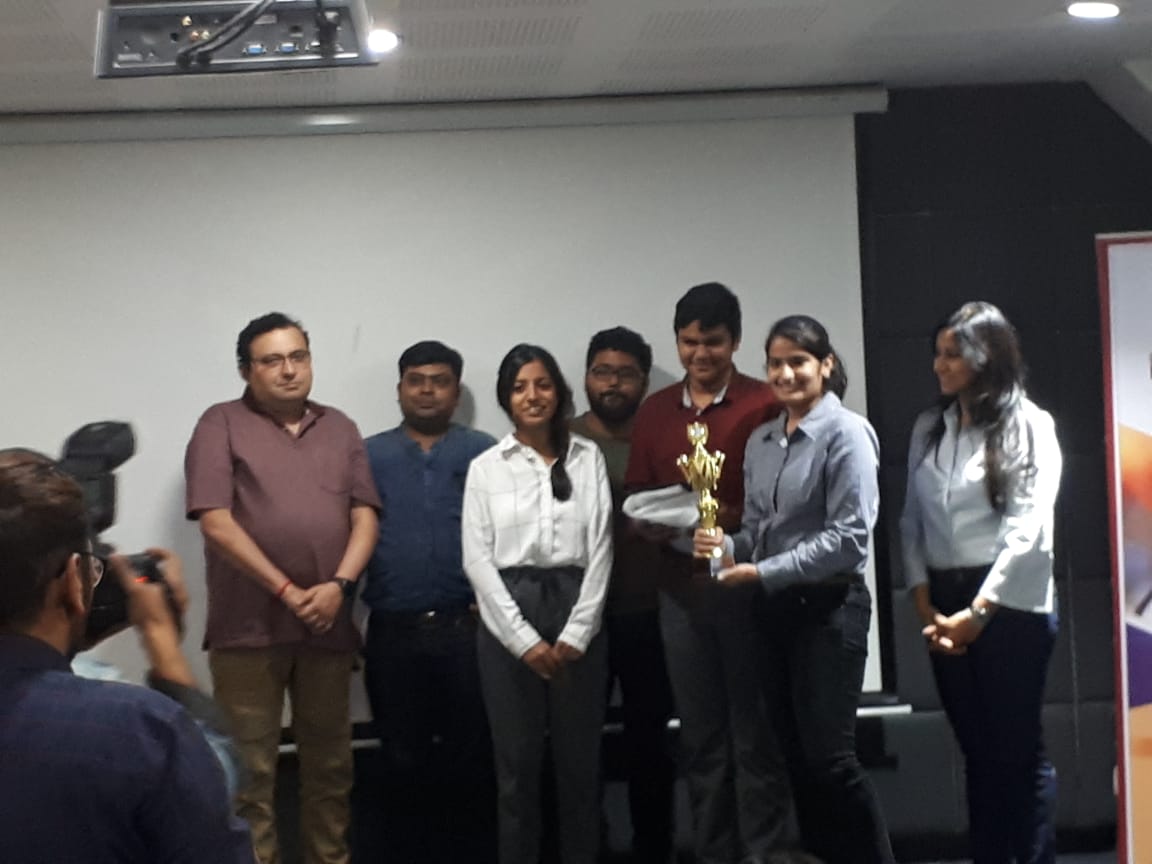 See Image
Akshar participated in 'Heartnote' Celebrate Love In The Language of Music at The Heritage School on the 23rd of February,2019.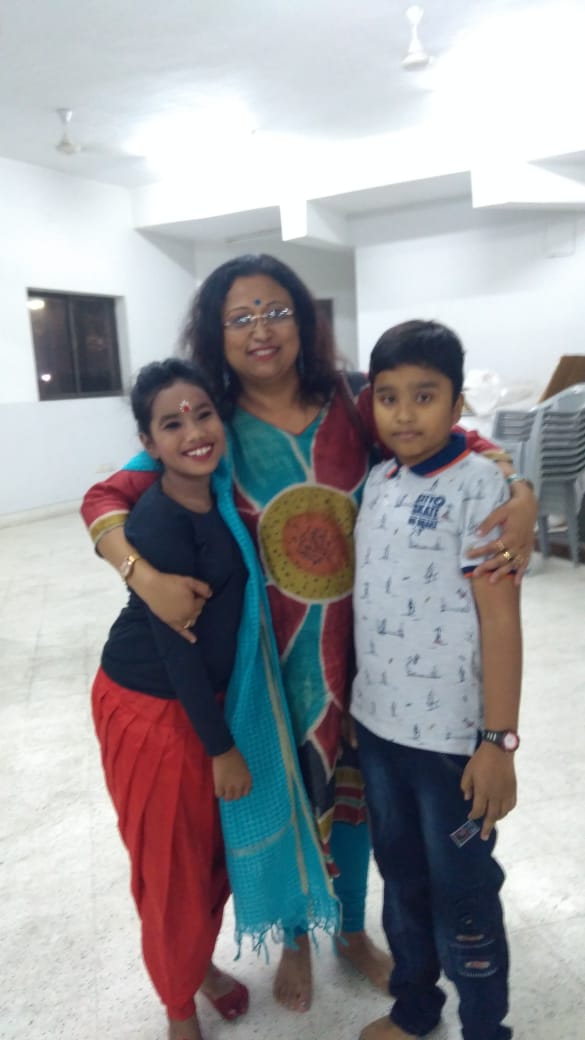 The students of Class XI attended the NUJS Legal Study Workshop on the 23rd of February,2019.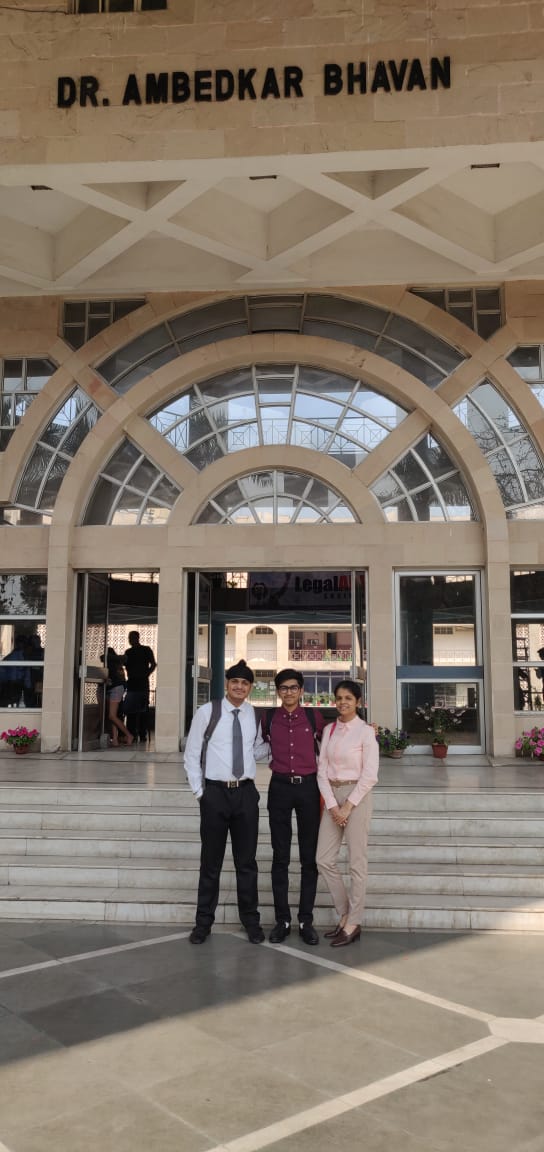 Little Akshar celebrated Productivity Week at BITM.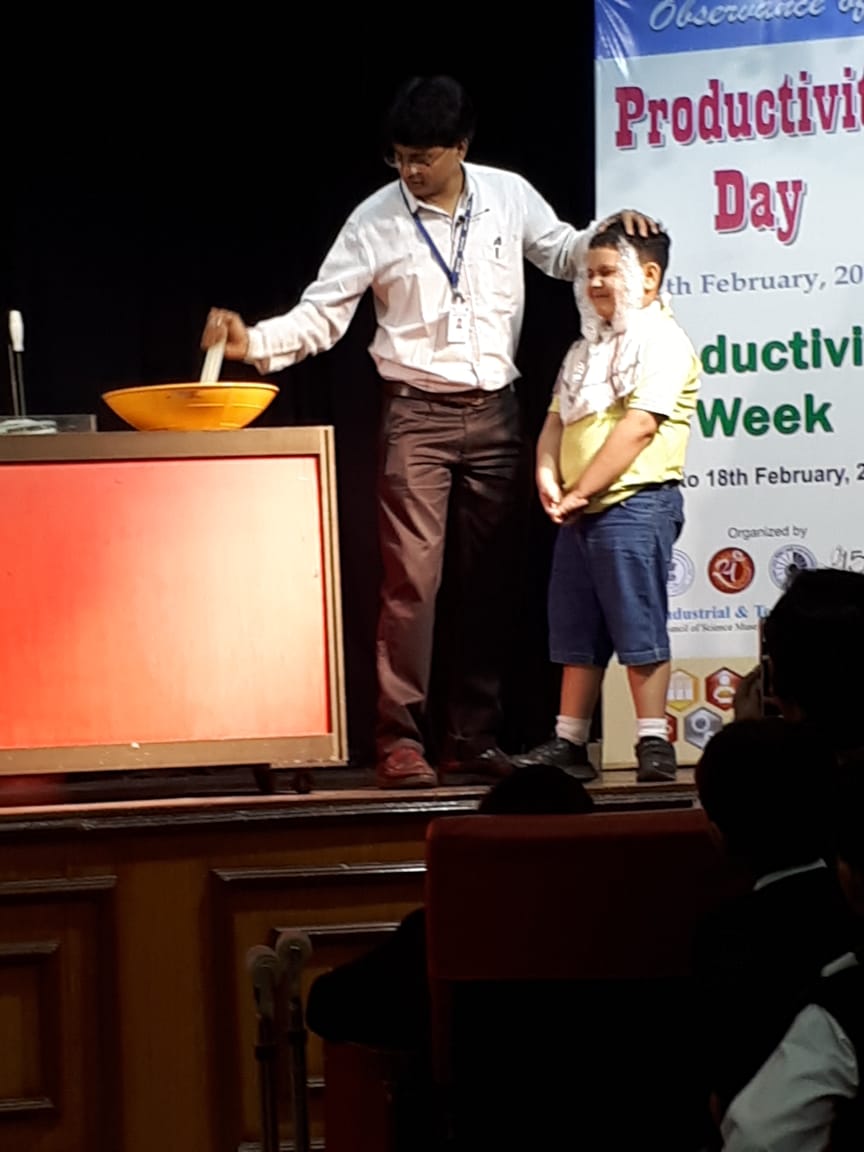 See Image
Akshar participated in the Inter School Games Meet at Sushila Birla Girls School.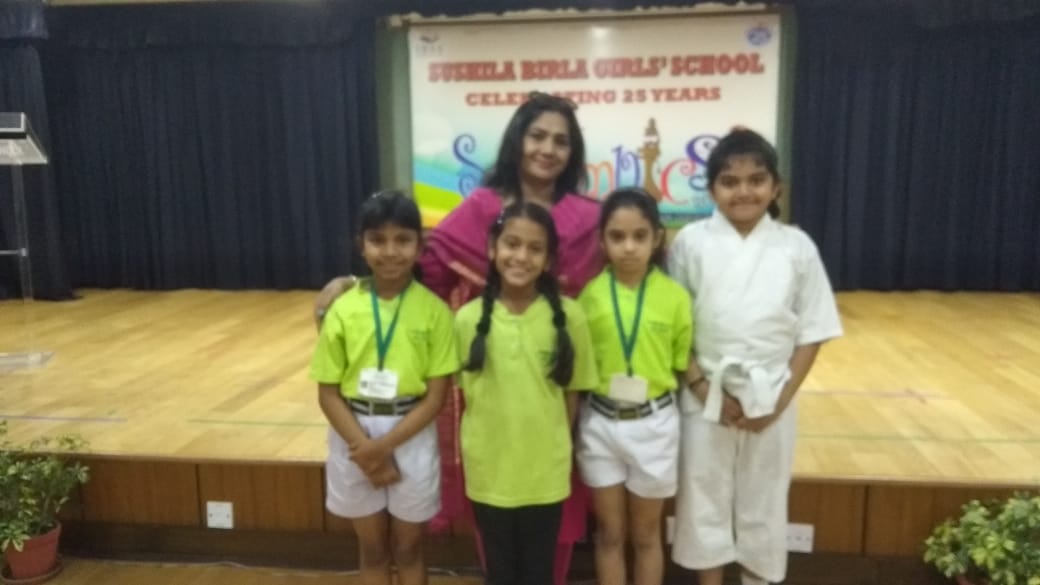 See Image
Magic Show by Sumit Sir in UKG.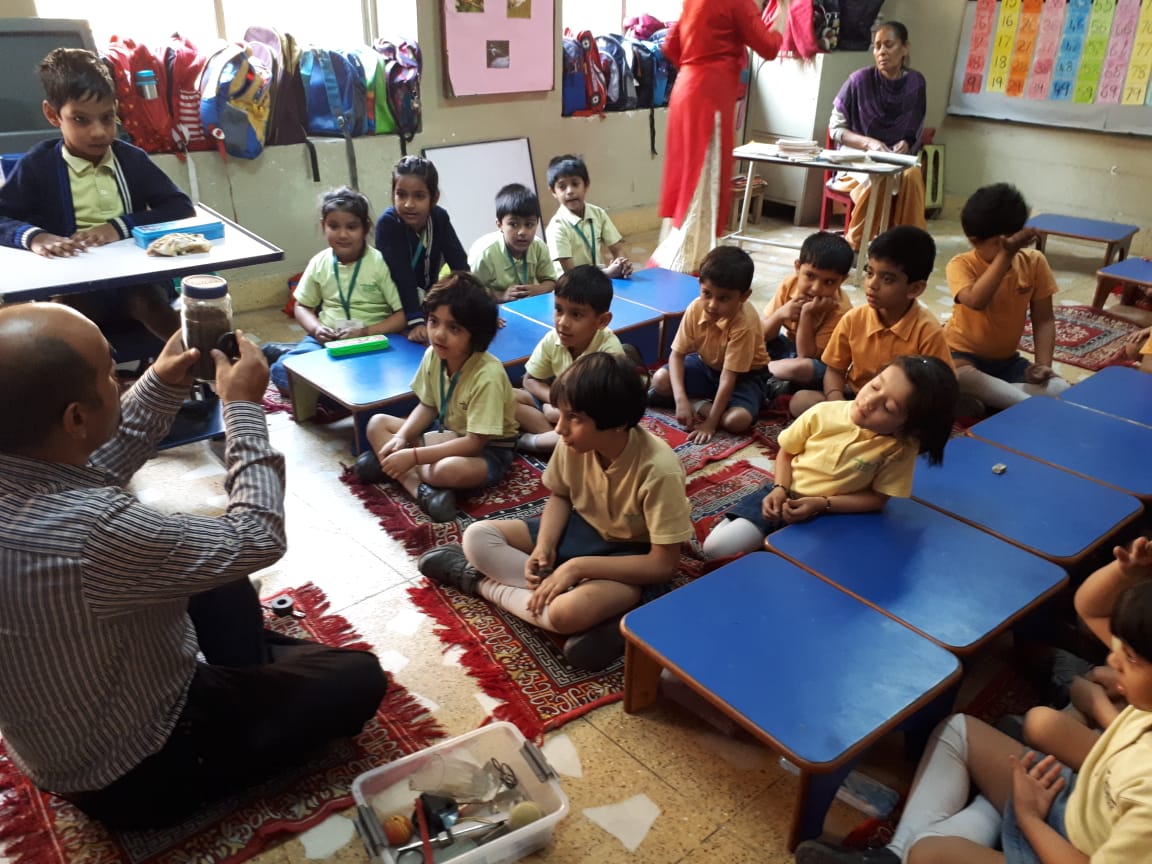 A prestigious award for our school Akshar.
Hall of Fame Awards 2019.
ECA Award 2019 for our contribution towards INCLUSIVE EDUCATION.
Early Ed Asia's Biggest Early Childhood Conference- 2019, Jaipur.
Hosted by Princess Diya Kumari at 'The City Palace', in the presence of Maharaja Lakshyaraj Singh Mewar of Udaipur.
It was really a proud moment for Akshar!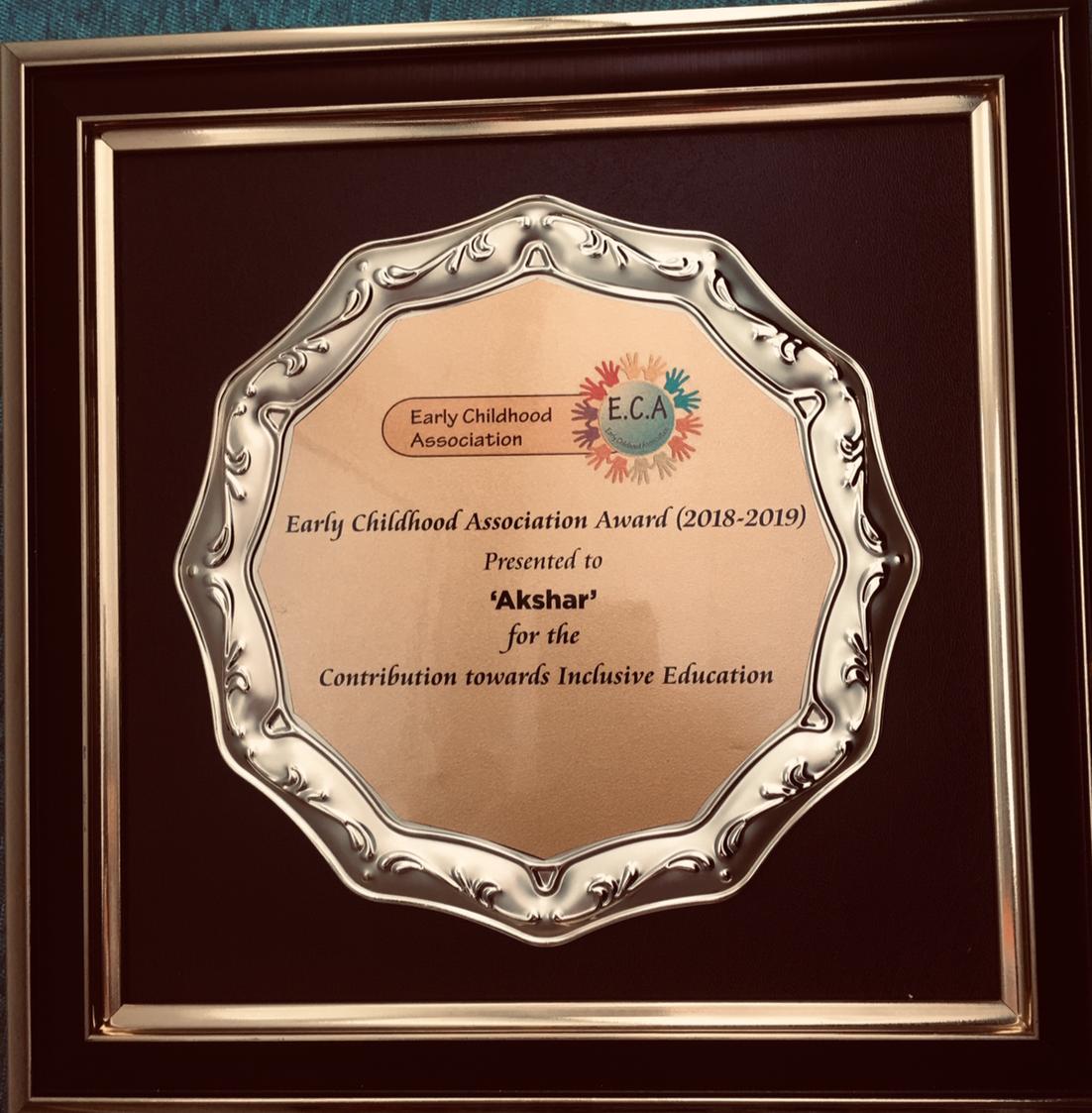 See Image
On 2nd February,2018, Kinnjal Daga of Class V won the First Prize in the Inter School Art Competition at The Future Foundation School.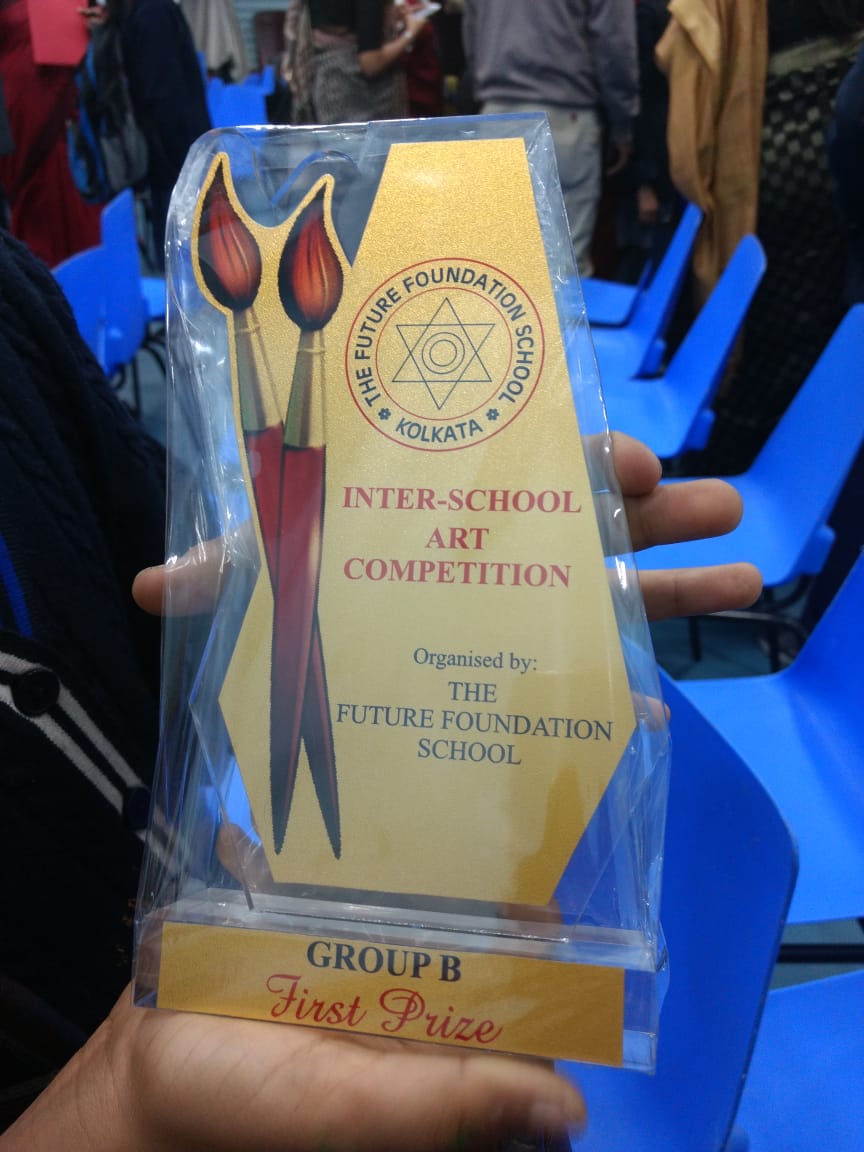 See Image
January 2019
The students of Class III, IV and V participated in the Literary Fest at Mahadevi Birla World Academy on 30th January,2019. They won the third prize in Quiz-'Racism' and Hindi Creative Writing-'Bunkar'.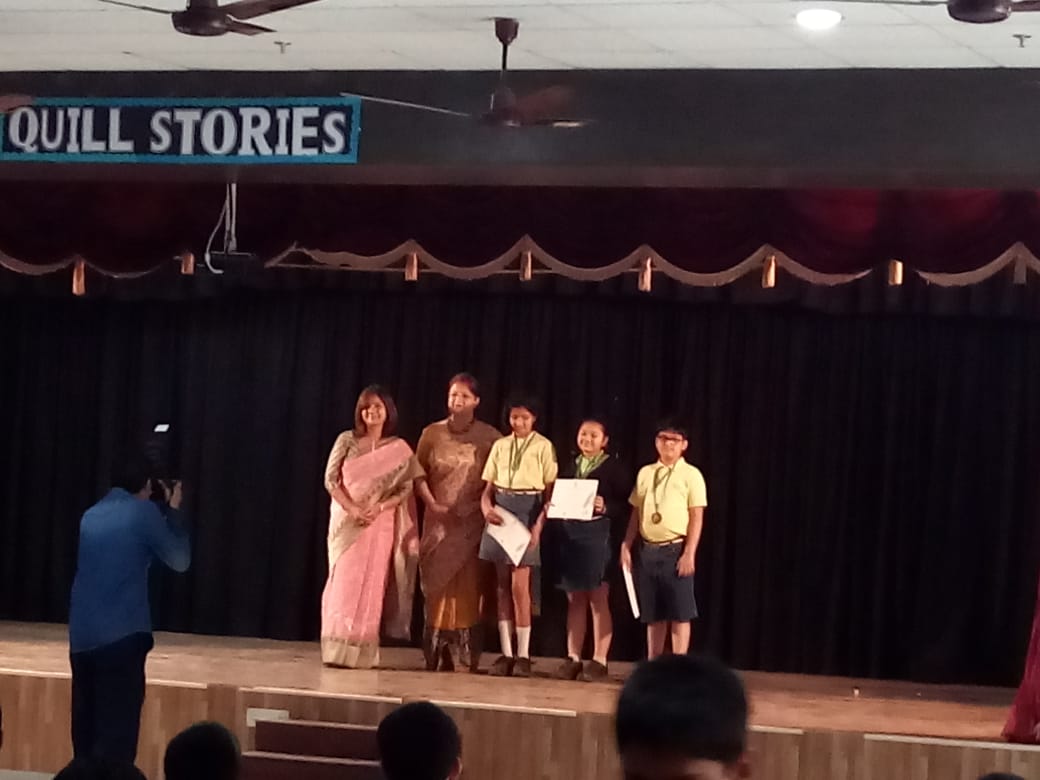 See Image
The bulbuls and guides participated in Symphony and Expressions organised by The South Calcutta Bharat Scouts and Guides District Association on 23rd January,2018. The girls bagged prizes for JAM (1st prize), EMBROIDERY (2nd prize), SNACK AND DRINK (3rd prize), CARD MAKING (3rd prize), EDIBLE ART (1st prize) and JEWELLERY MAKING (2nd prize).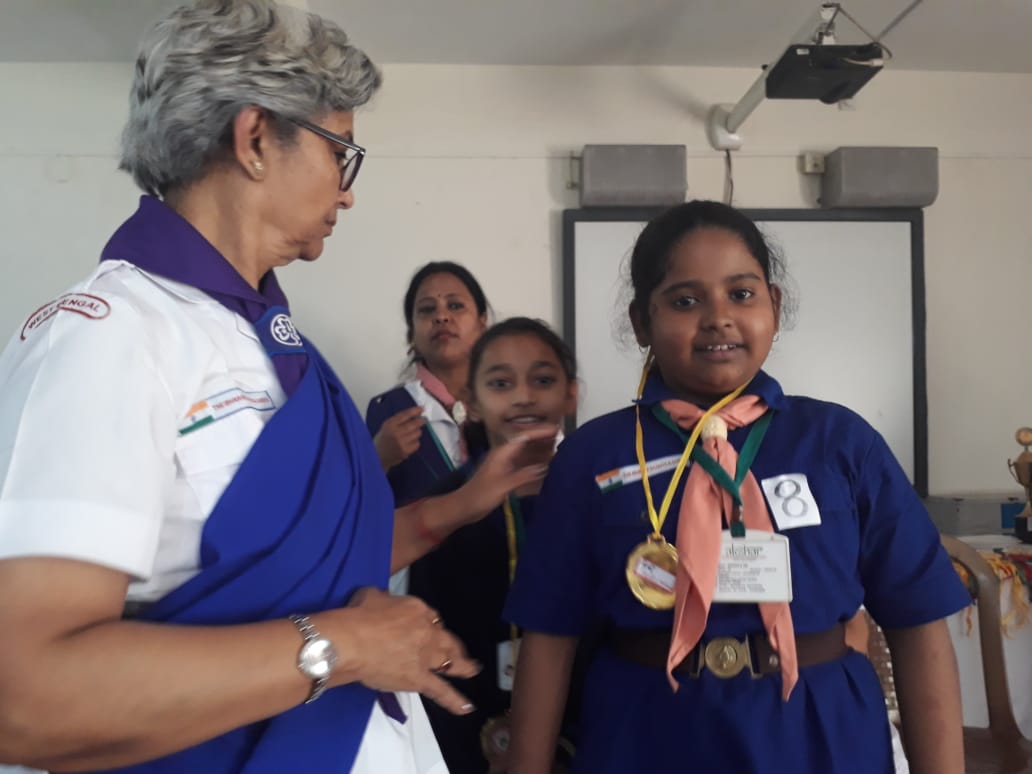 See Image
On the 20th of January,2019 Shrut Gupta (Class XI) and Anjanay Gupta (Class VIII) stood first in the 9th Howrah District Inter School Karate Championship 2019 at DPS Domjur Howrah.
On the 11th of January 2019, Dhruva Dhar and Simran Sikand stood first in 'Recycling Rubbish' and 'Gems and Treasures' respectively at the Quest Floral Fantasy- A Grand Floral Extravaganza.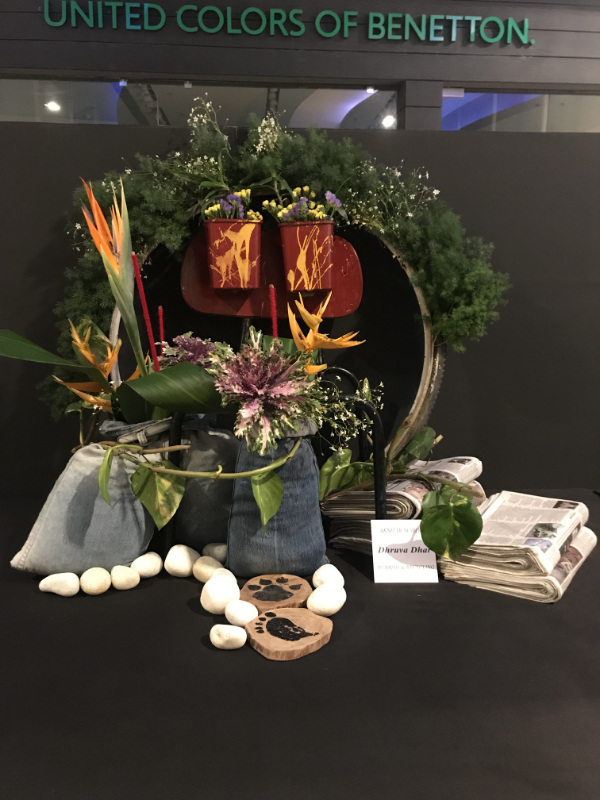 See Image
December 2018
Celebrating Christmas!!!!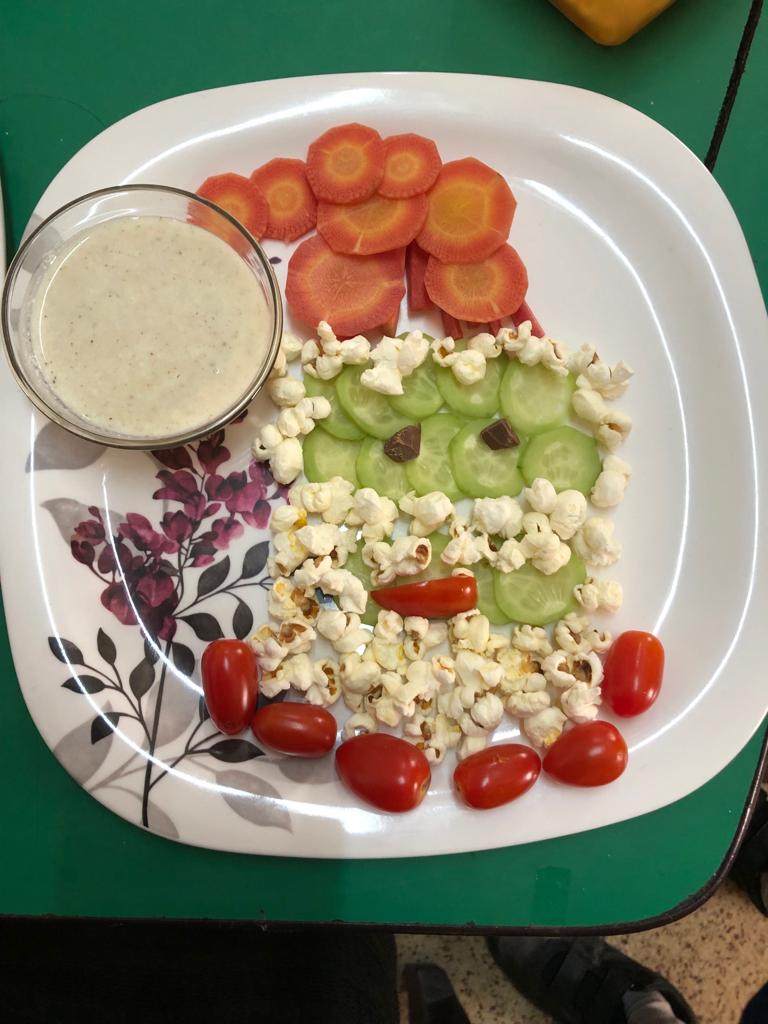 See Image
Art Exhibition 'Artistic Living' held on 14th December, 2018.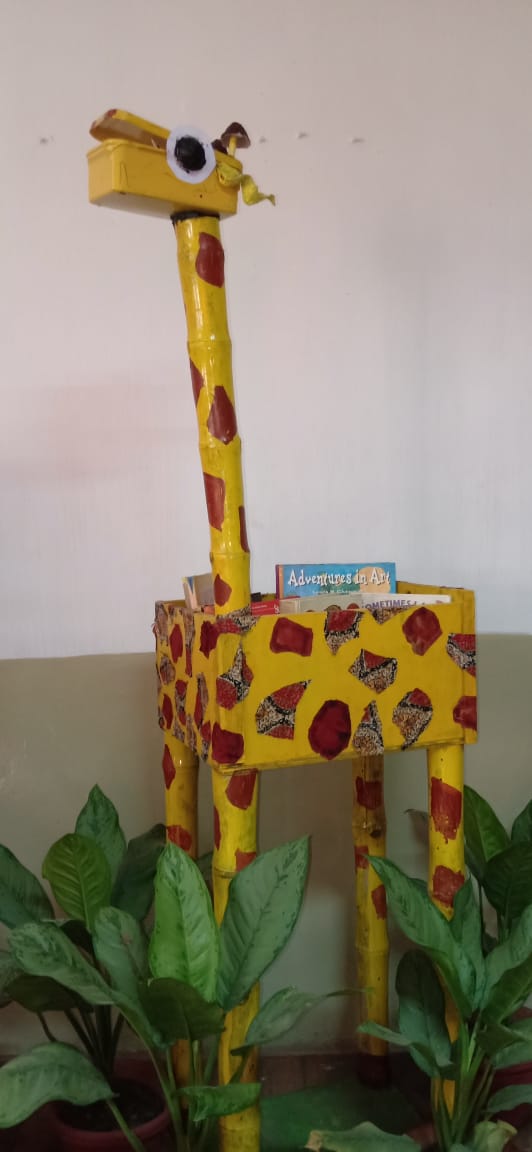 See Image
Senior School Sports Day (8.12.2018)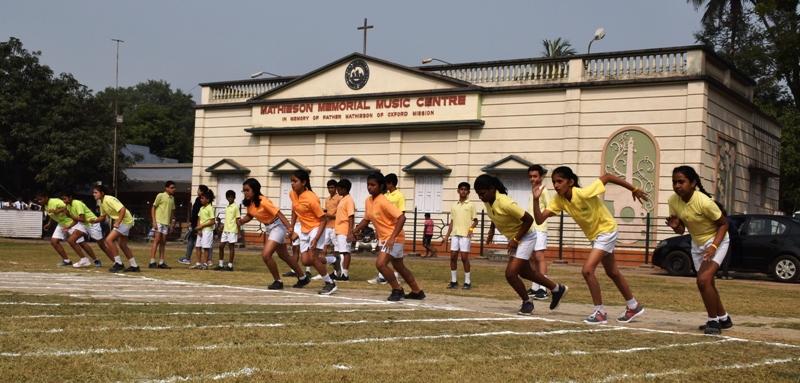 See Image
Celebrating World Disability Day at IIHM on 4th December, 2018.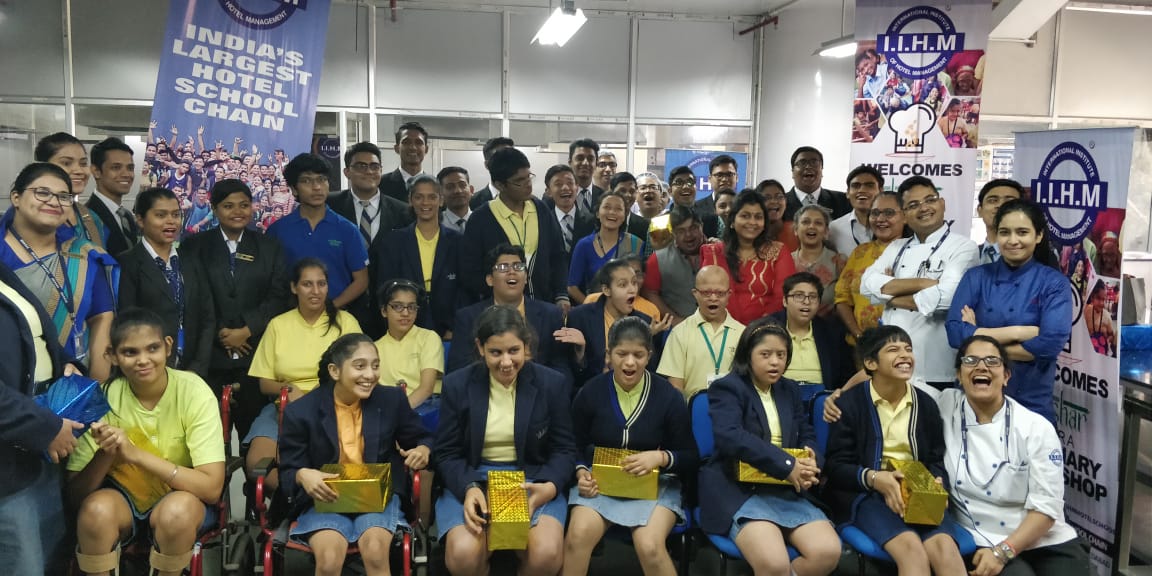 Celebrating World Disability Day (3.12.2018) in school.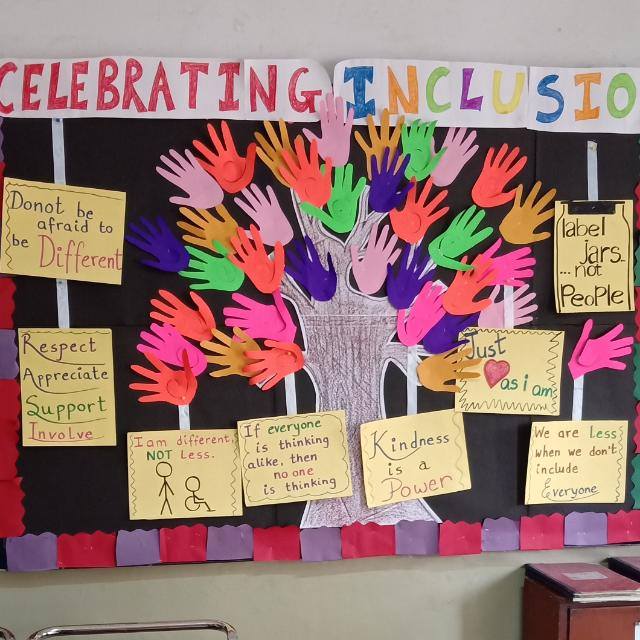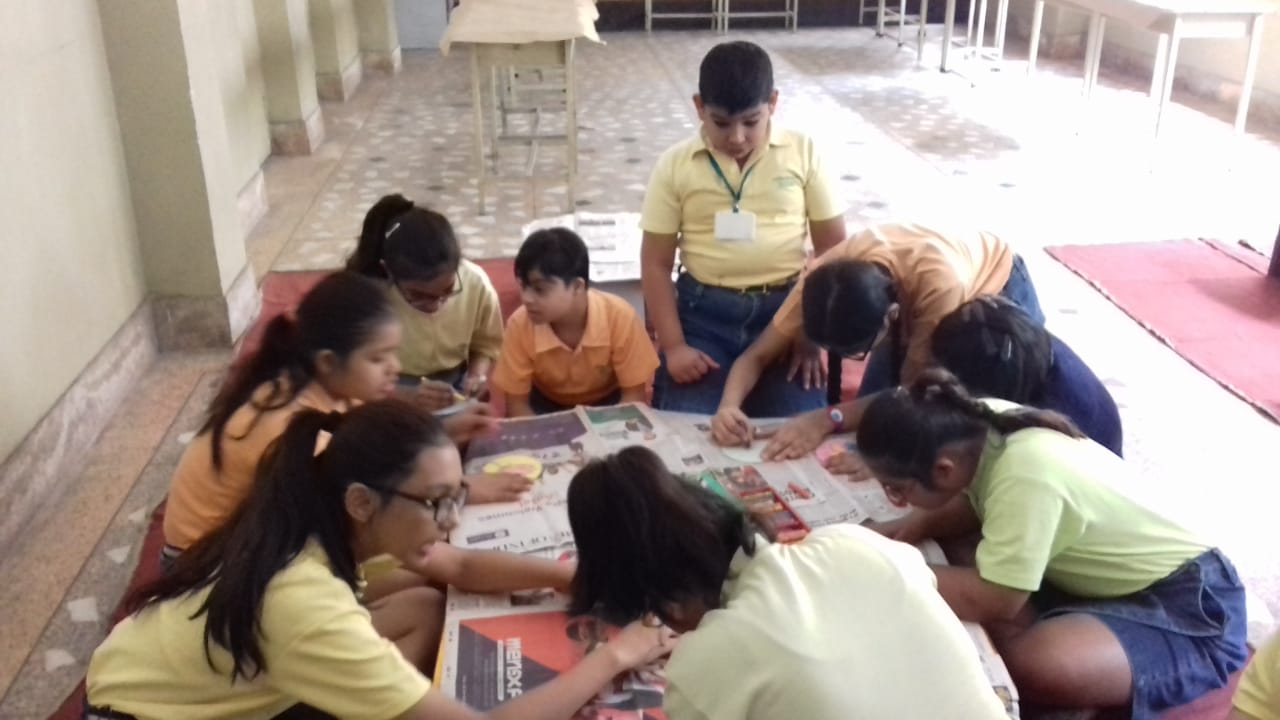 November 2018
Scouts and Guides Camp to Purulia.
The students of many schools participated in the workshop 'Ek Mutthi- A Fistful of Clay' at The Harrington Street Arts Centre, conducted by Pune based ceramic artist Ruby Jhunjhunwala.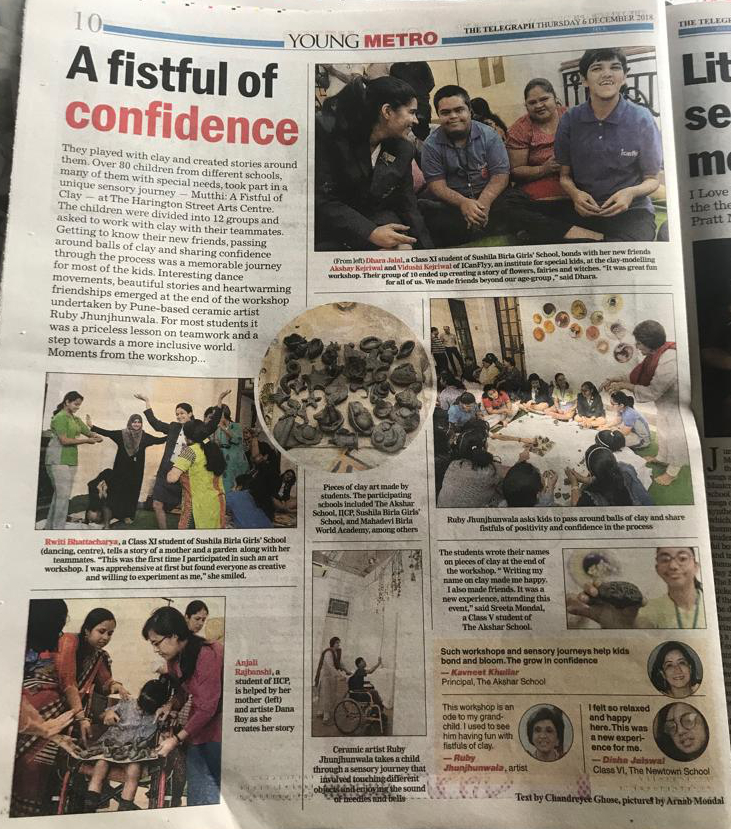 See Image
Akshar participated in the ICSE Jubilee Marathon on 4th November, 2018.
Akshar participated in the Diamond Jubilee Marathon Race, presented by the Council for the Indian School Certificate Examinations in association with The Telegraph Young Metro.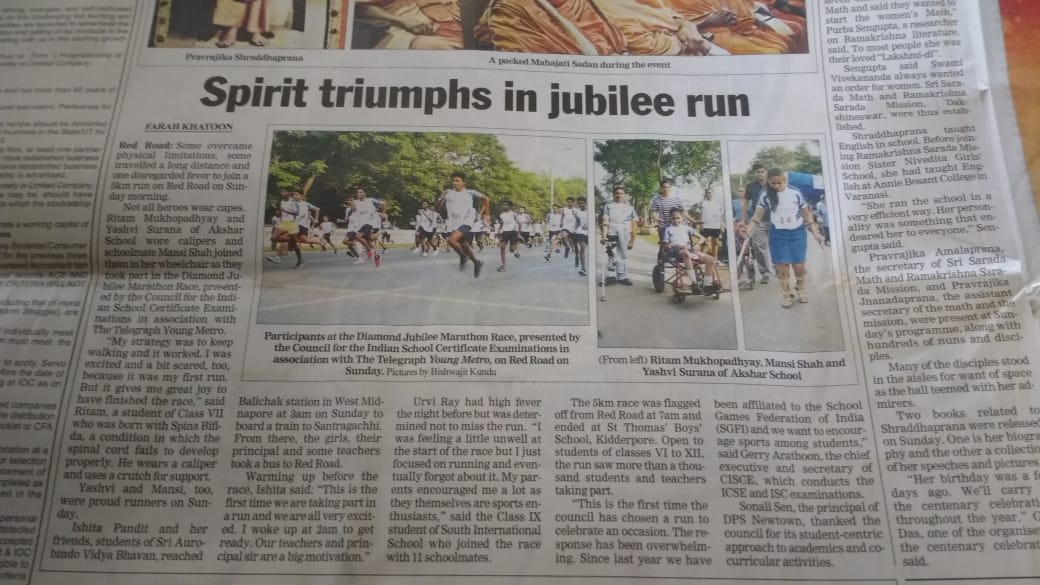 See Image
The students of Class XI and XII participated in the Commerce Fest -'THE DALAL STREET' at La Martiniere for Boys, Kolkata.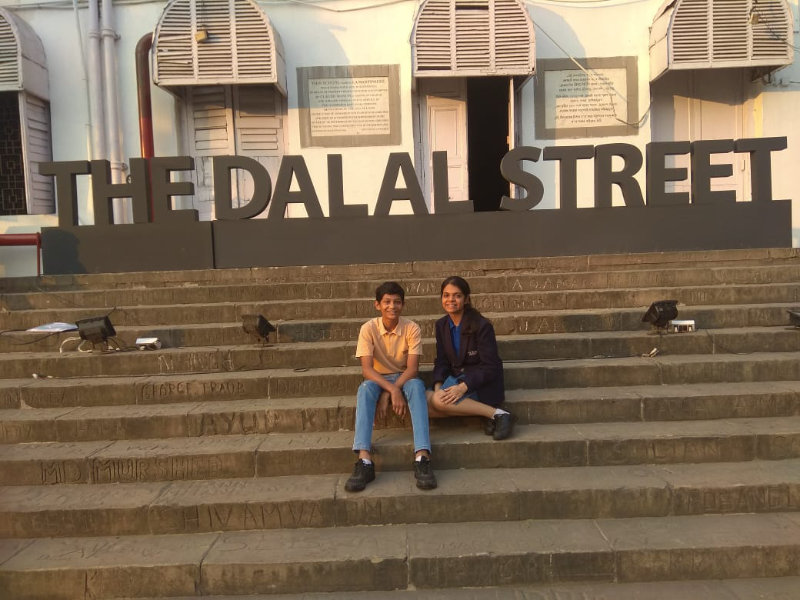 Anjanay Gupta of Class VIII won 6 medals in The Future Foundation Karate Competition.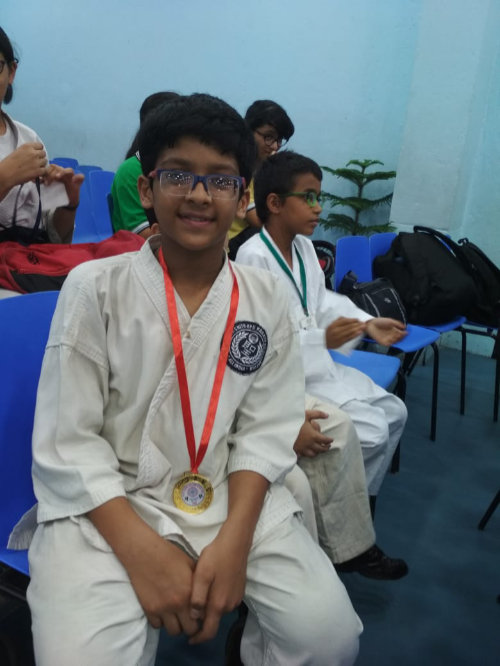 October 2018
Inter House Quiz Competition.(Classes III, IV and V)
Winner- Yellow House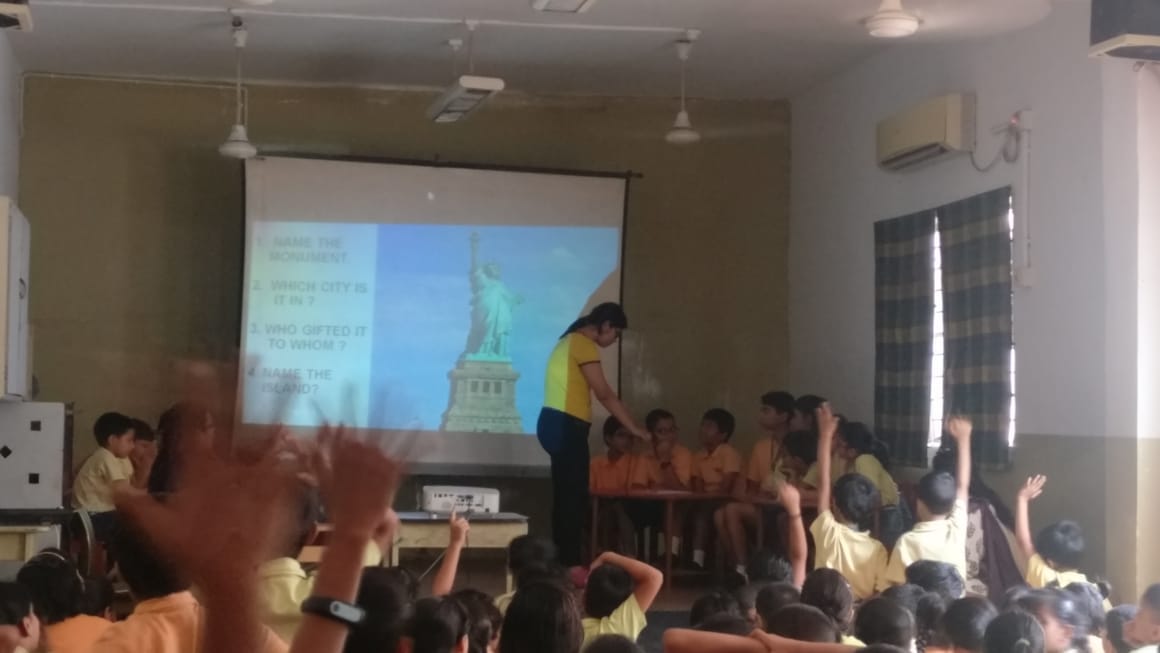 See Image
September 2018
Letter Writing Activity- Class V
Akshar participated in the Inter-School Fest VIBGYOR at M.P. BIRLA FOUNDATION. We won the second prize for Slogan Writing.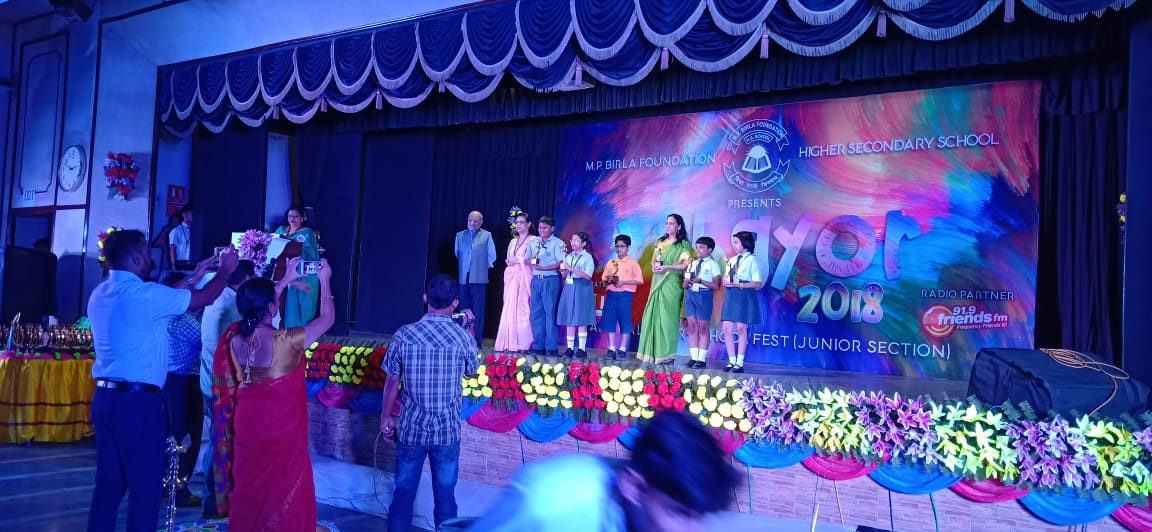 See Image
The students of Class VIII attended a popular lecture on ' Plastic Waste Inputs from Land into the Ocean' at BITM.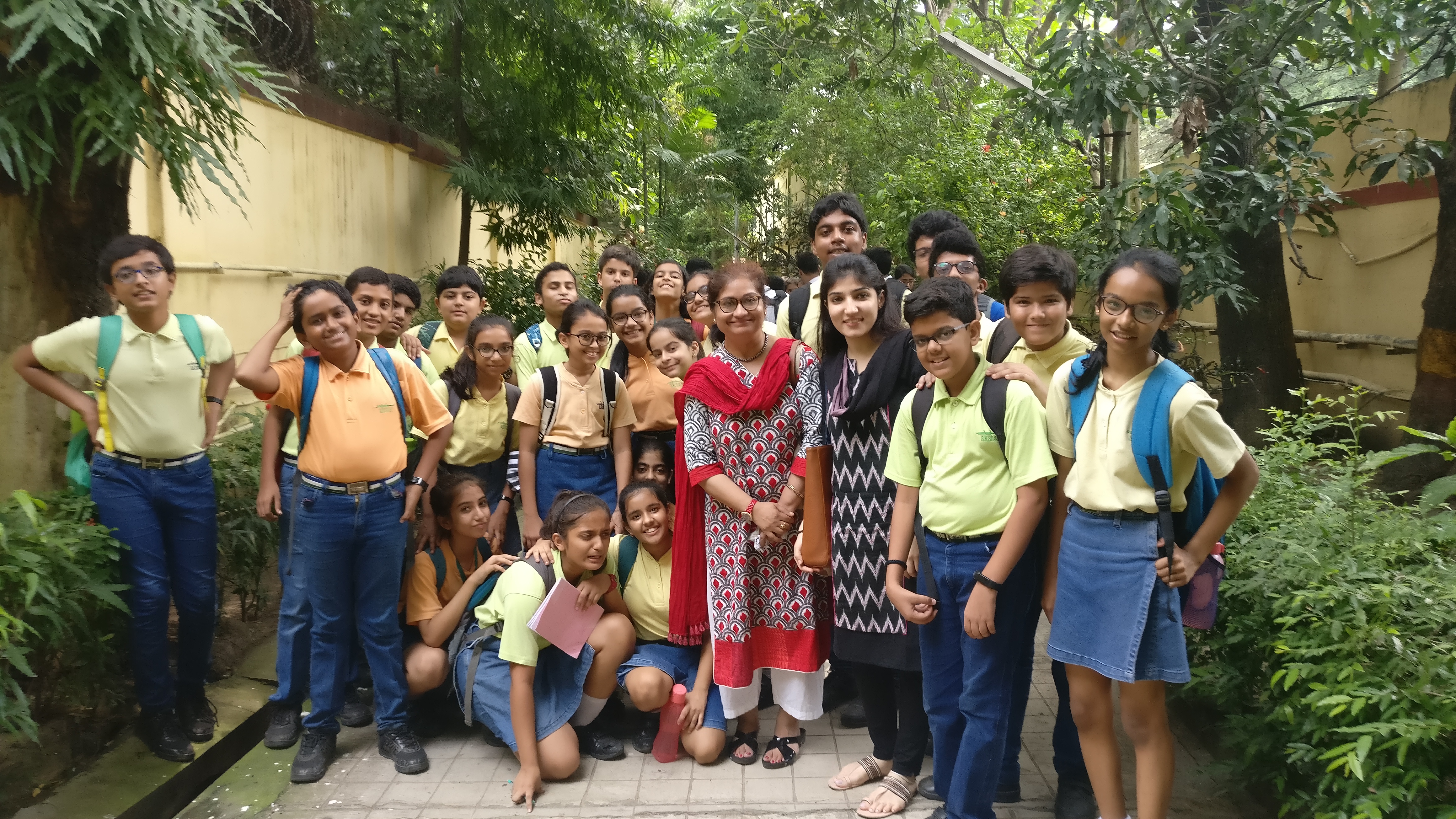 Celebrating Ganesh Chaturthi in school.
Creative Writing and Illustrations on Ganesh Chaturthi by Class II.
See Image
Creative Arts Day ( 7.9.2018)
Art Work by UKG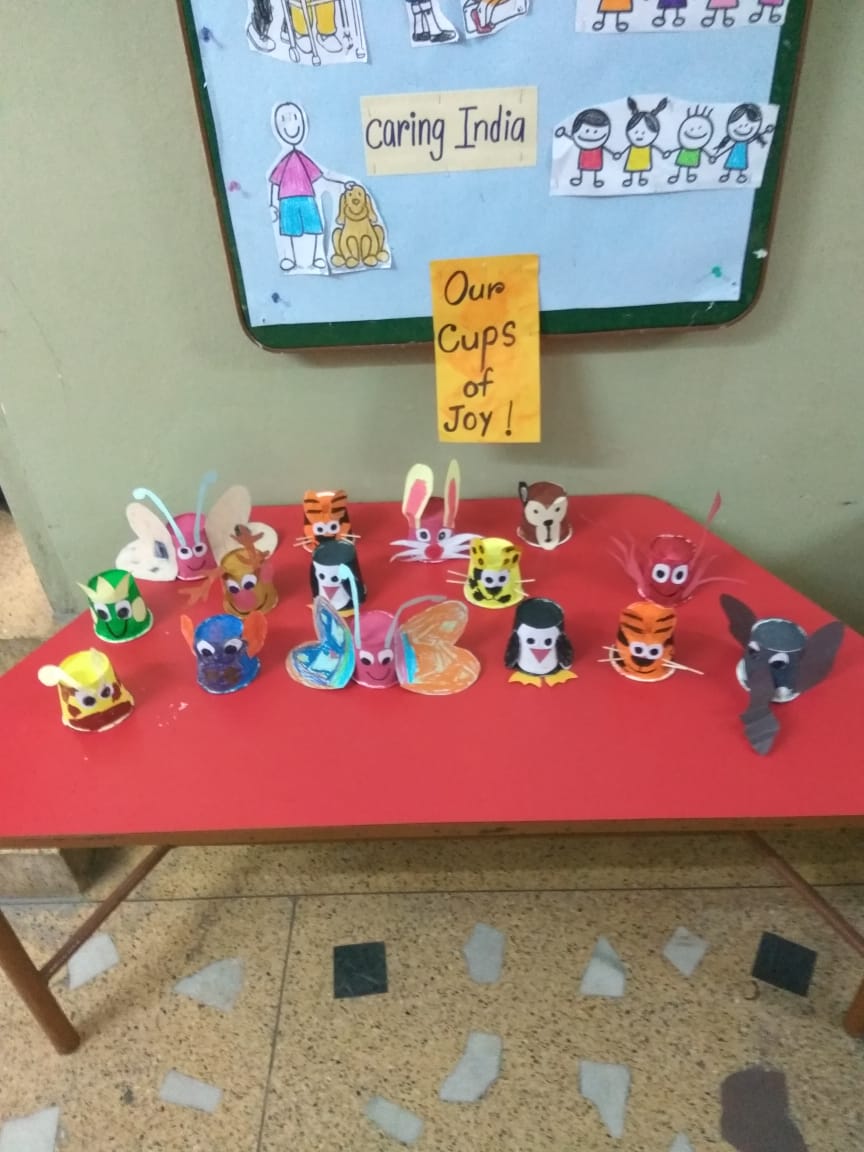 See Image
CREATIVE ARTS DAY (7.9.2018)
Art Work by LKG
CREATIVE ARTS DAY (7.9.2018)
Class III
CREATIVE ARTS DAY (7.9.2018)
Michaelangelos of Class V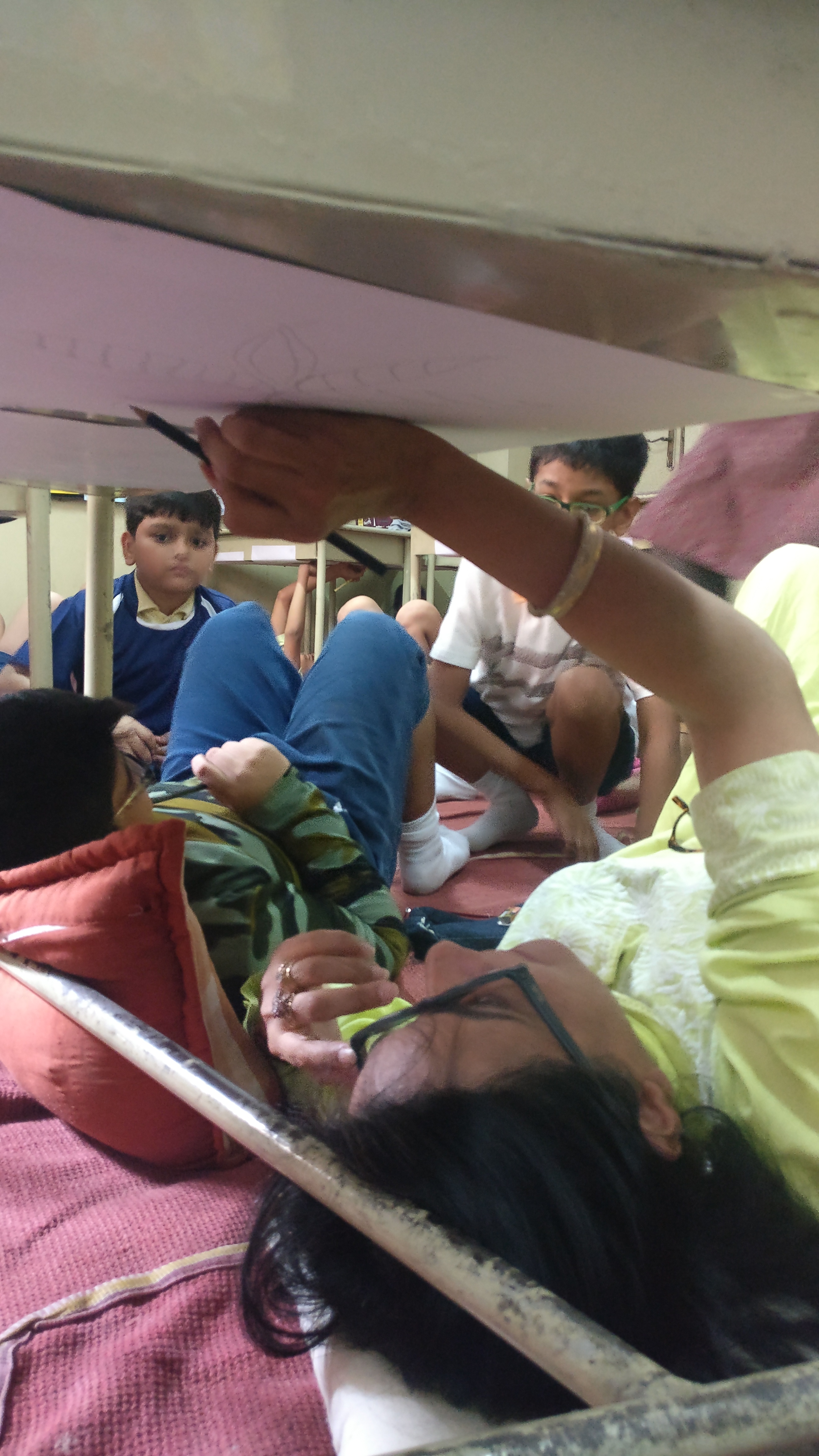 See Image
CREATIVE ARTS DAY
Art Work done by the children with Additional Needs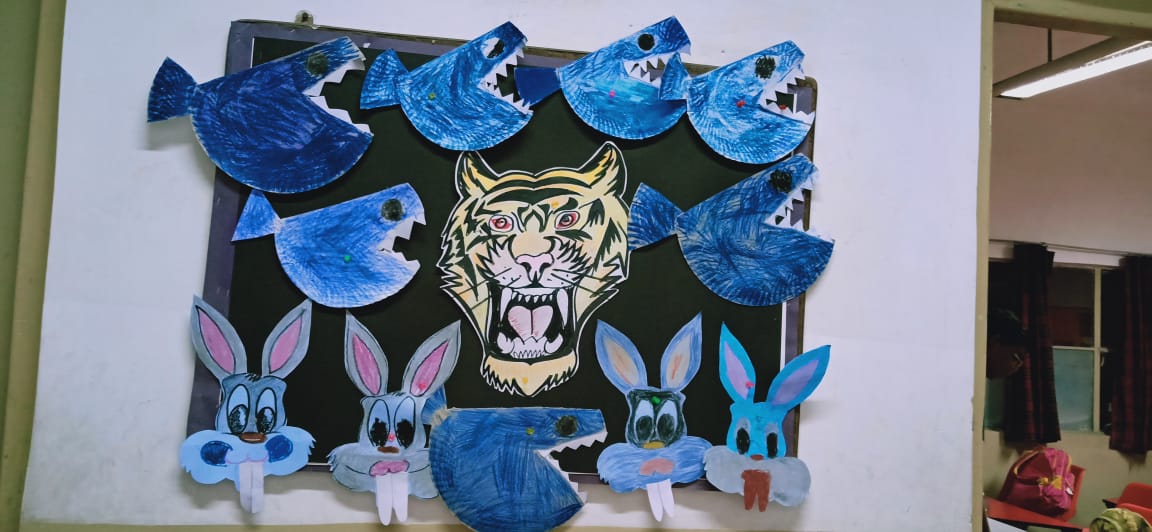 THE TELEGRAPH SCHOOL OF THE YEAR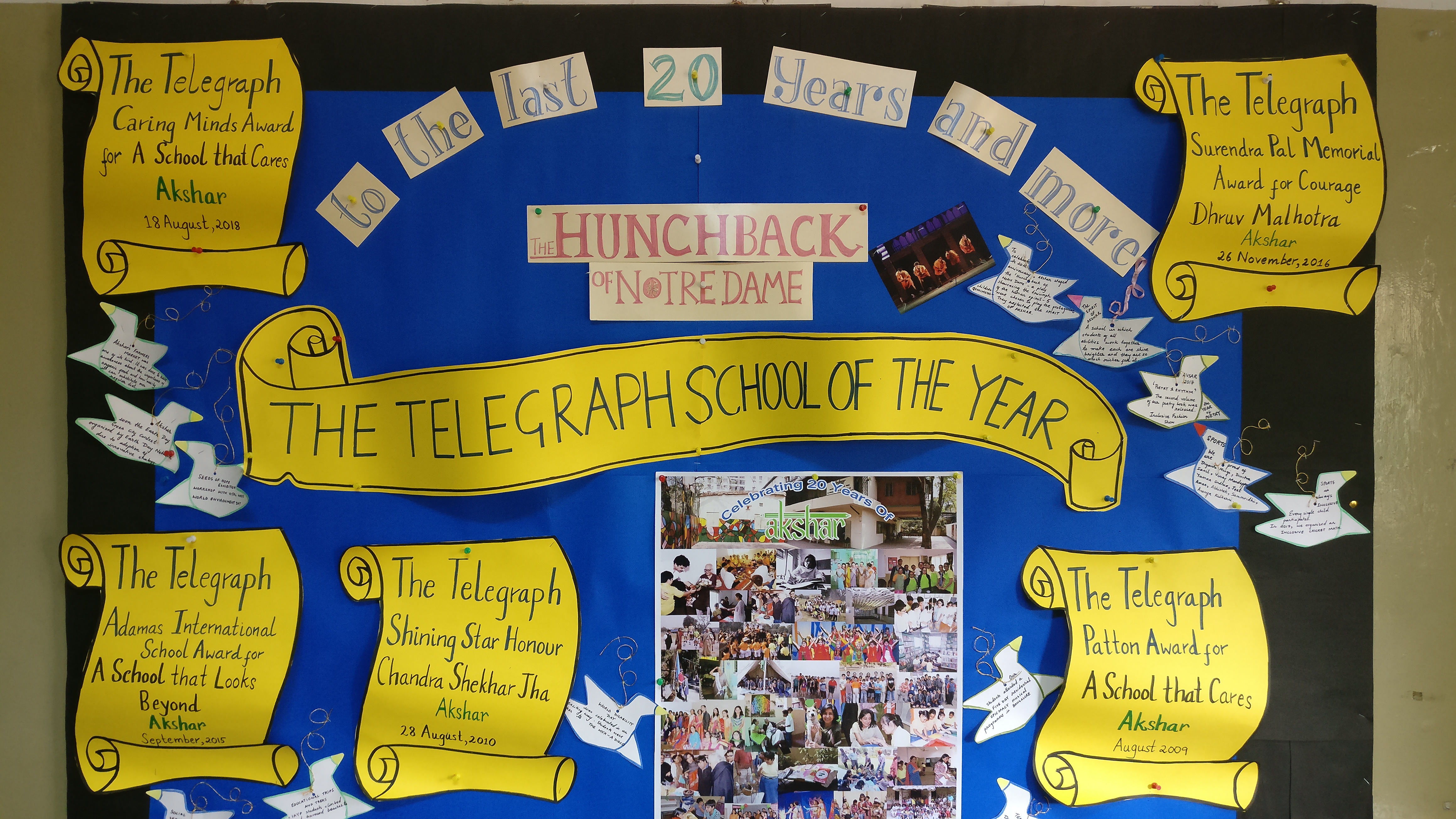 August 2018
Art Work- Foil Painting done by the children with Additional Needs.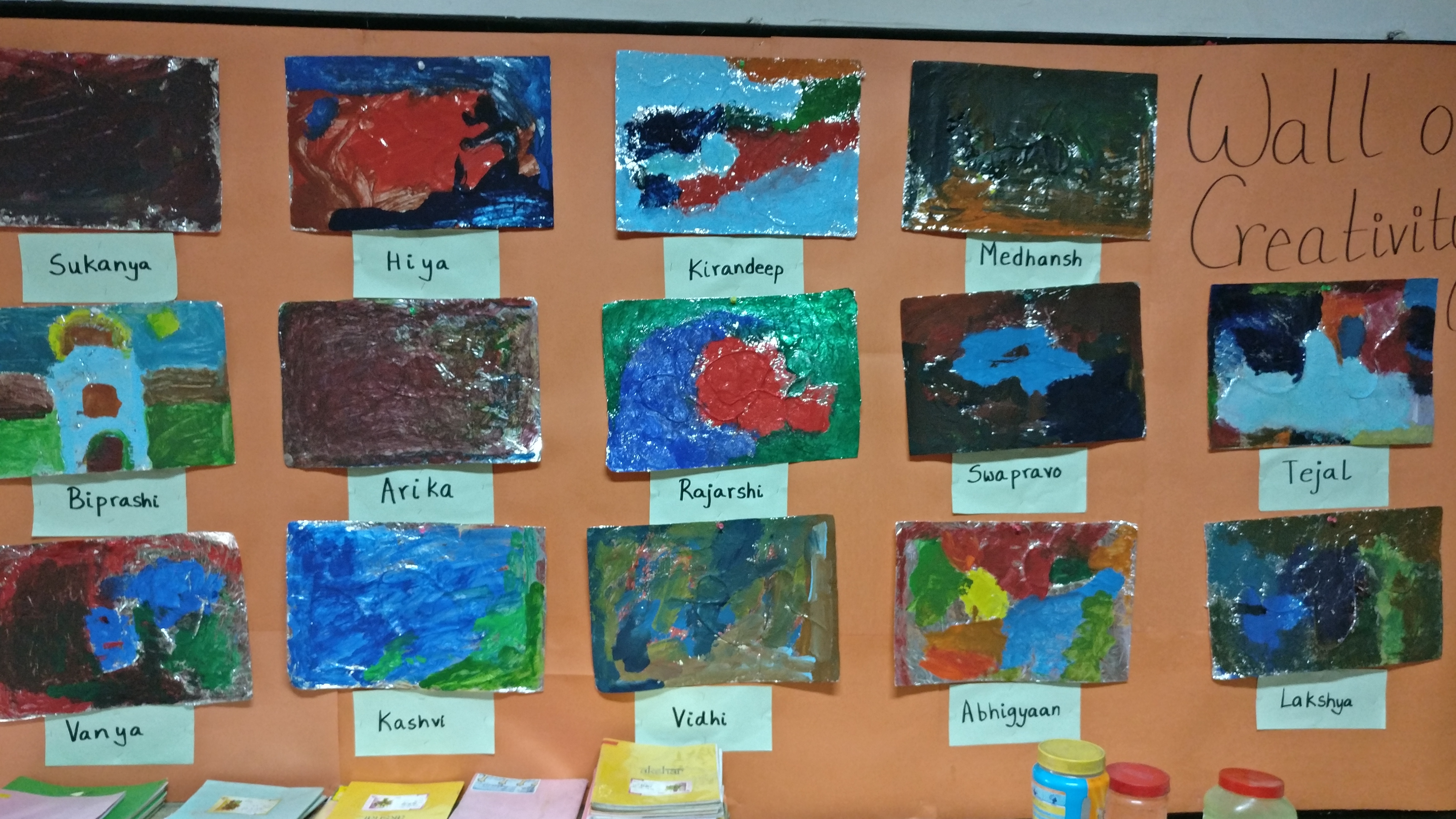 History Activity - The Chinese Civilization - Chinese Block Printing by Class VI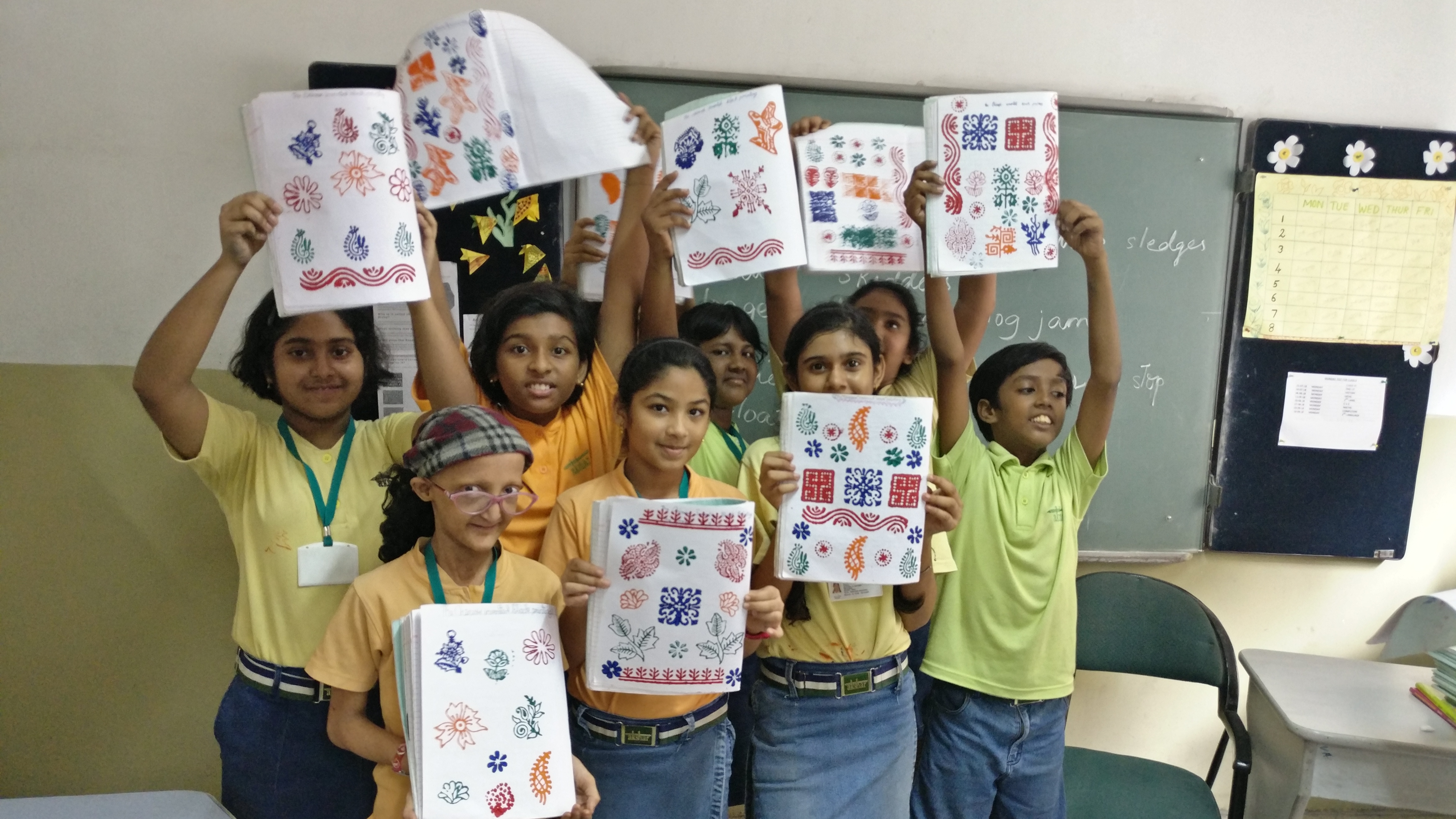 Make a Healthy Plate- Science Activity done by the children with Additional Needs.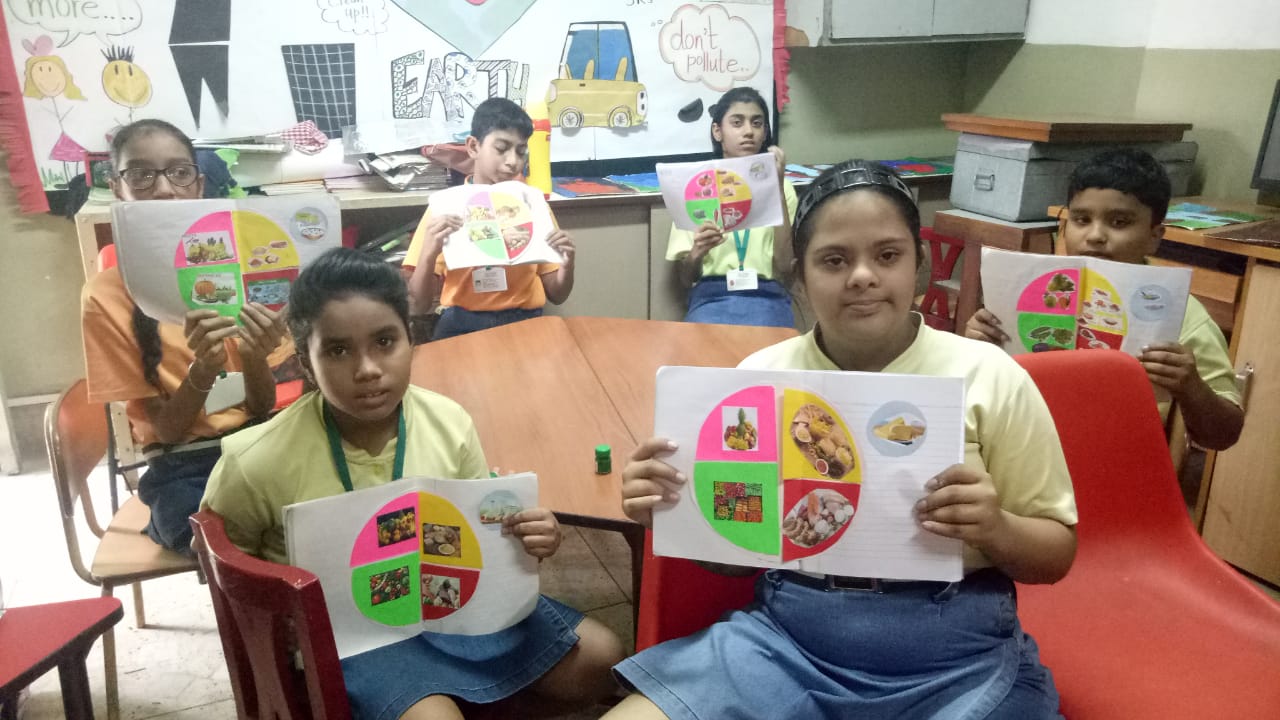 Akshar won The Telegraph School of the Year award.

See Image
Independence Day Board Display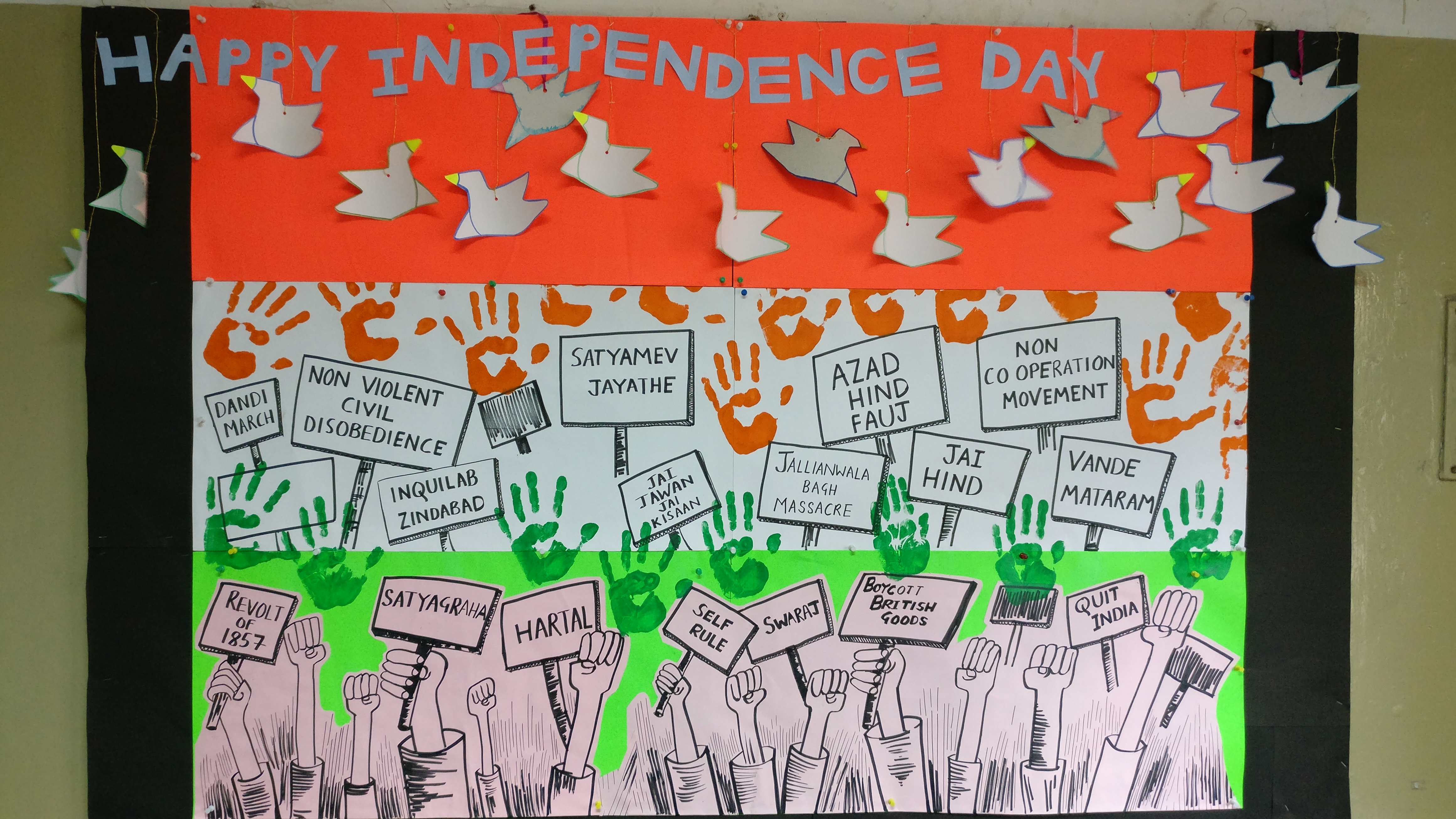 Special Assembly
The children of Class IV presented a skit on the significance of the Tricolour Flag.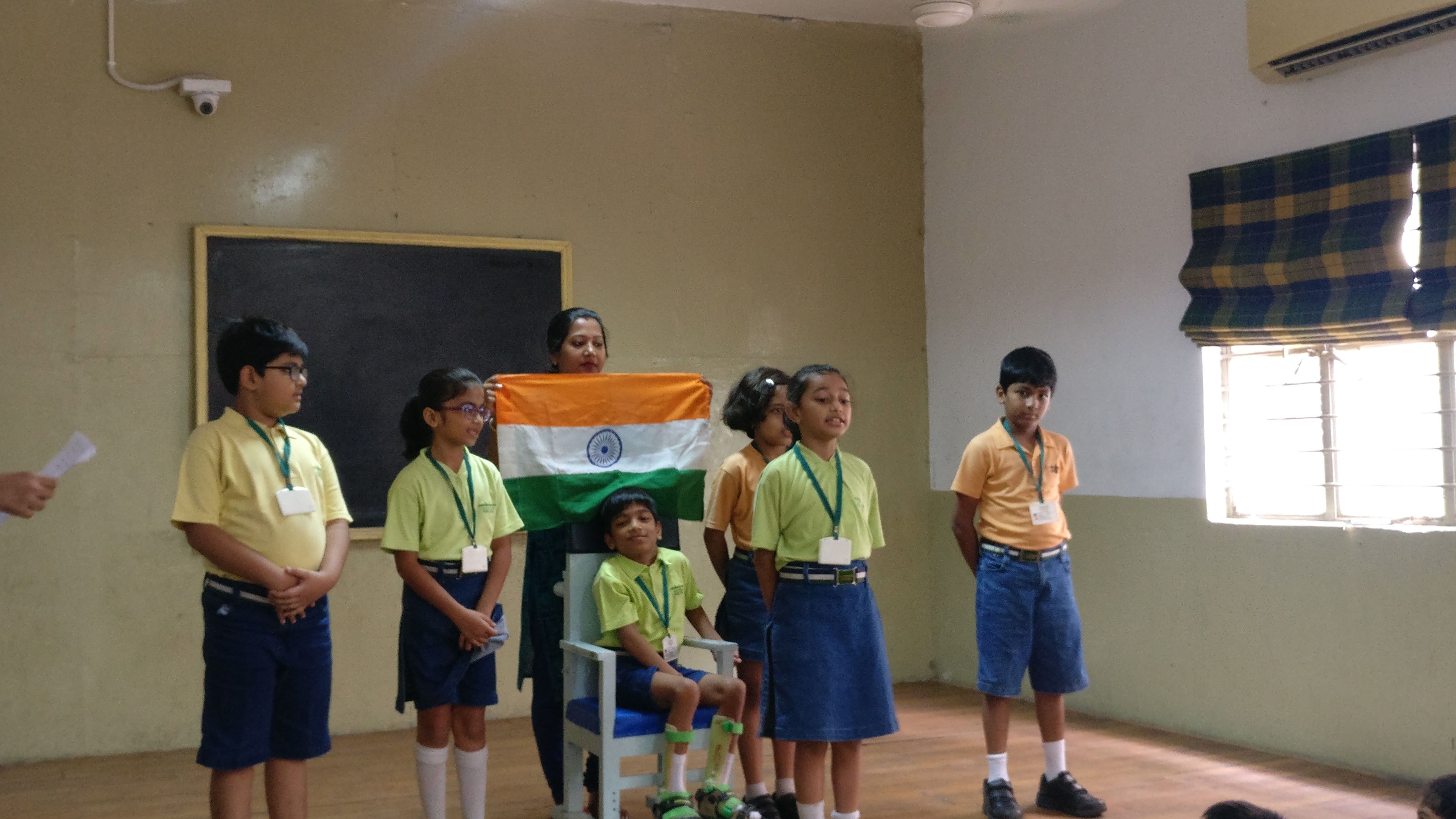 Independence Day Activity- Tricolour tiffin by the children of Class V
See Image
Akshar participated in Karma Yatra 2018. We came third in Karma Celeb, Karma Swish and Karma Market.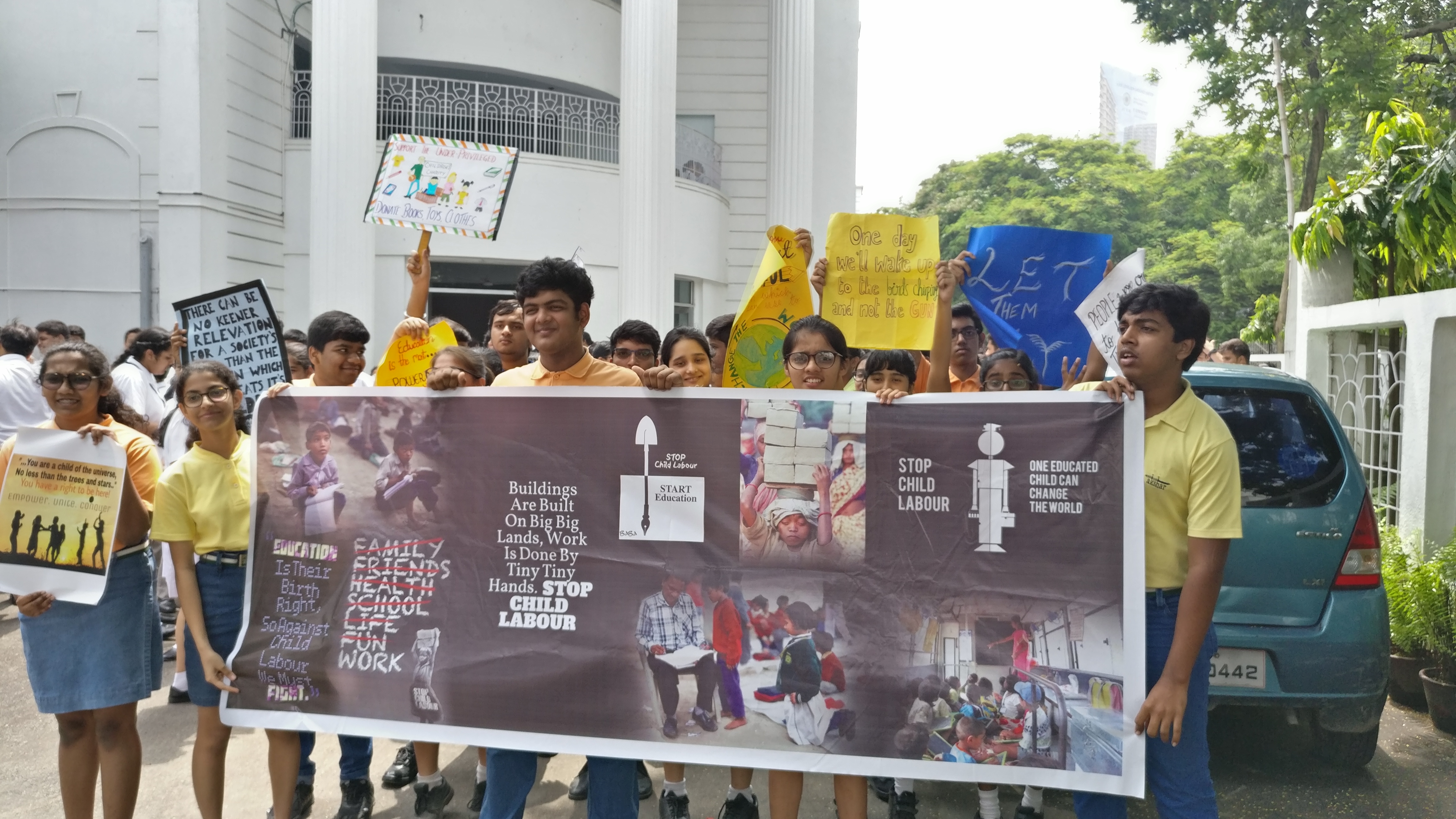 See Image
Beverage Festival by the students of Class X (Science)
'HOSPITALATTE IS OUR SPECIALITEA'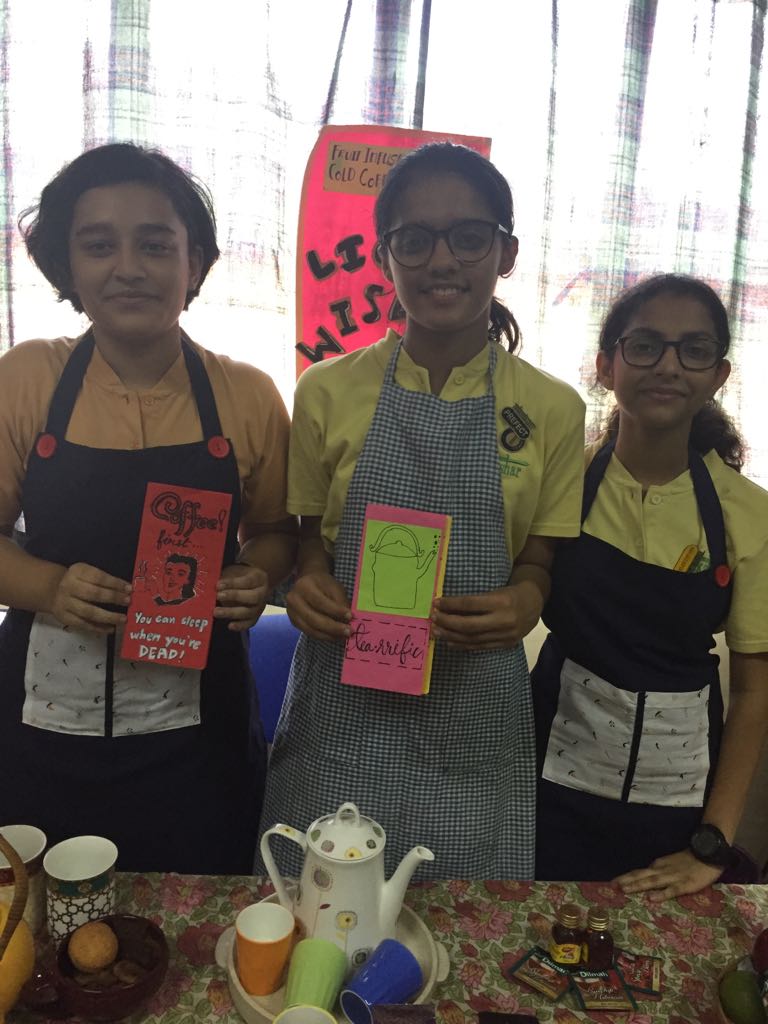 See Image
Beverage Festival by the students of Class X (Commerce)
The noteworthy presentation was PATRIO-TEA-ISM- Green, White and Haldi tea representing our flag.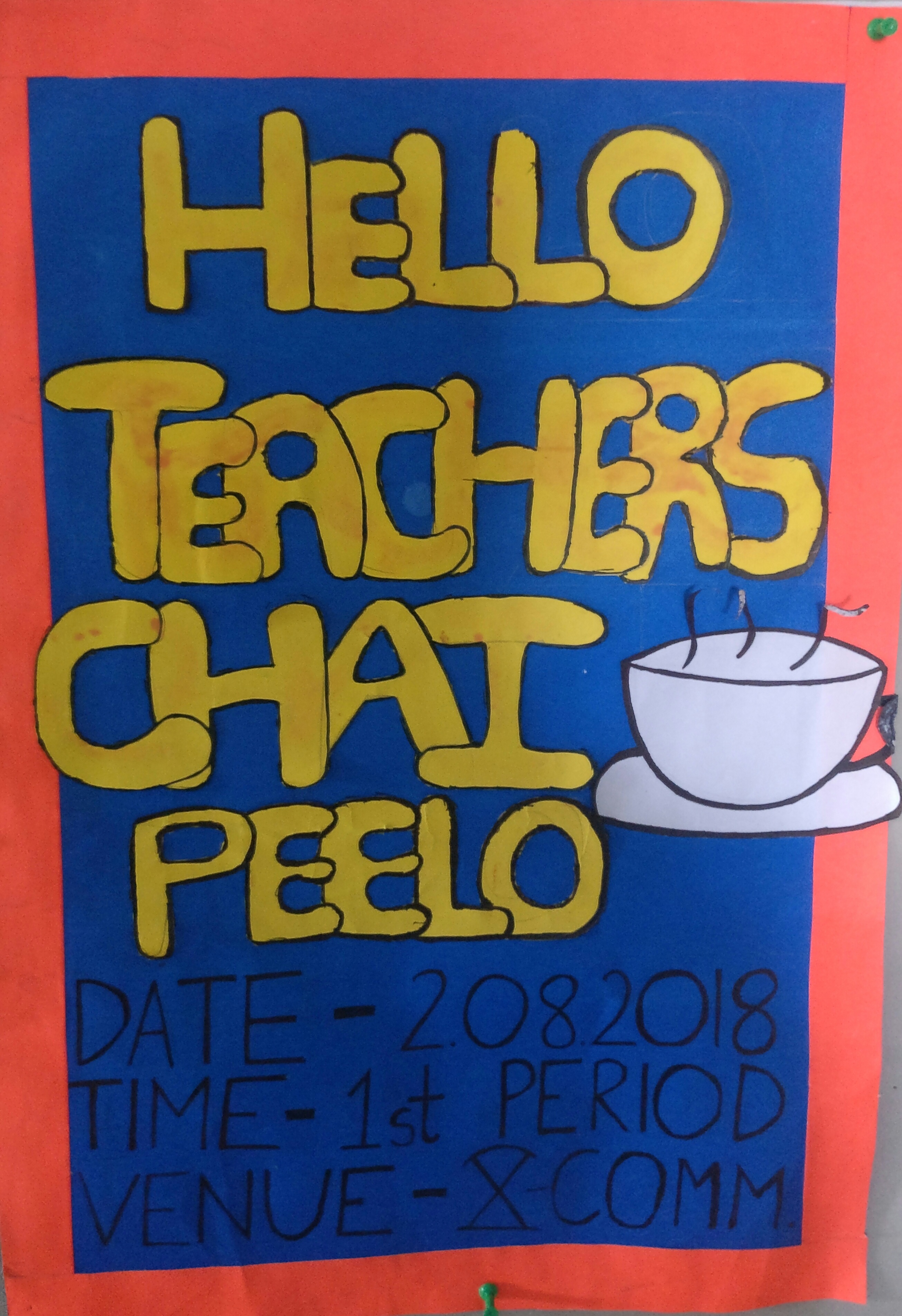 See Image
July 2018
Story telling in the library by Nigel Vanjour of Class XII.
Akshar's Basketball Team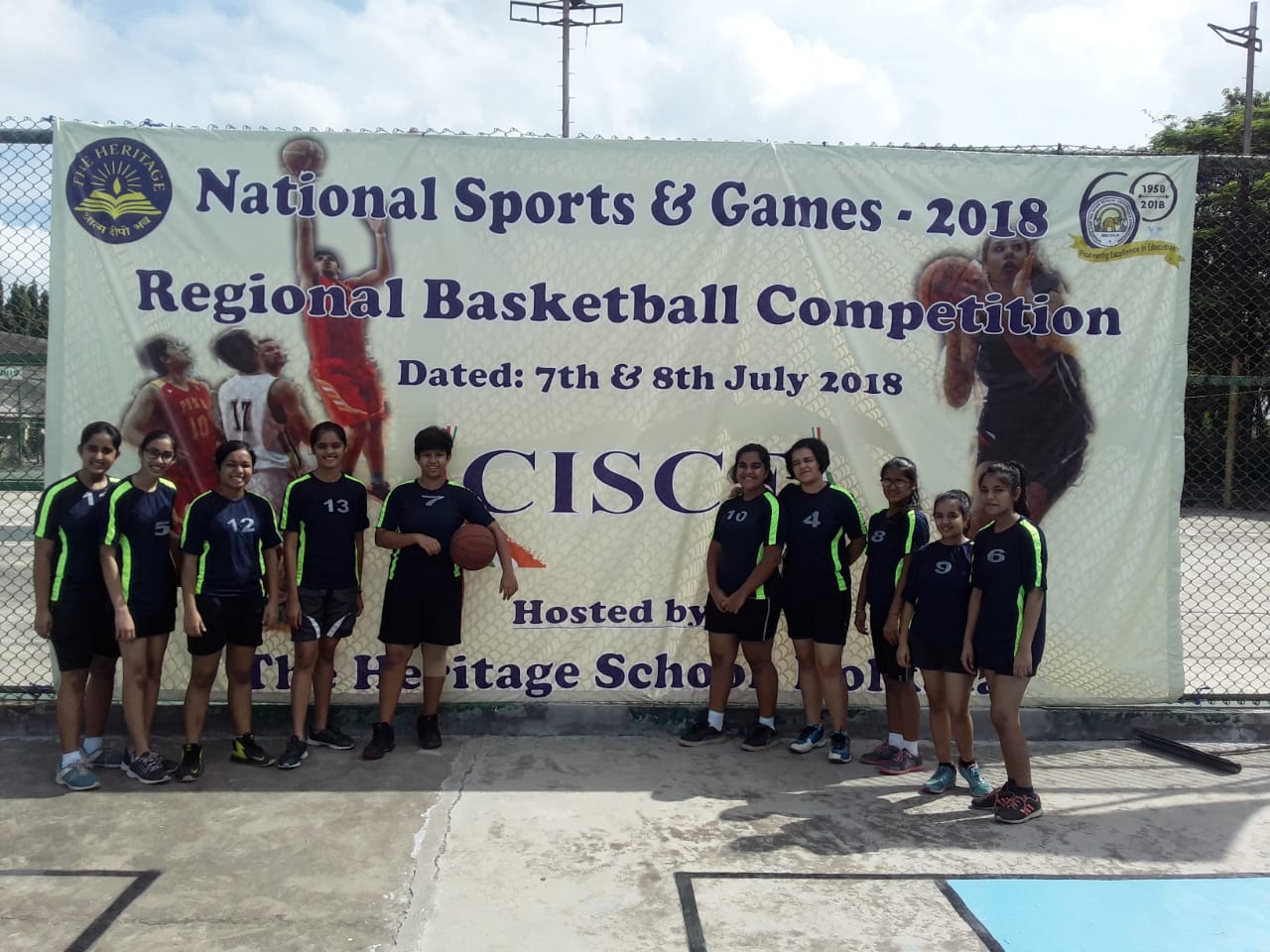 Anushka Bhargava's poem in the Hindi Newspaper Sanmarg.

(Class VIII)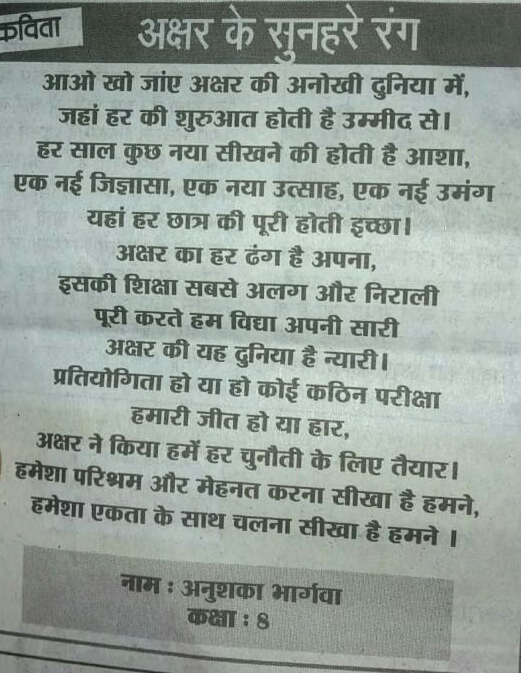 Tanvi Bansal's poem in the Hindi Newspaper Sanmarg.

(Class VIII)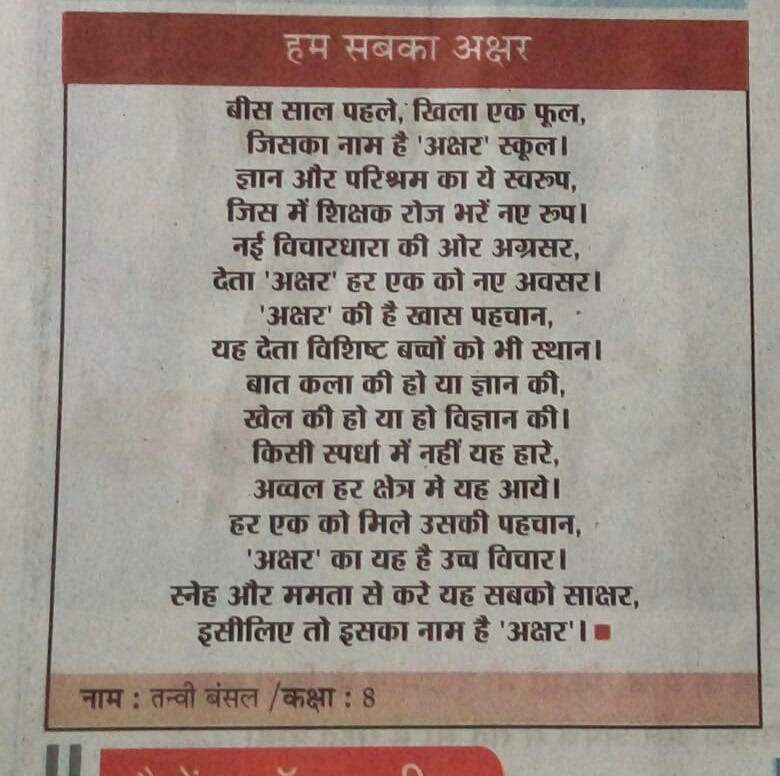 Interschool Cubs Meet.
Akshar's Quiz Team at the Interschool Cubs Meet held at the Bharat Scouts and Guides Head Office, Kolkata.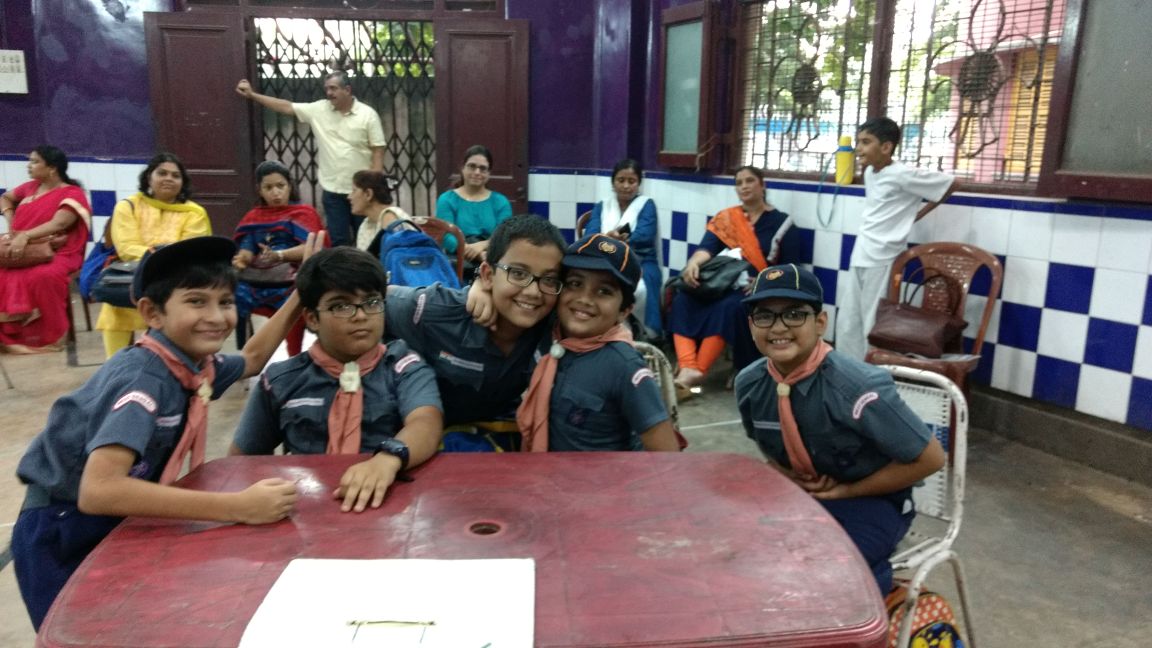 See Image
SAVE THE DATE
THE HUNCHBACK OF NOTREDAM
A Spectacular Musical by the students of Akshar.
12. 07. 2018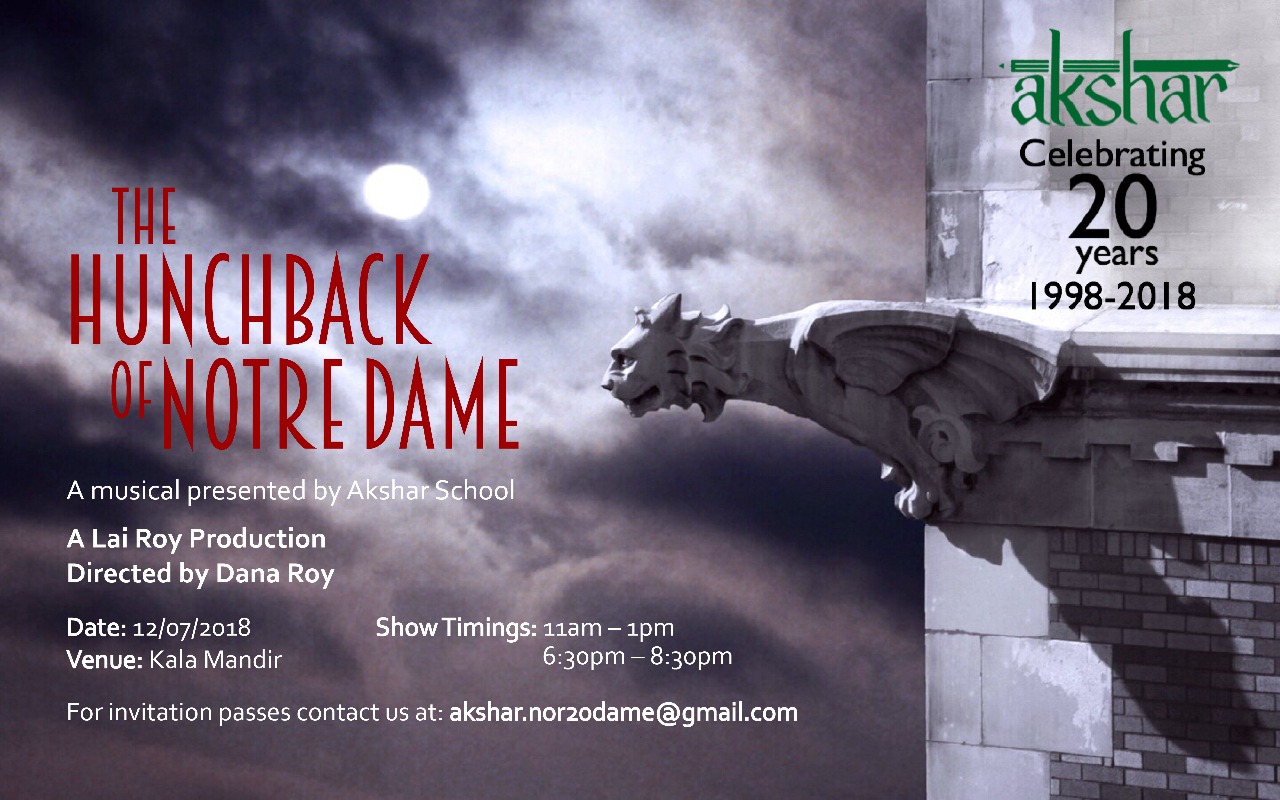 June 2018
DAZZLE FOREVER
HAPPY BIRTHDAY AKSHAR (18th June)
Celebrating Akshar's 20th year with a special havan in the hall. (18th June)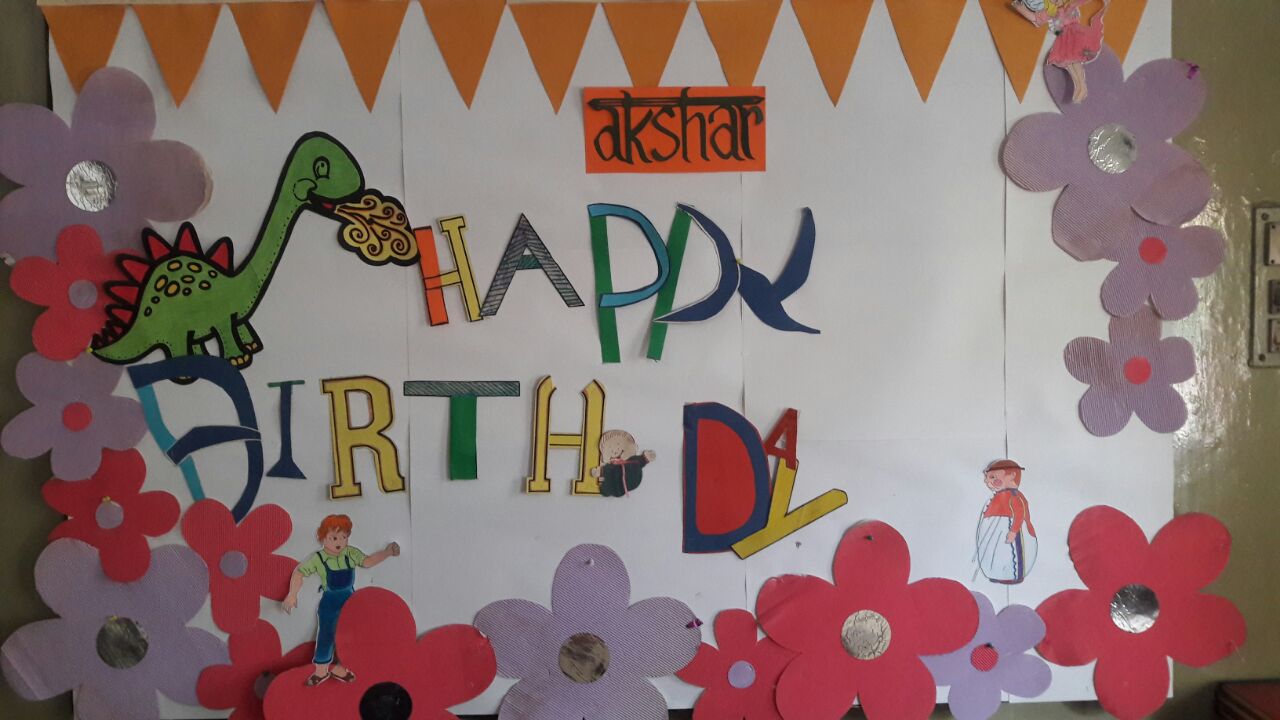 March 2018
Dance Movement Therapy workshop for Teachers
Dance Movement Therapy Workshop conducted for Teachers @ Akshar by Karishma Thapa
Dance Movement Therapy is a therapeutic modality, which uses natural and authentic movement to find a balance of emotional, social, cognitive and physical well being in individuals. Through such creative dance therapy, individuals express their ideas, feelings, emotions or stories using movement. Using a session as a laboratory, individuals experiment and play with movement. As they improvise, intuition comes into play and the body begins to think aloud. Dance movement therapy provides an introspective and expressive experience for an individual.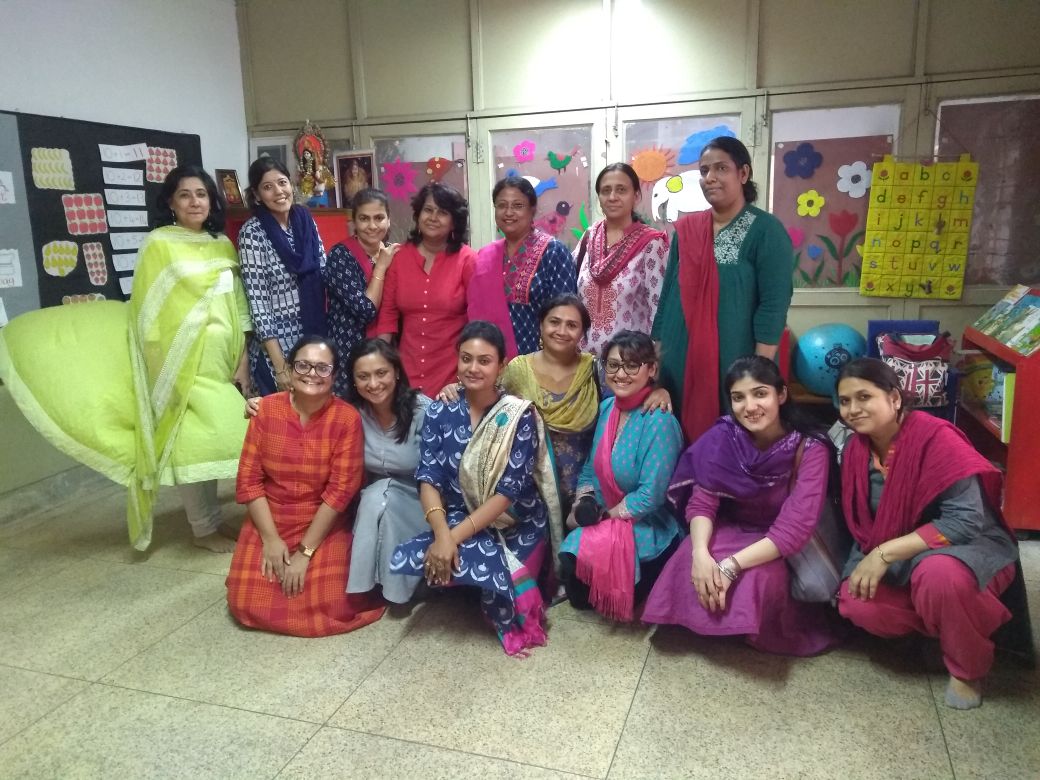 SENSORIAL ACTIVITY
Clay modeling
Sensorial Activity
puchka party
Sensorial Activity
Balloon Walk Class 1
Sensorial activity
Sensorial Activity in Little Akshar Peeling, smelling, tasting activity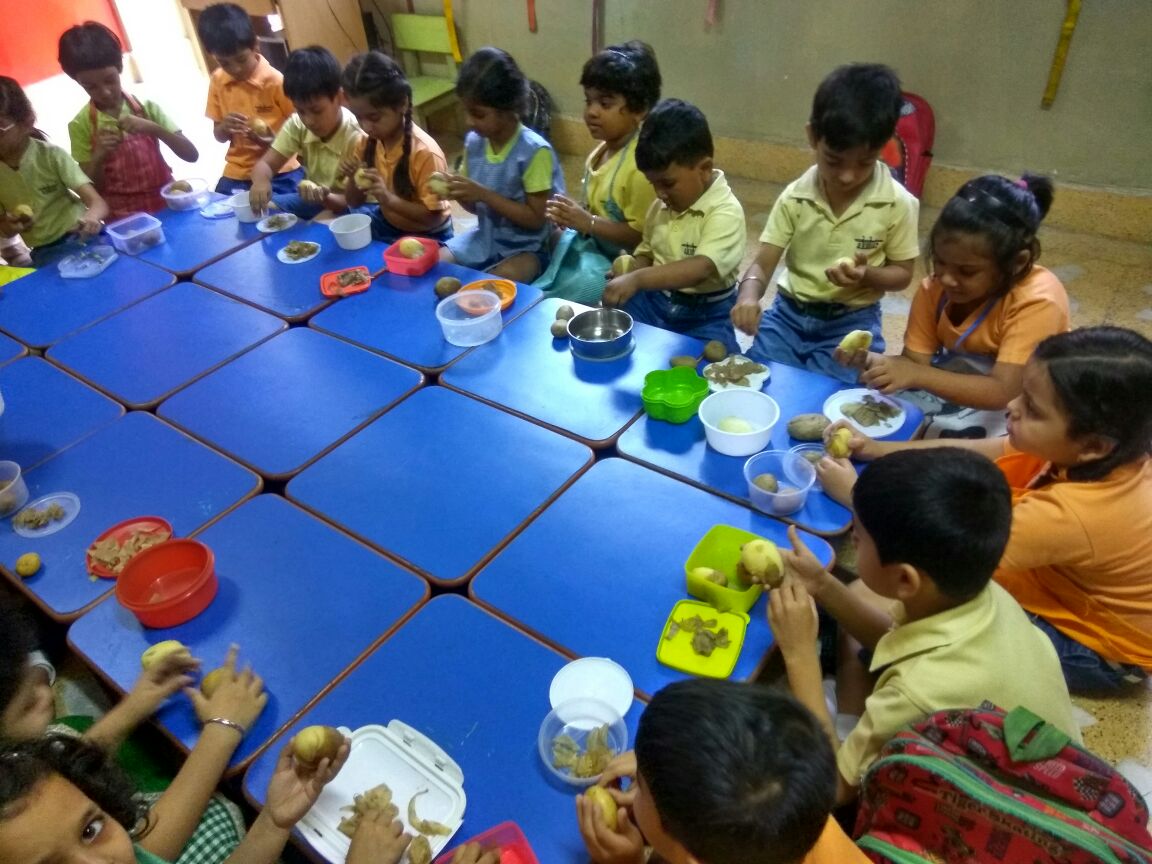 Sensorial activity
Lkg making rotis
SENSORIAL ACTIVITY
Class 1 made rattles with eco friendly products
Art Workshop with classes 6 and 8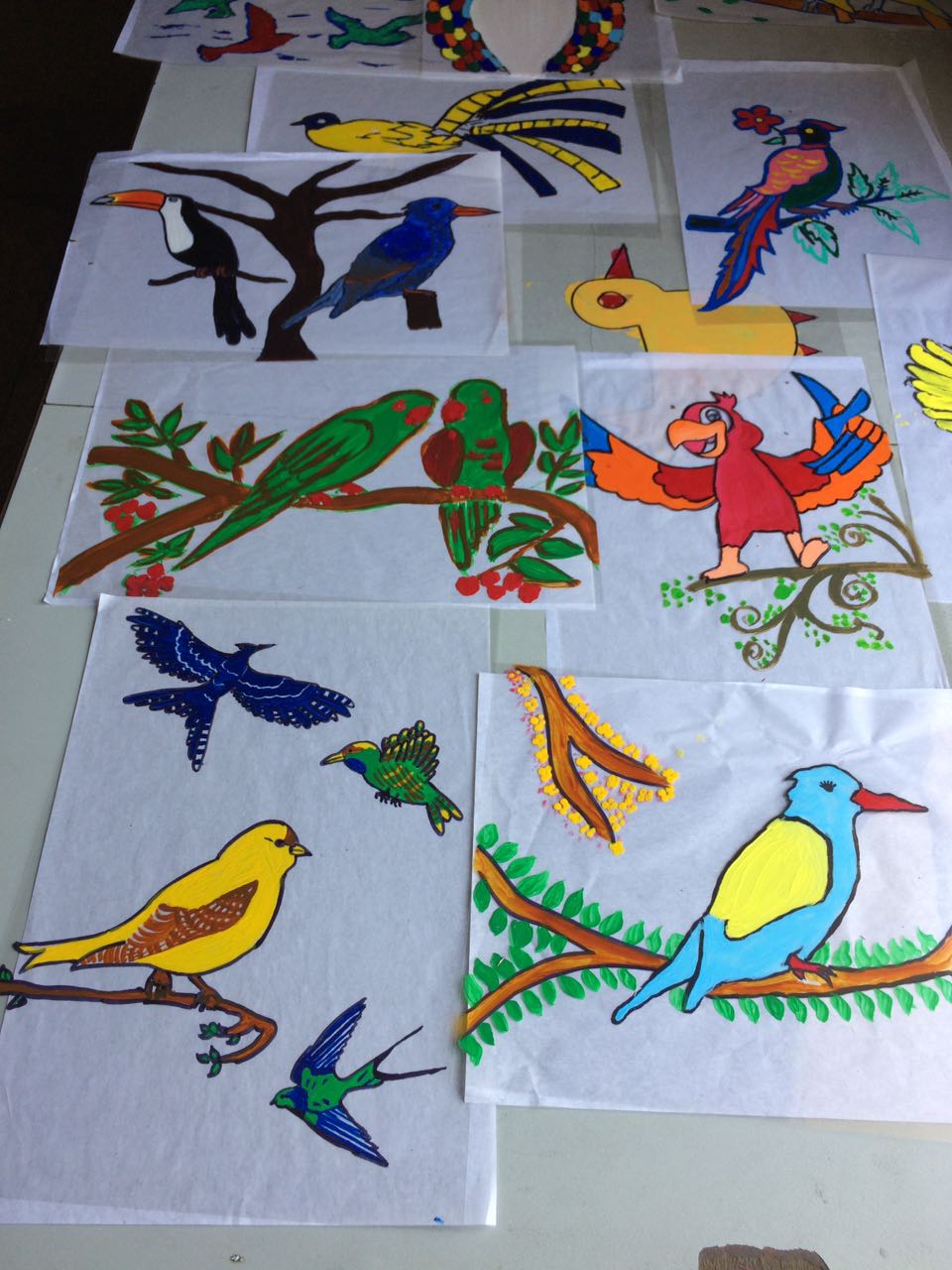 Trip to Shantiniketan - Class V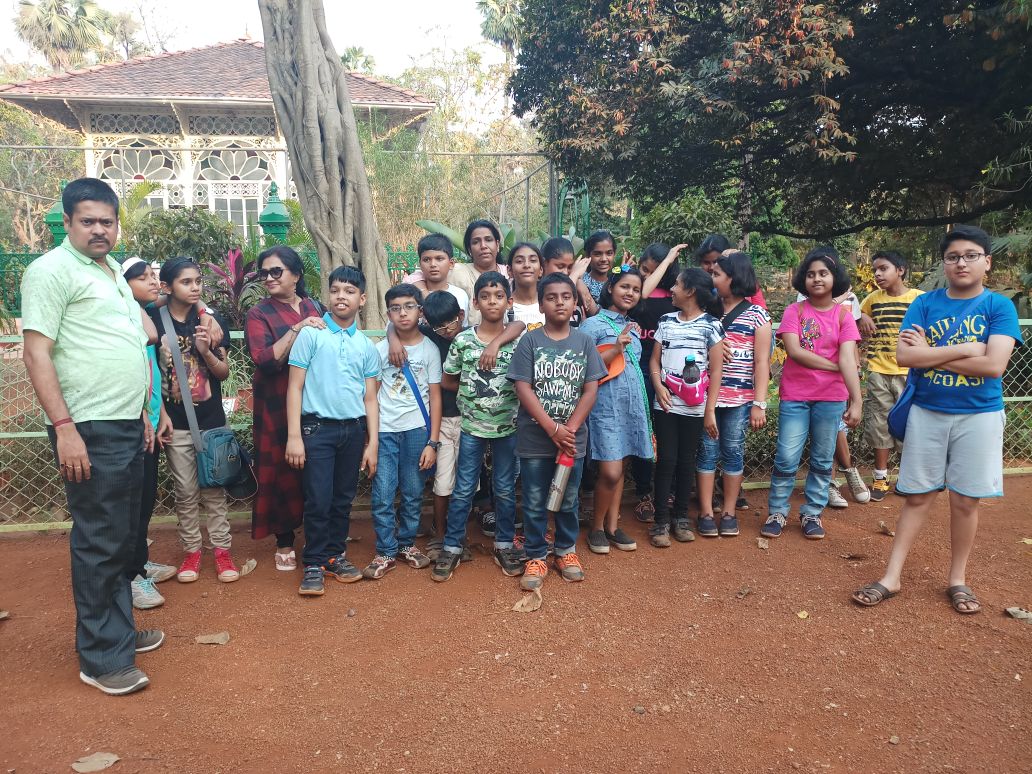 Cooking activity at Akshar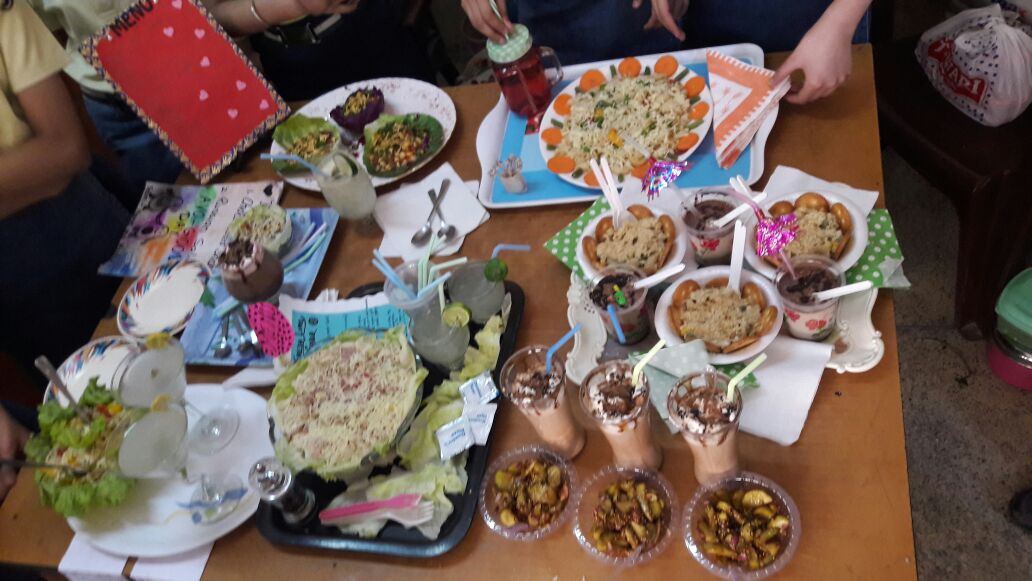 February 2018
Holi Art & Craft with class 2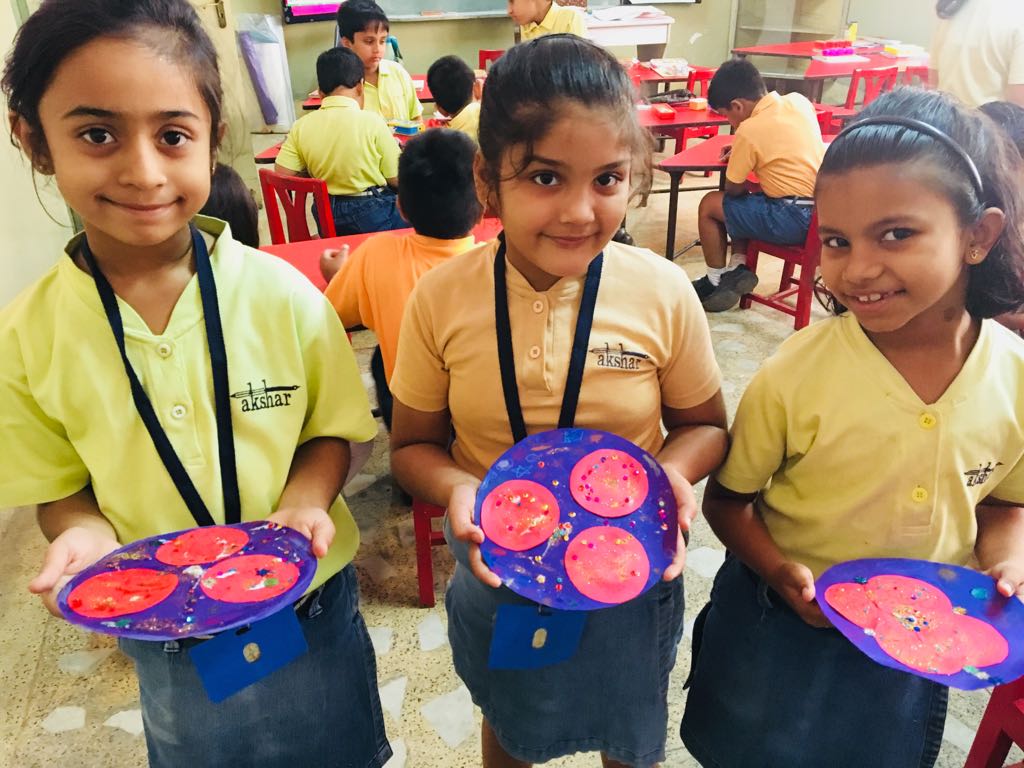 Show and tell in U KG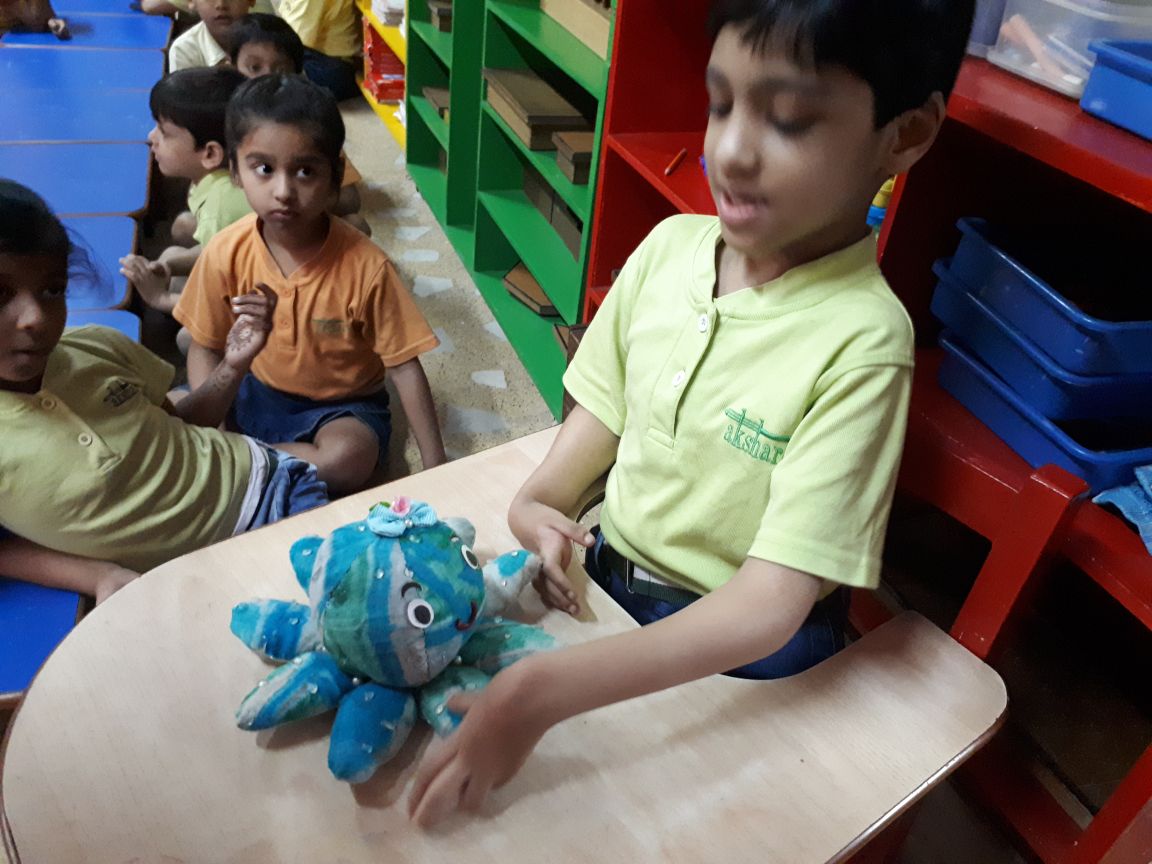 Trip to Mandarmani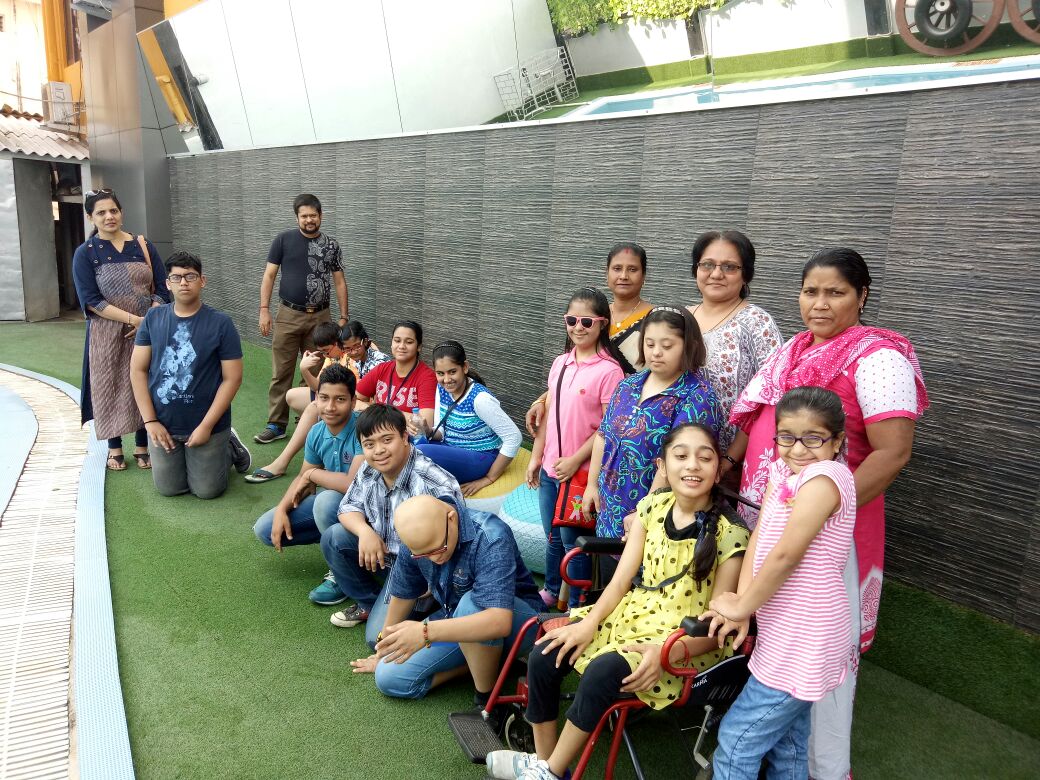 january 2018
Outdoor study at the Horticulture Garden
With classes 2 - 4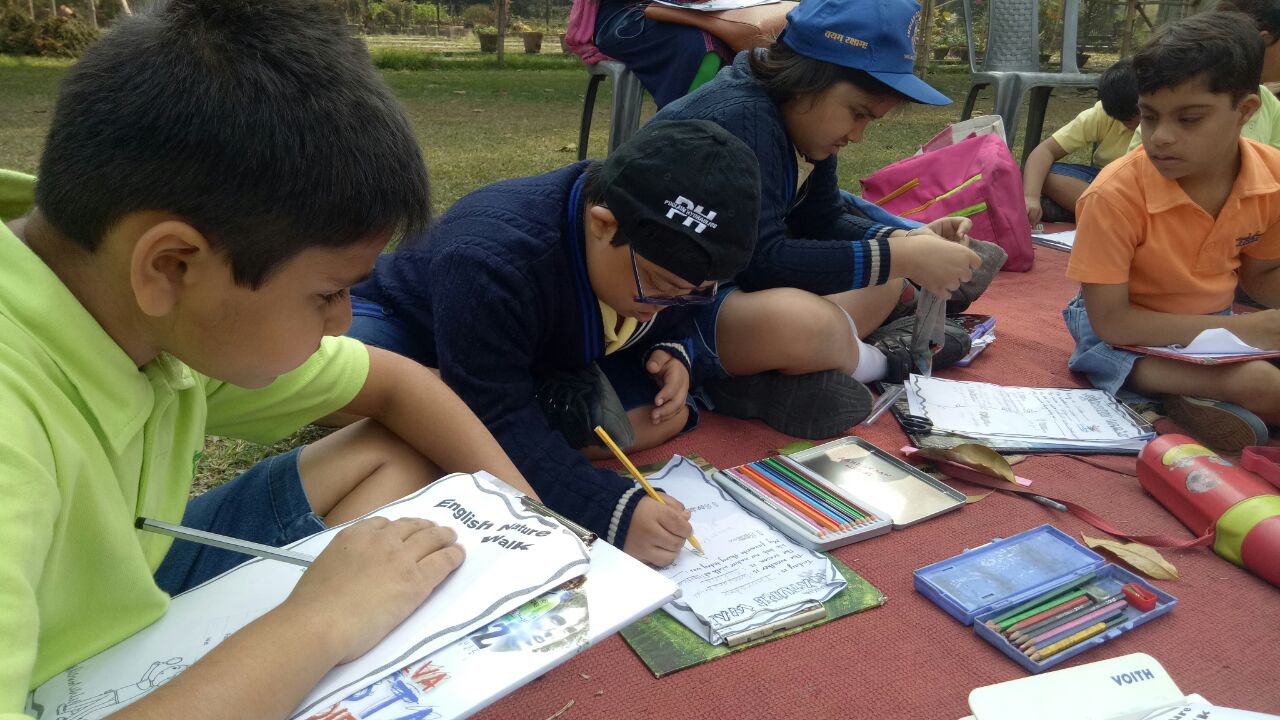 Saraswati Puja celebration at Akshar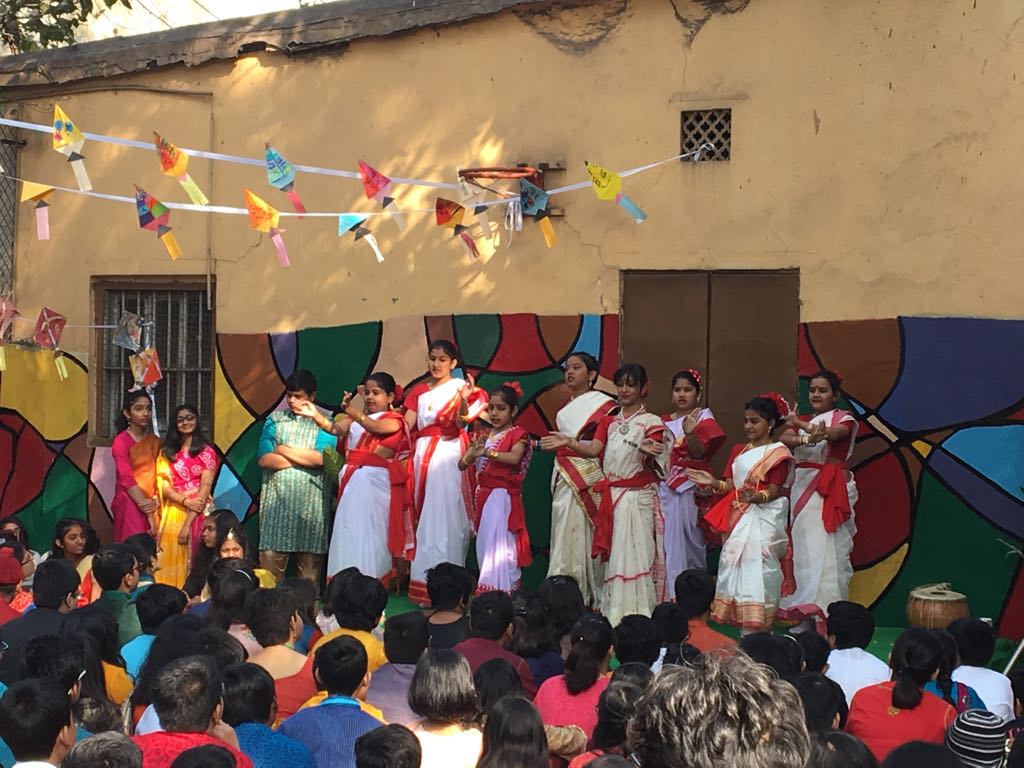 Class 2 kids enjoying their drawing class in the lovely sun. They are doing shadow painting
Class trip to Science City
Trip for Children With Additional Needs to Science City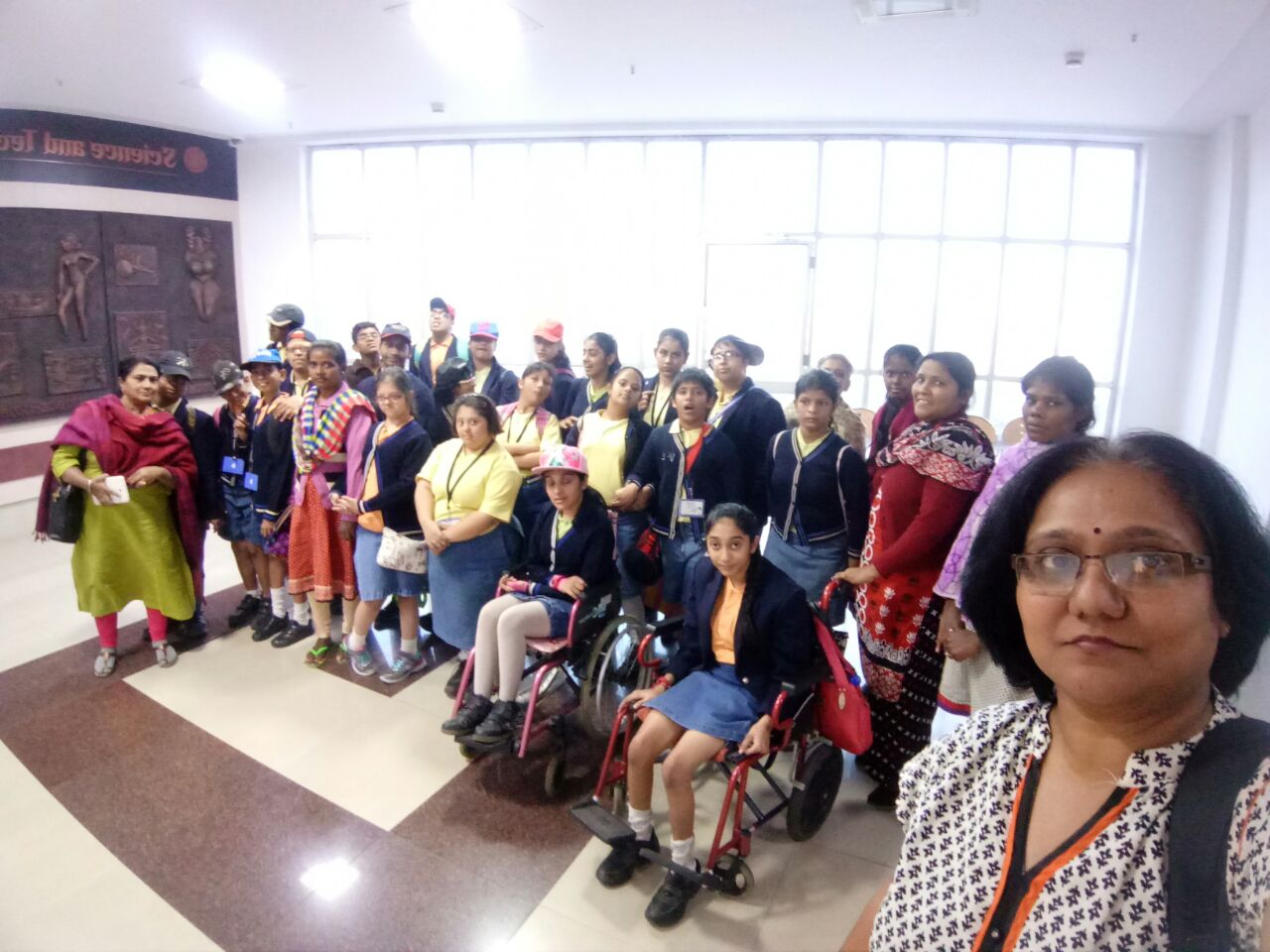 December 2017
Sustainability Walk
Akshar participated in a Sustainability Walk organized by Green For Life Foundation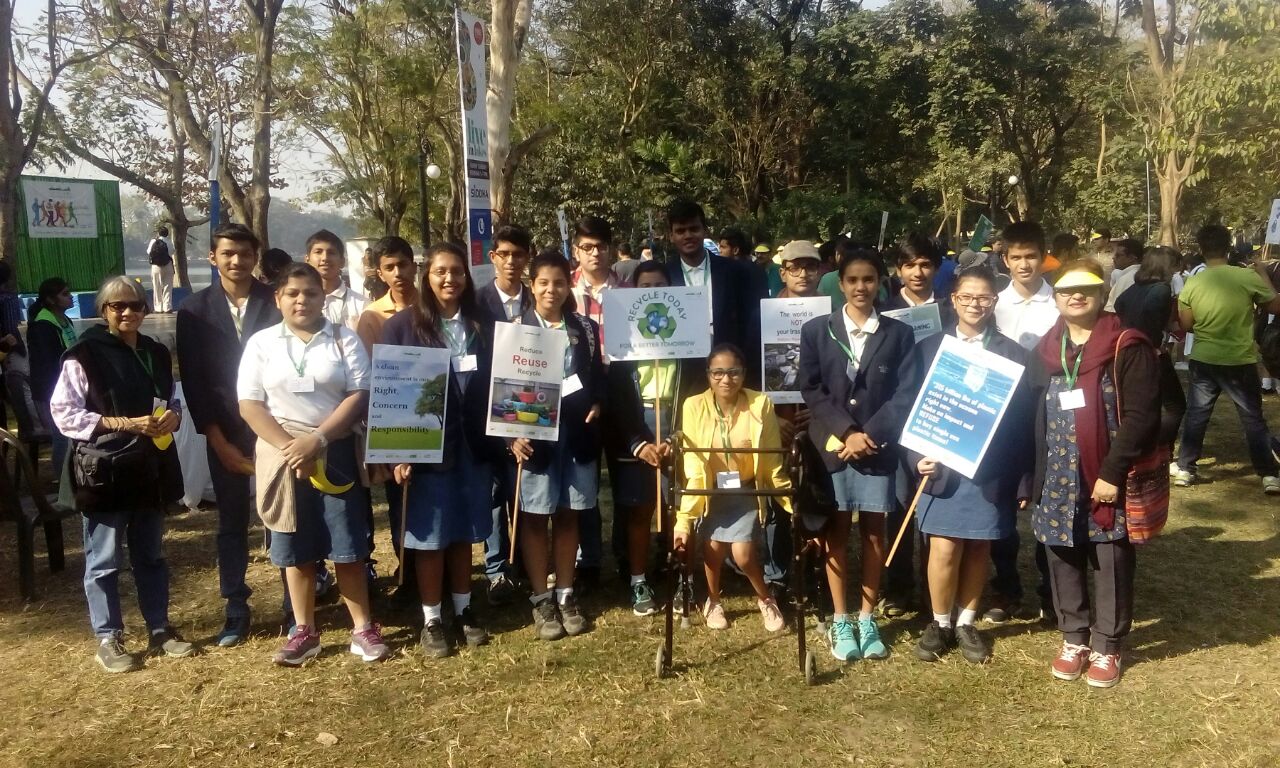 Class 5 EVE activity - examining soil
November 2017
AVSAR FEST
Akshar hosted an inter school inclusive fest.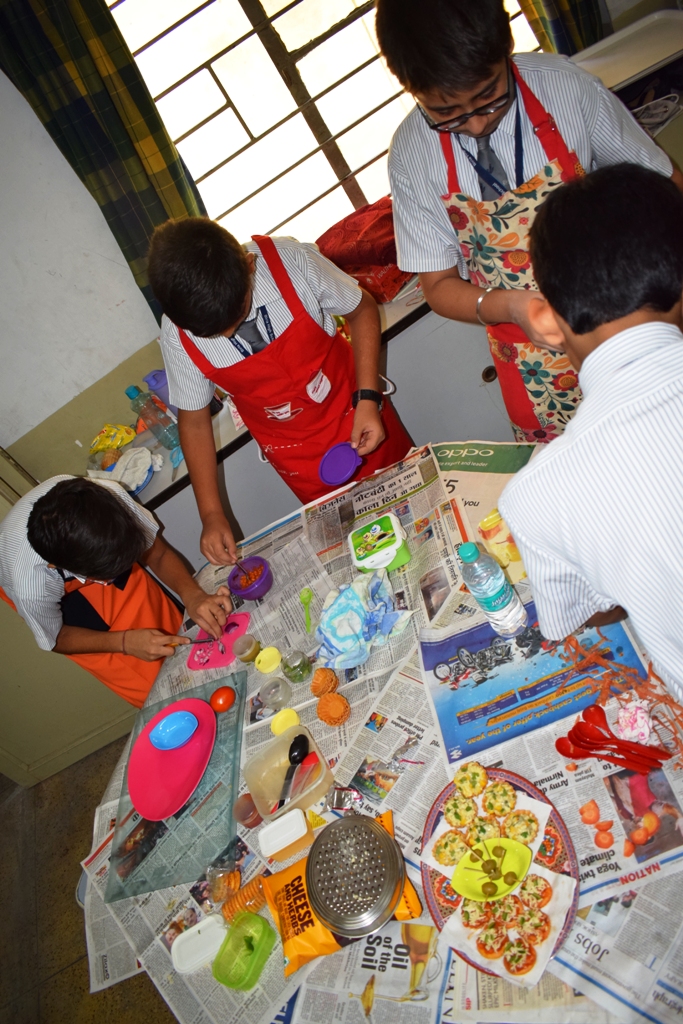 October 2017
Diwali gifts
Diwali gifts packed by Akshar students for underprivileged children.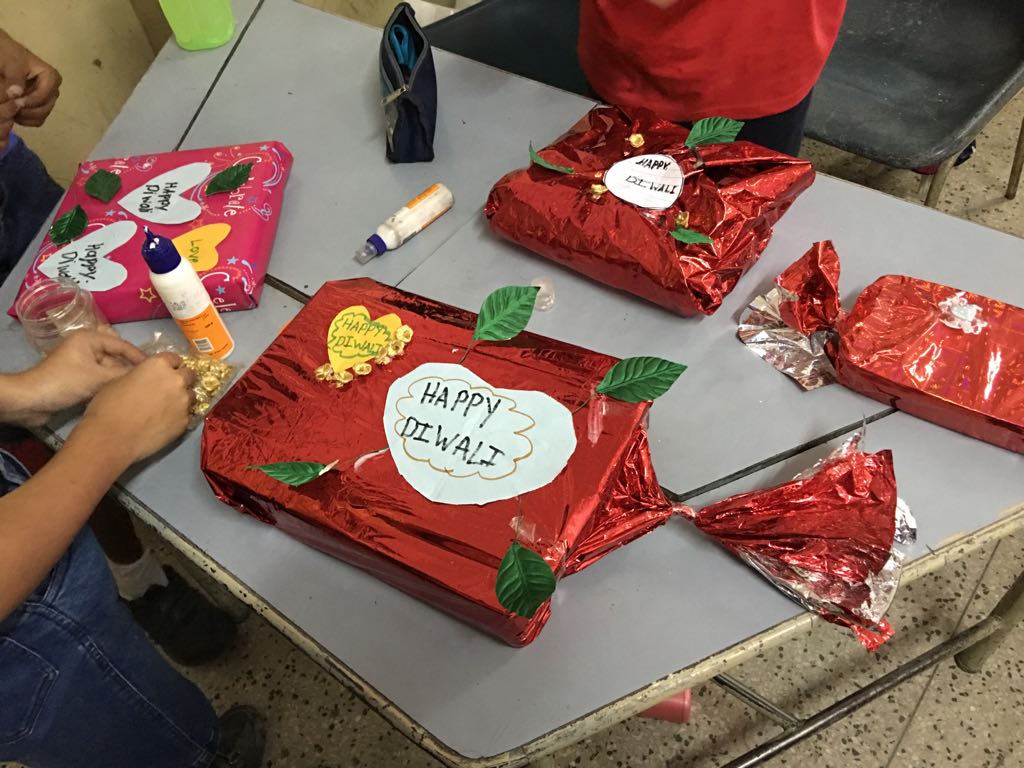 September 2017
Special assembly for Durga Puja
Durga Utsav by class IV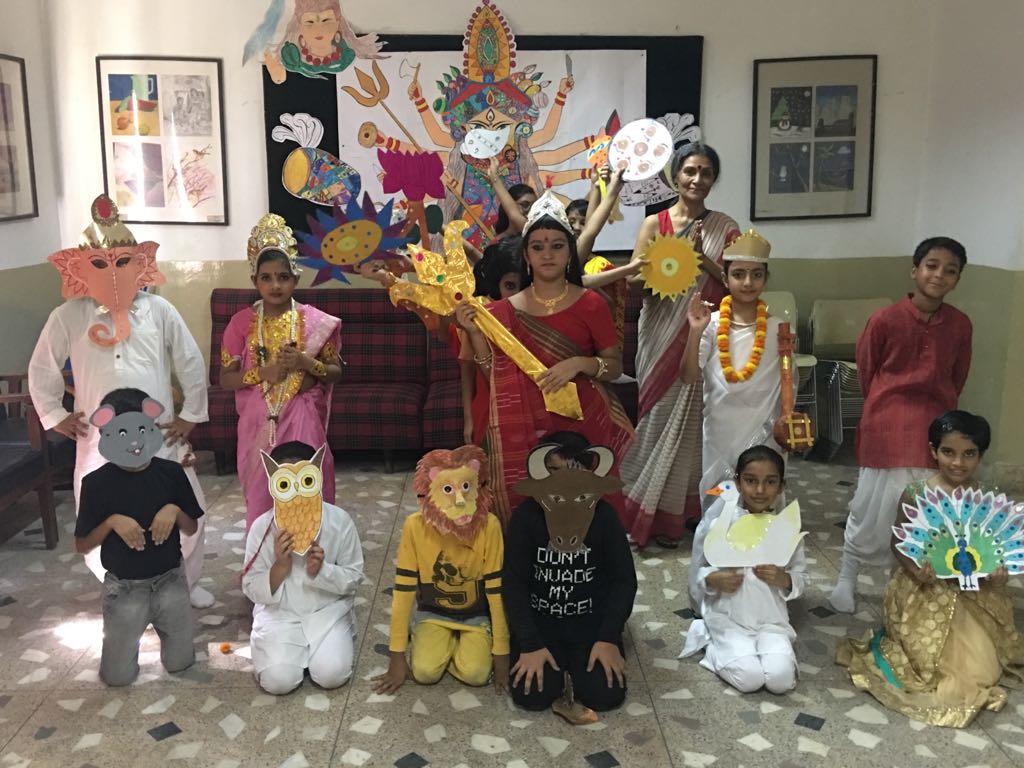 ILead award - Amit sir
Amit Sir won the iLead award for Outstanding SPorts Teacher and Role Model.
Akshar in the news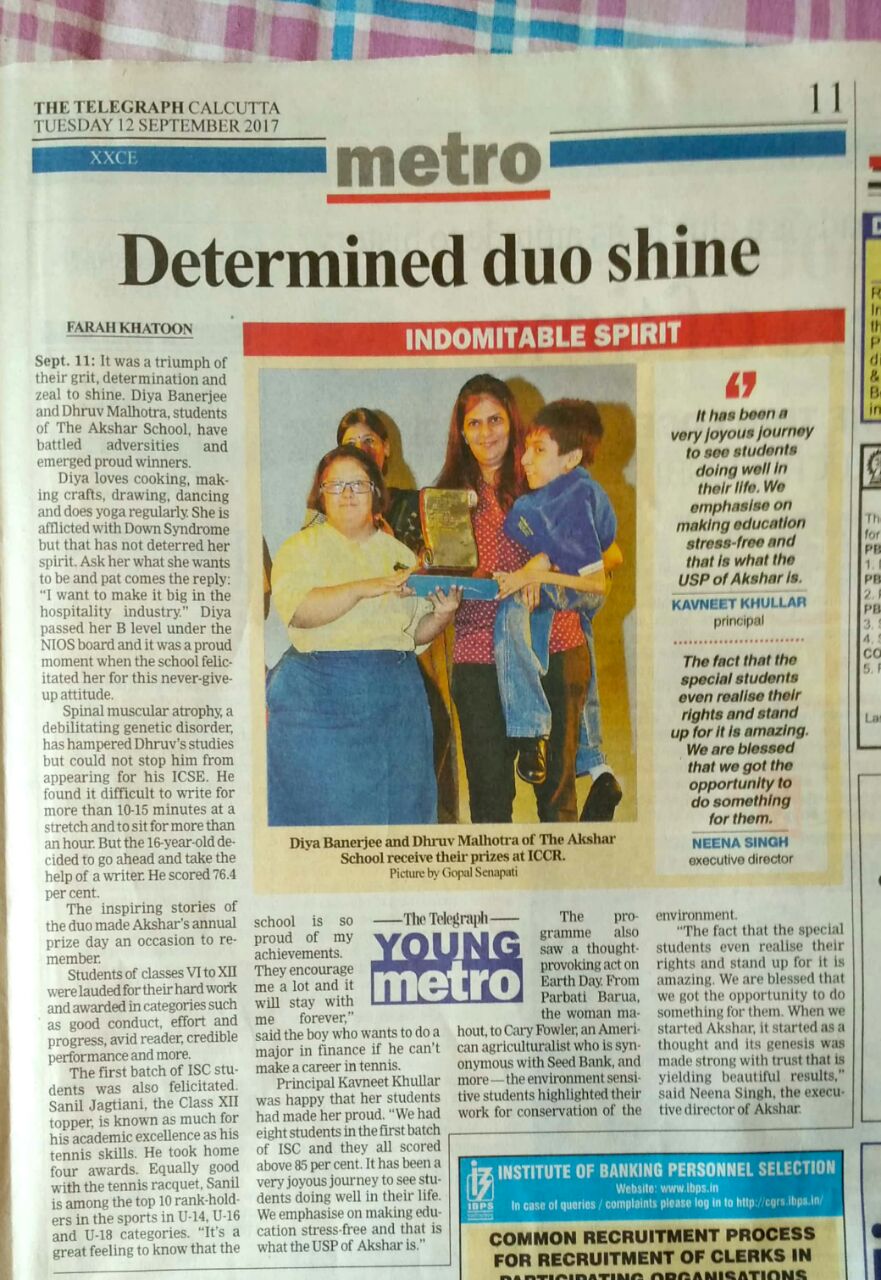 IIHM award - Jayanti Ma'am
Jayanti Ma'am received an IIHM award
Children performing for Teachers Day
Class II children performing on Teacher's Day
Little akshar
Little Akshar came second out of 15 schools in Rhyme time and story narration of Akbar Birbal held at DPS Ruby Park.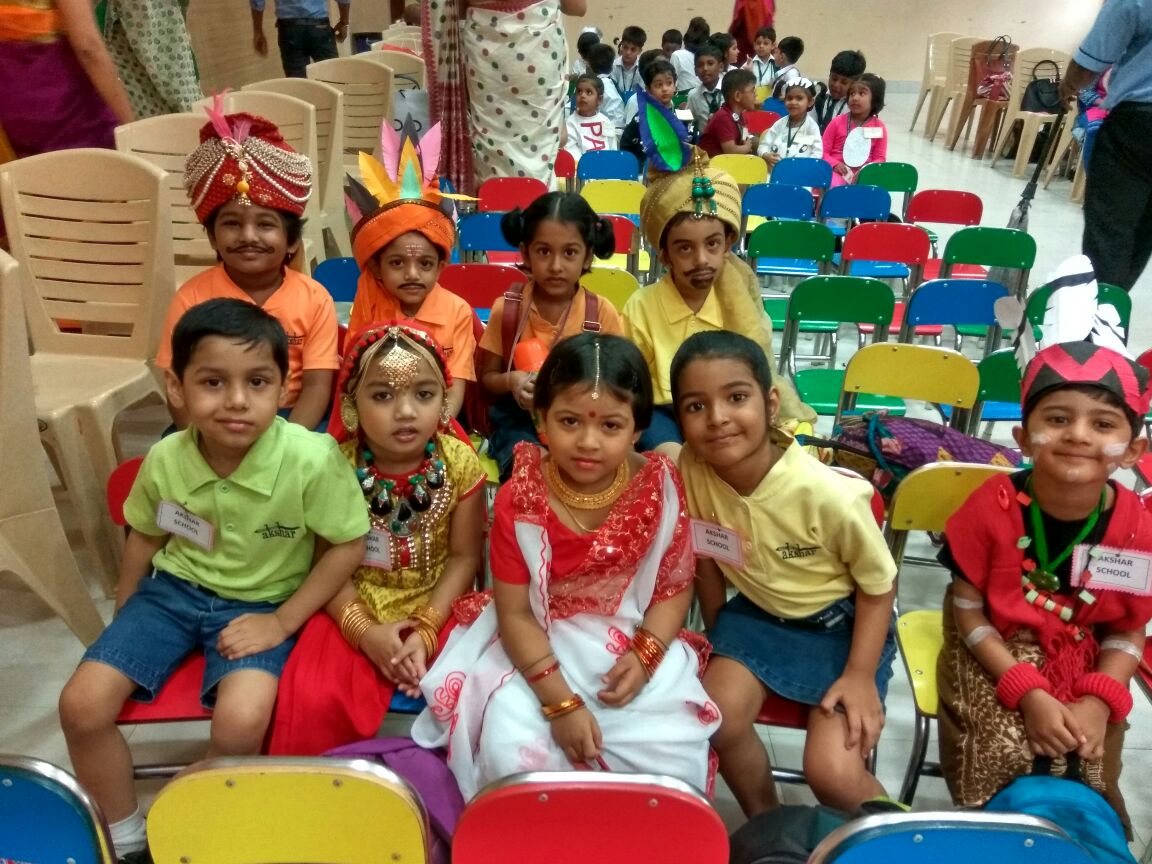 August 2017
Farmers market @ Akshar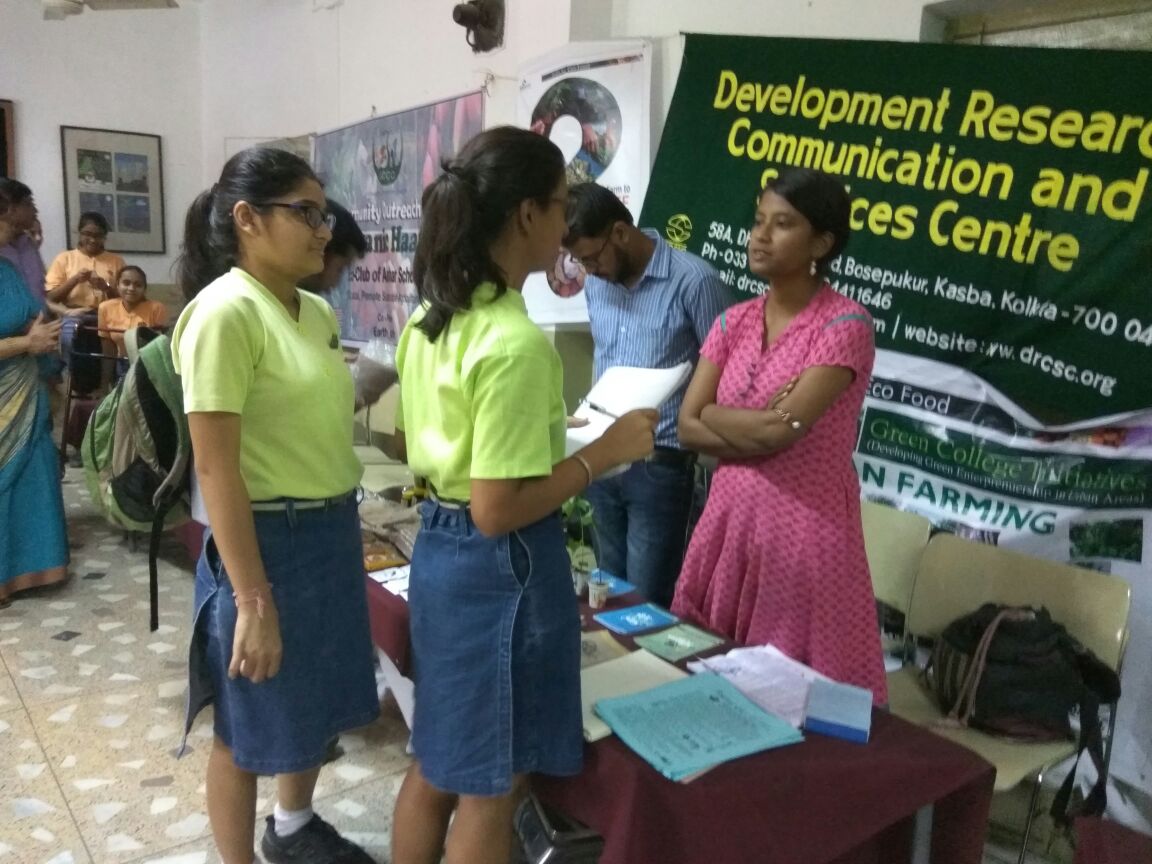 Independence Day @ Akshar
Independence Day celebrations at Akshar
July 2017
MUN at the New Town School
18 students from Akshar (classes 8-11) participated in the Indian Chapter of MUN at The New Town School , Kolkata. It was held from 21st- 23rd July, 2017. Abhishek Unni won the best photographer.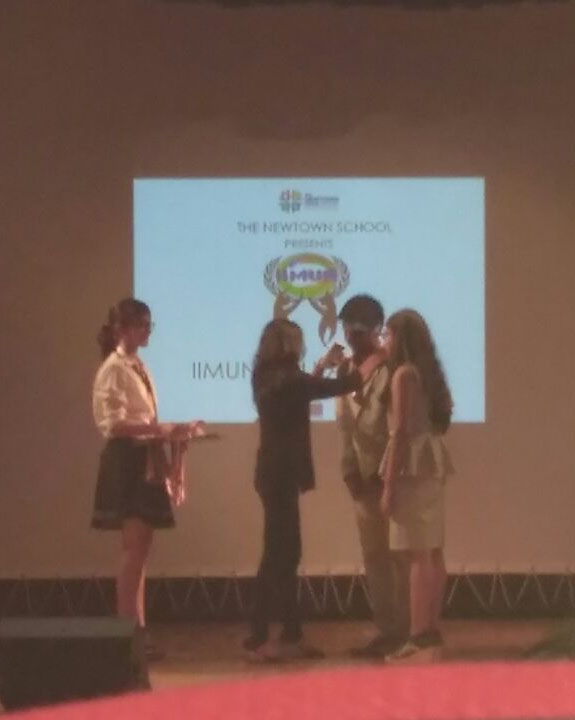 June 2017
SCIENCE MONTH ACTIVITIES
16th JUNE
Class VII took part in an interesting round of Science Quiz competition conducted by Ratna Ma'am. There were three different levels of difficulties to be answered. Children were divided into their houses . They took part enthusiastically in the competition. Green house won.
Class VIII took part in a fun activity held on the terrace. It was conducted by Luna Ma'am. It revolved around the Principle of Flotation. There were 2 set of games. Firstly there was the game on "Floating the coins."Children were given 35 numbers of coins of Rupee 1 denominations. They were supplied with pieces of Aluminum foils and were asked to float the coins on it so that it does not sink. The child who could float the maximum number of coins is the winner. At first those who did not make a flat surface were unable to float larger number of coins. Later they learnt that flatter the surface , more is the buoyant force and more number of coins could be floated!. In fact about 5 of them could float all the coins. The second game was on " Blowing out the candles" from a distance with an apparatus.They enjoyed the game thoroughly. " It was a thrilling experience", they said.
Classes IX and X took part on a discussion in Science and the most important inventions in the world in this Century. It was conducted by Meera Ma'am . Electricity was foremost in the race followed by clothes!! Specifically it was the mobile and game boxes that won hands down!!!
Fun with Chemistry: Class IX conducted an interesting demonstration on Gas laws and magic with Science in the hall on Friday 23rd June. Classes VII and VIII were thrilled to see the outcomes- a boiled egg being pushed into a glass tumbler without breaking, a crushed Ping -Pong ball becoming whole again when put into a tumbler of hot water and many more. Everyone wanted to try their hands on a piece of paper catching fire but not burning!
Environment Play
Environment play 'Vriksh Raj' by the students of Class 4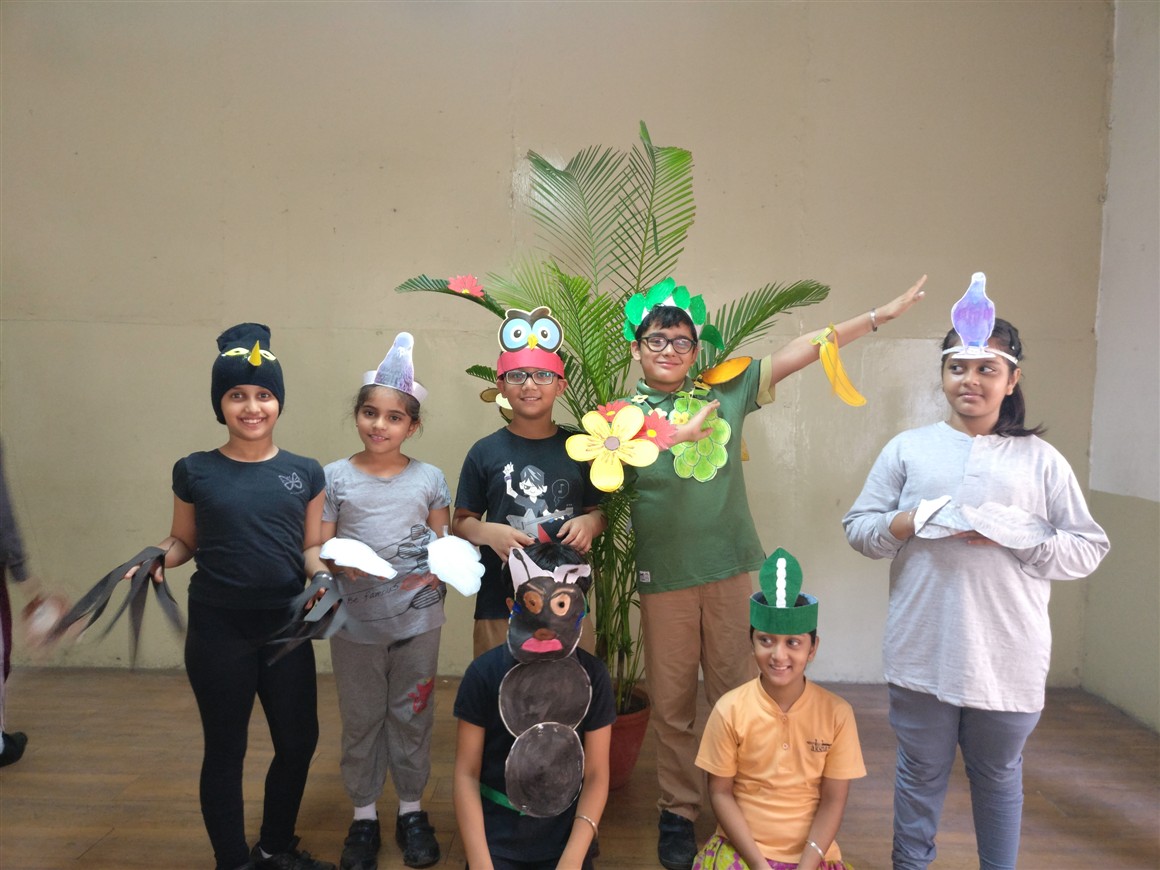 Senior School Prize Day
May 2017
Rabindra Jayanti Celebrations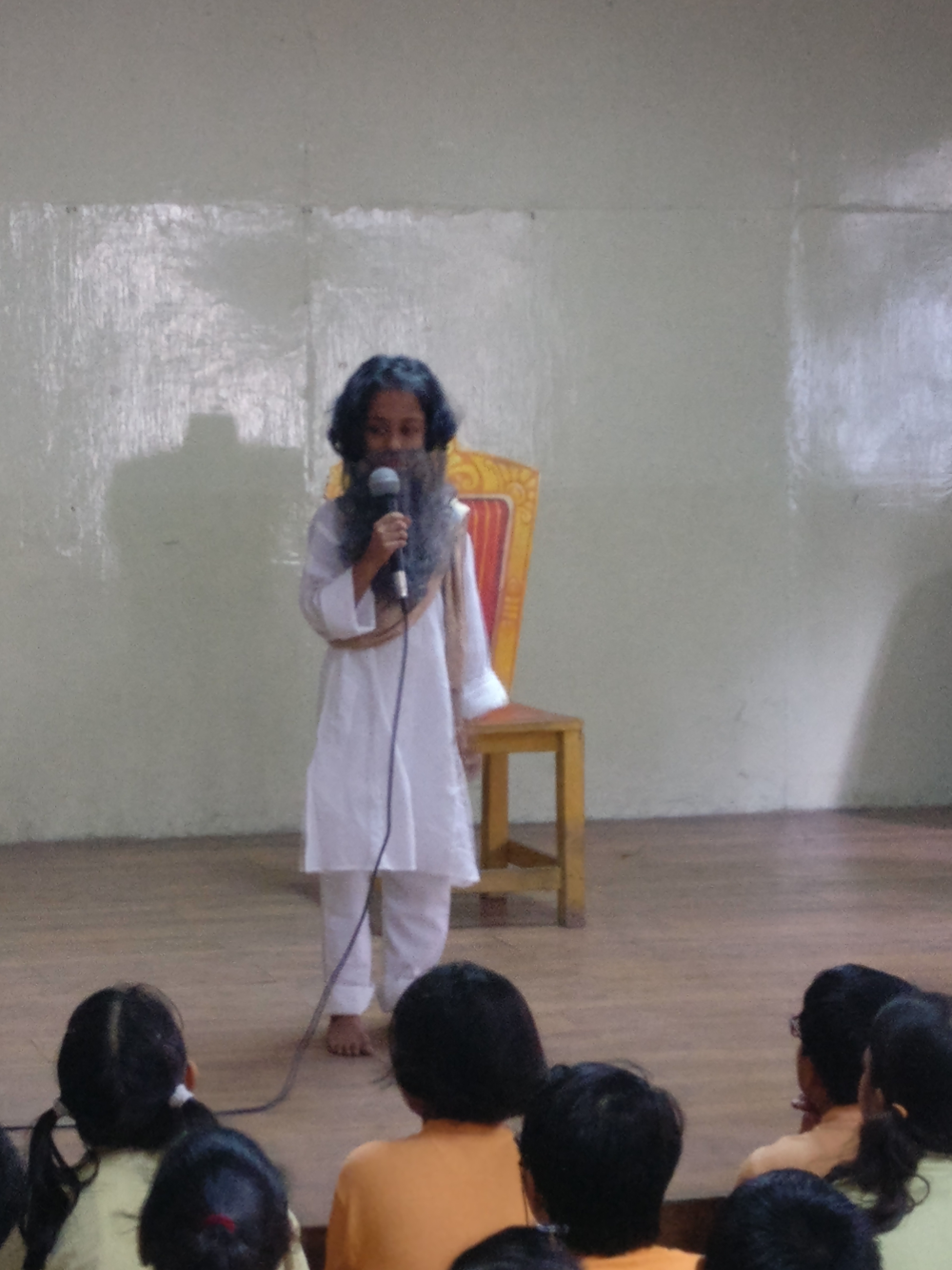 World Earth Day Celebrations continue. Assembly by class 4
Visit to the Old Age Home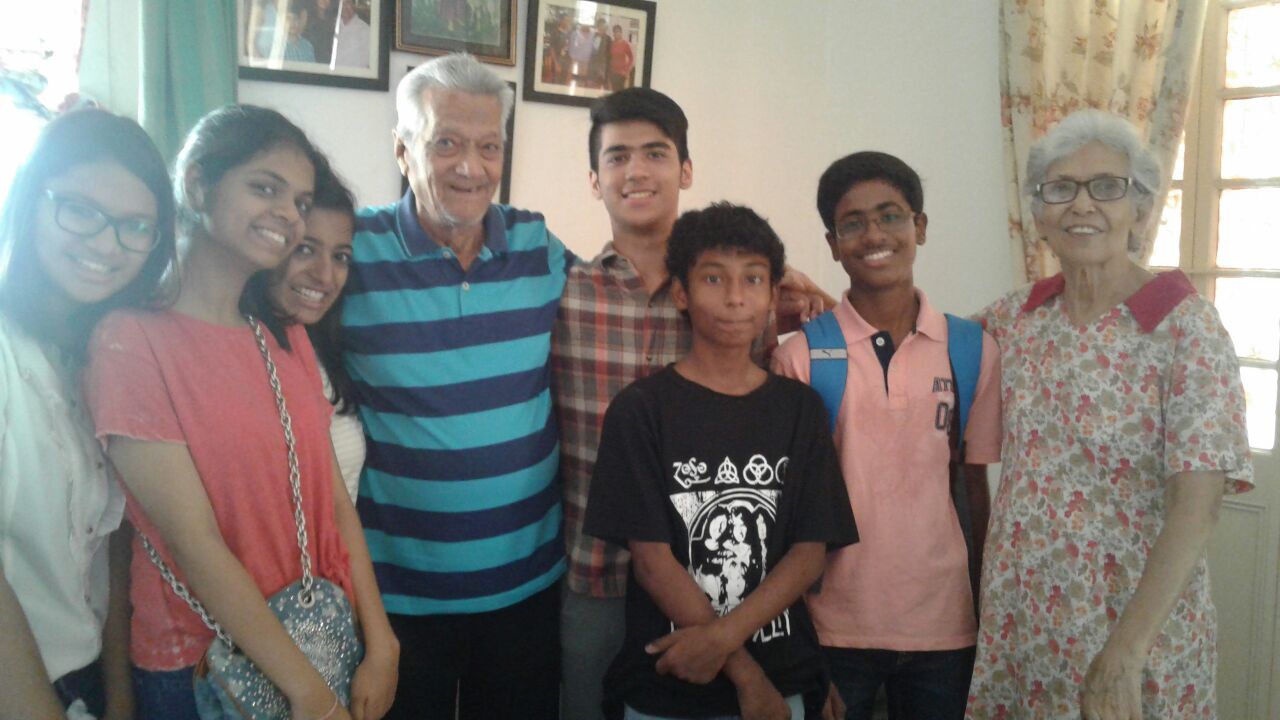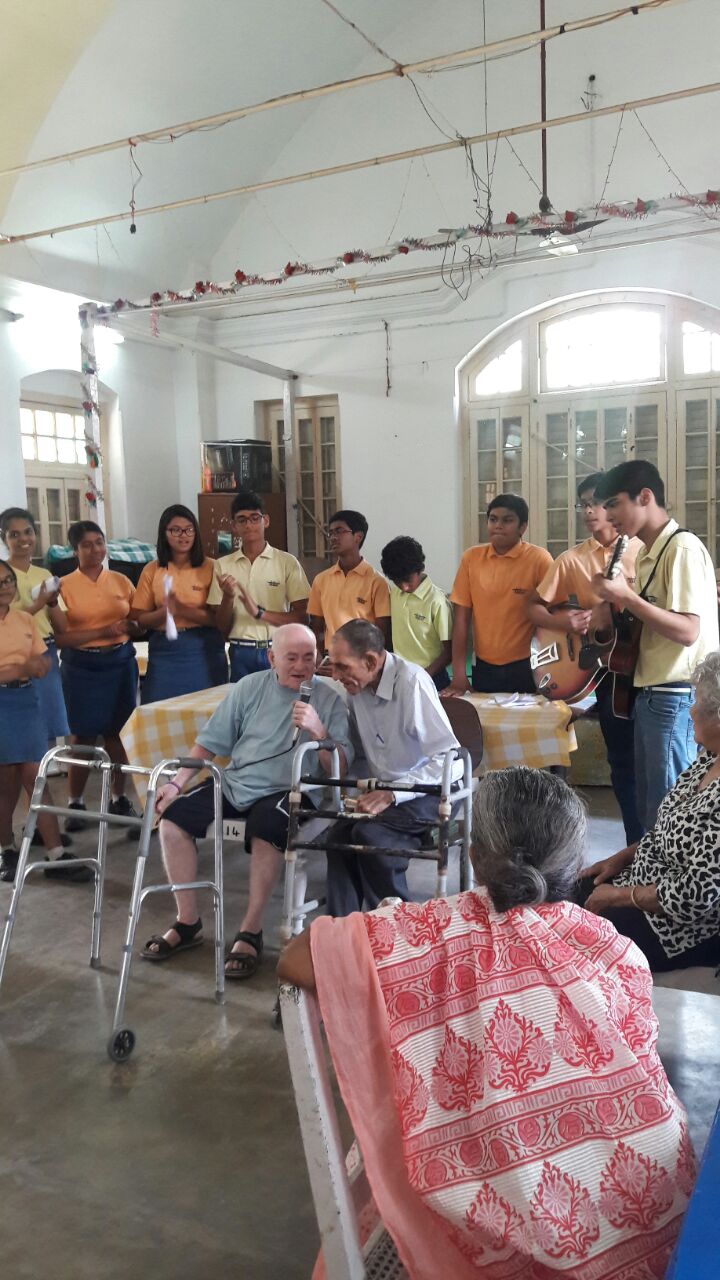 April 2017
Earth day assembly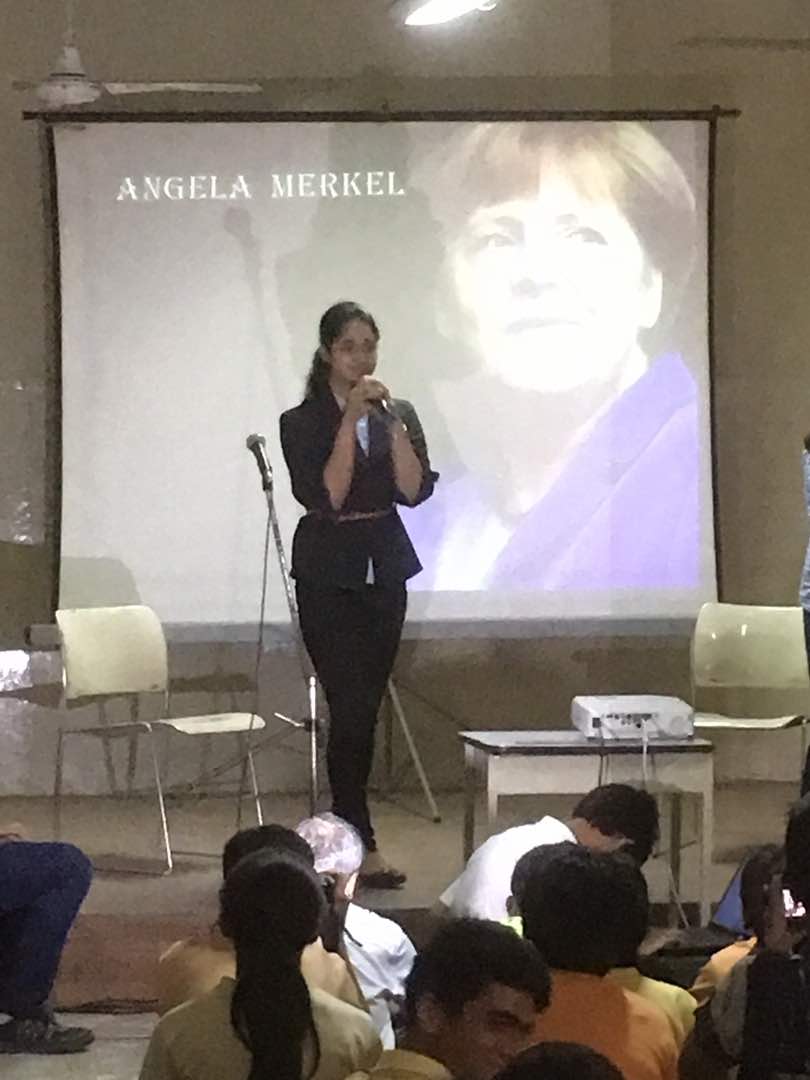 Trip to Aritar
March 2017
Holi Celebrations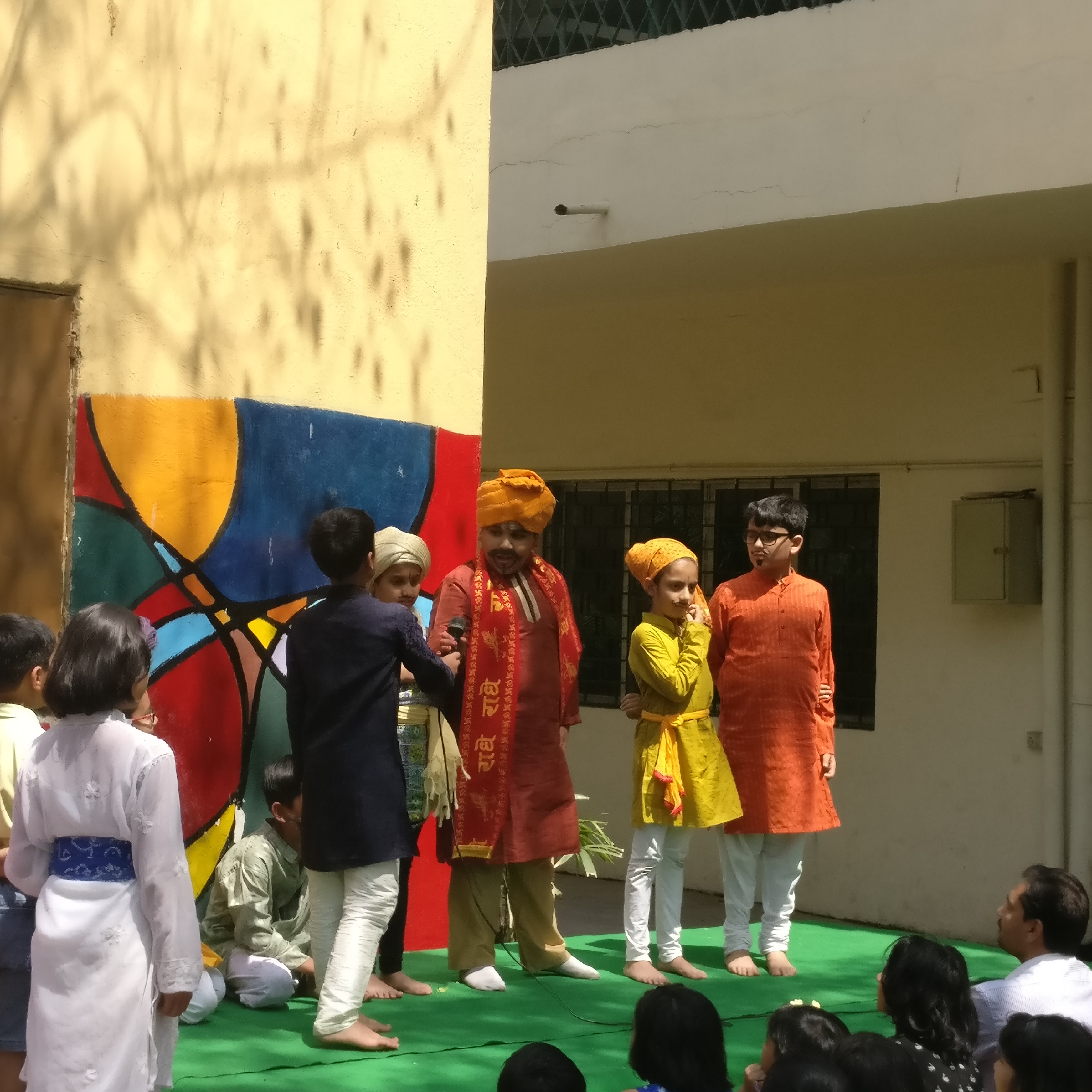 Blessing our students who appeared for the I.C.S.E Examination
Shantiniketan Trip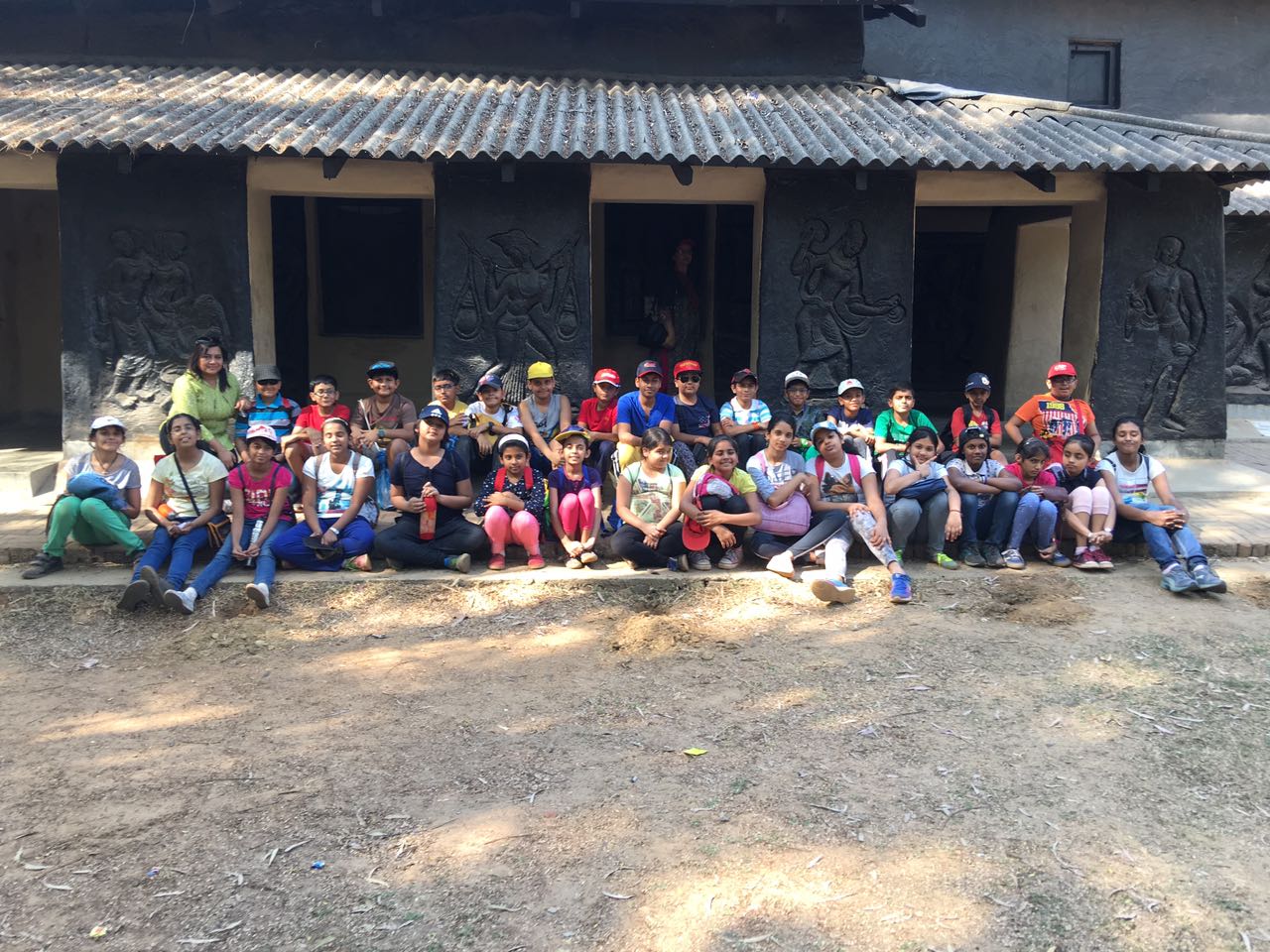 February 2017
Saraswati Puja Celebrations in school
Field trip to Victoria Memorial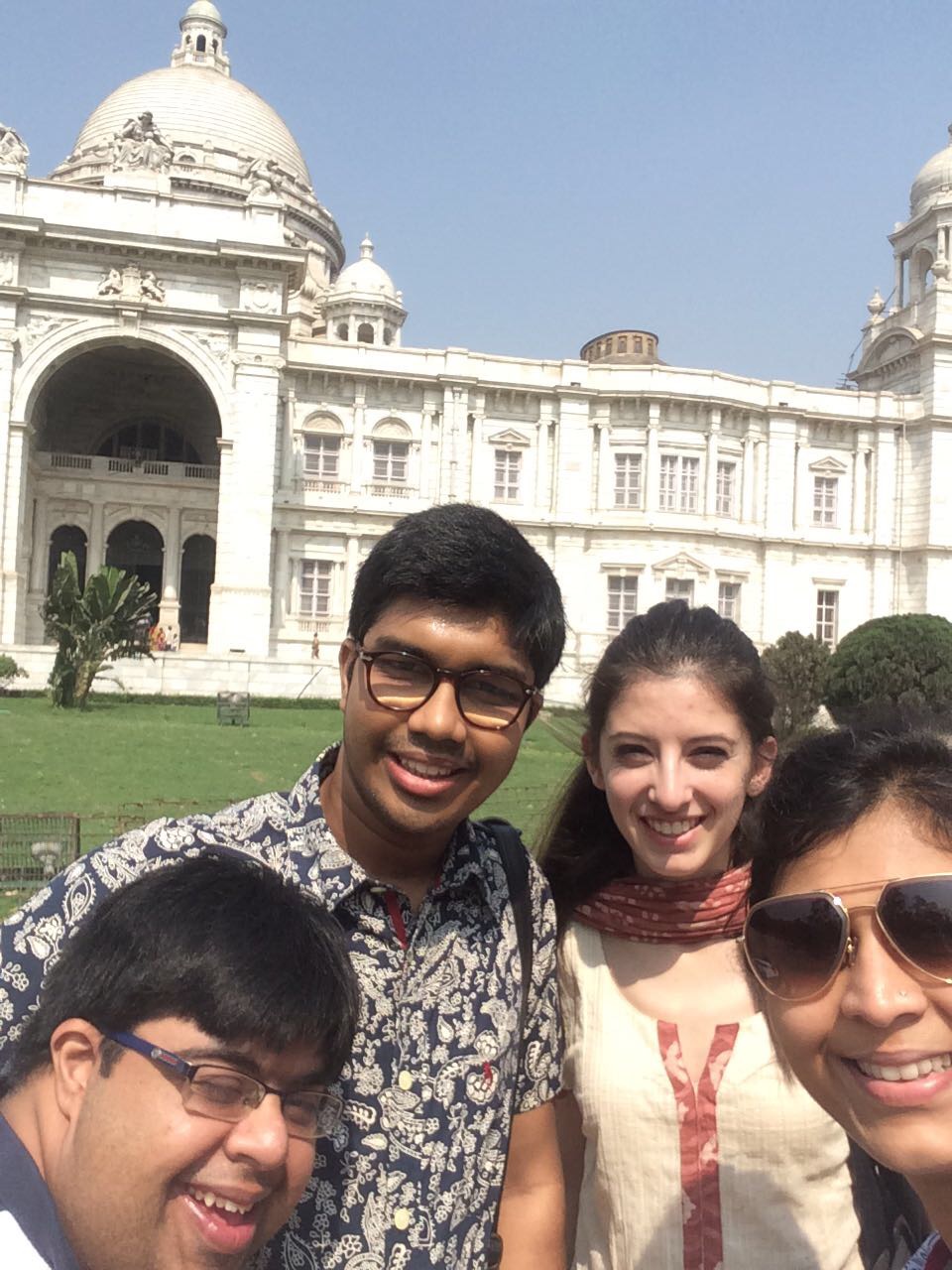 School Inclusive Cricket Match
AKSHAR won the Inter School Inclusive Cricket Match held at Vivekanand Park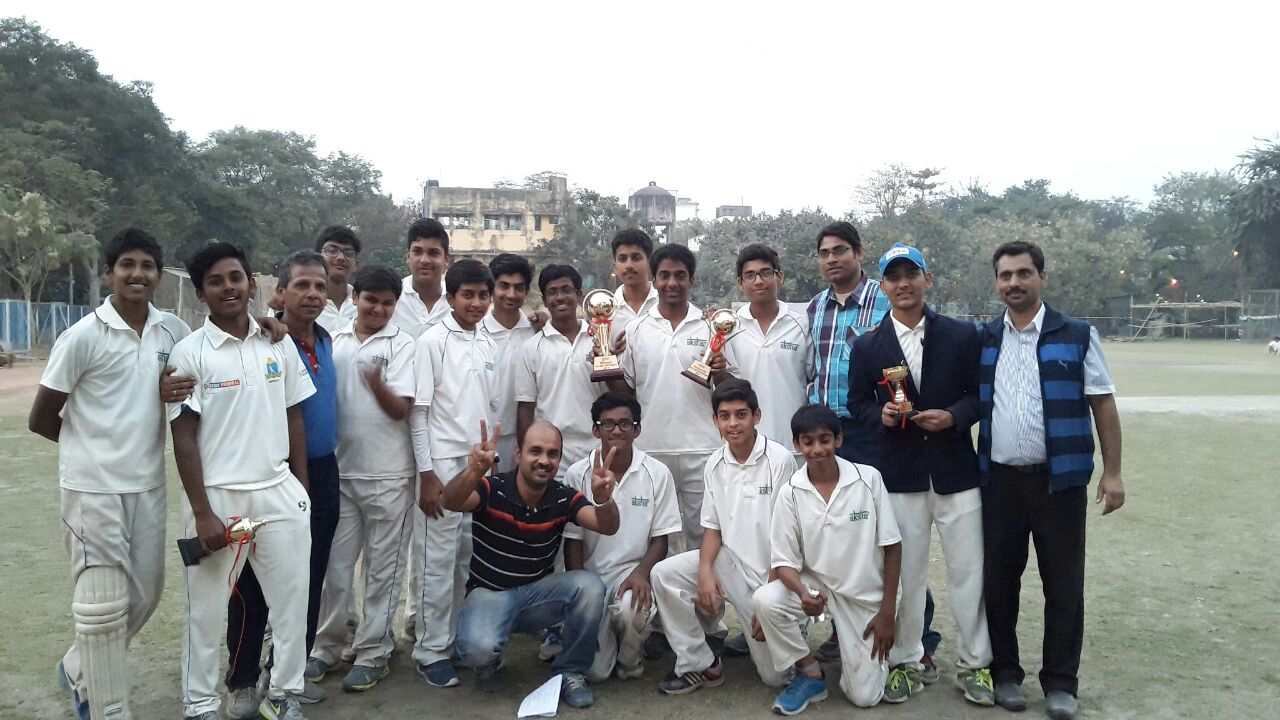 workshop on paper planes
Students of class IV attended a workshop on paper planes by paper pilots Jason and Dylan Webber at Artsacre Foundation. They watched the movie Paper Planes.
January 2017
Art installation
Art installation at Harrington Art Gallery by Akshar Students
students of Akshar participating in the Apeejay Literary Festival.
September 2016
Teacher's Day
A parent - led initiative made Teacher's Day at Akshar School extra special! As it was also Ganesh Chaturti, a beautiful dance was choreographed and performed by class V.
August 2016
Independence Day
Flag hoisting officiated by the Scouts and Guides of Akshar School.
An inspiring speech by Neena Ma'am along with words of advice for all of us.
February 2016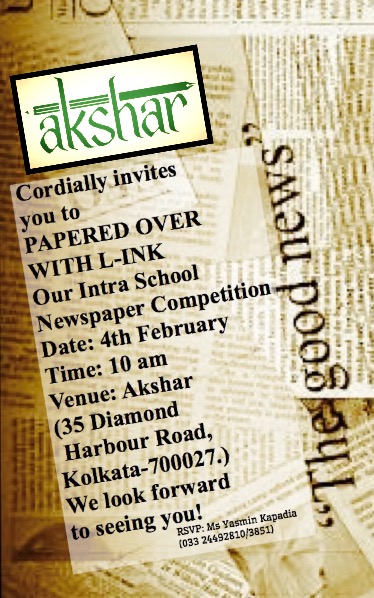 NEWSPAPER
The entire school participated in the newspaper competition. On 4.2.16 all the classes displayed their newspapers in the hall. The papers were judged by eminent media personalities- Ruchira Dasgupta, Ravindra Kumar (Statesman Managing Director and Chief Director), Mrs. Sunita Majumdaretc. The aim of this newspaper was to bring back the newspaper in the daily lives of our children.
SARASWATI PUJA
We celebrated Saraswati puja on 12.2.2016.The puja began with a Saraswati Vandana ,followed by devotional songs, group dance and concluded by an Aarti.
T-SHIRT PRINT

January 2016
SPORTS
Junior School Sports day was held on 22.1.16 at the Oxford Mission Ground from 9.a.m -1.30 p.m . It was inaugurated by our Chief Guest Noomi Mehta . It started with the drill display followed by various races. Some of the exciting innovative races were like HAWAII race, PALKI race, WE ARE HUMANS race,Sa Re Ga Ma Pa race, Love and peace etc. We also had some integrated races where children of special needs participated. Everyone participated enthusiastically to make the event a success.
December 2015
CHRISTMAS
Students from various classes decorated their classes with holly leaves, bells, wreaths. All the classes jointly designed a Christmas tree with recycled materials.
November 2015
DIWALI
We celebrated Diwali on 13th of November . The students of class 3 presented a skit highlighting the triumph of good over evil.The effigy of Ravan was burnt and firecrackers were burst. Children also displayed colourful rangoli with flowers and diyas.
Children's Day celebration
October 2015
Avsar
Our inter –school fest 'AVSAR' was held on 9/10/15 and 10/10/15. It was a two day fest and 10 schools participated in various events like Graffiti, Photography, Debate, Group Dance etc. The children enjoyed themselves thoroughly. The theme was 'Unity in Diversity'.



September 2015
Teacher's Day
Junior kids and their mothers presented a wonderful programme for the teachers. It was an outstanding show.
August 2015
Independence Day celebration
We Celebrated Independence Day on 15th of August. The National flag was hoisted followed by patriotic songs and a group dance.



January 2015

Class IX attended a workshop "Career development -The Right Way to Nation Building' organized by The Heritage School. The exposure to eminent professionals in different fields was a good experience for our students.


Saraswati Puja was celebrated in the school premises.
December 2014

Inter school fest organised by Vidya Bharti in the pursuit of 'Khoj'. Many schools participated our students participated in most of the events. Akshar came 2nd in Checkmate – Chess Competition.

Students participated in the annual Inclusive Inter-School fest 'SNEH' organised by Shushila Birla School. Additional needs children participated with lot of enthusiasm and won many prizes..
- 1st prize – Model Making (Theme Save on Earth)

- 1st prize – Dress to impress (LKG – II)

- 2nd prize – Rangoli

- 3rd prize - Novelty race

Akshar participated in an inclusive cricket and football tournament organized by Loreto College, Department of Psychology.

Akshar hosted Derek's Sunfest Yipee Noodles Challenge in school for classes 5 to 7.

Few of our students have been selected for the Junior NBA Hot Shot Basketball Competition organised by Reliance foundation.

1st place – Ananya P. Kulkarni

Amit Srimani was awarded one of the15 best physical education teacher in Kolkata by the Junior NBA, Reliance foundation.

The Senior Athletic Meet 2014 was held on 13th December 2014 on the grounds of Oxford Mission. The chief guest Lt. General Raman Dhawan. This year the House Cup was lifted by the Green House and the Medley Cup by Yellow House.
See Image

Akshar participated with 6 other mainstream schools in an inclusive concert 'Yeh Hai Duniya Meri Jaan…' organised by Trinayani NGO- endorsing the cause of disability awareness and oneness.
November 2014
Science Exhibition – 'Getafix on El-Com-Mix' -It was a dream come true, to see the entire school conjuring up the most spectacular exhibits – ranging from Machino techno, Liqui-pedia, Skittish elements, Ferrous-ticate, Up and down periodic table, Bond-o-blast, looking through the lense, Organised, System-a-tic, Green I.
Mrs. Dr. Anuradha Lohia, Vice Chancellor of Presidency College was the Chief Guest.
See Image

Children's' Day - A day trip to a Jute mill at Rishra, saw our children from class V to X enjoying themselves hugely, as they raced around the open spaces in glee – from shared food, to spontaneous games, to matches between the classes, they reveled in it all. Junior school (Classes II to IV) went to the Horticulture garden for a picnic. Little Akshar went to Zoo.
See Image

Scholastic organized their annual reading event ONE NATION READING TOGETHER. Schools across the country participated. At Akshar we allocated the 5th period to the event. Text books and other study material were put away. Story books were taken out and everybody from LKG to Class IX settled down to read – for pleasure! At the end of this event most children and adults-remarked on the quietness and calm. And almost everyone wanted to do this again.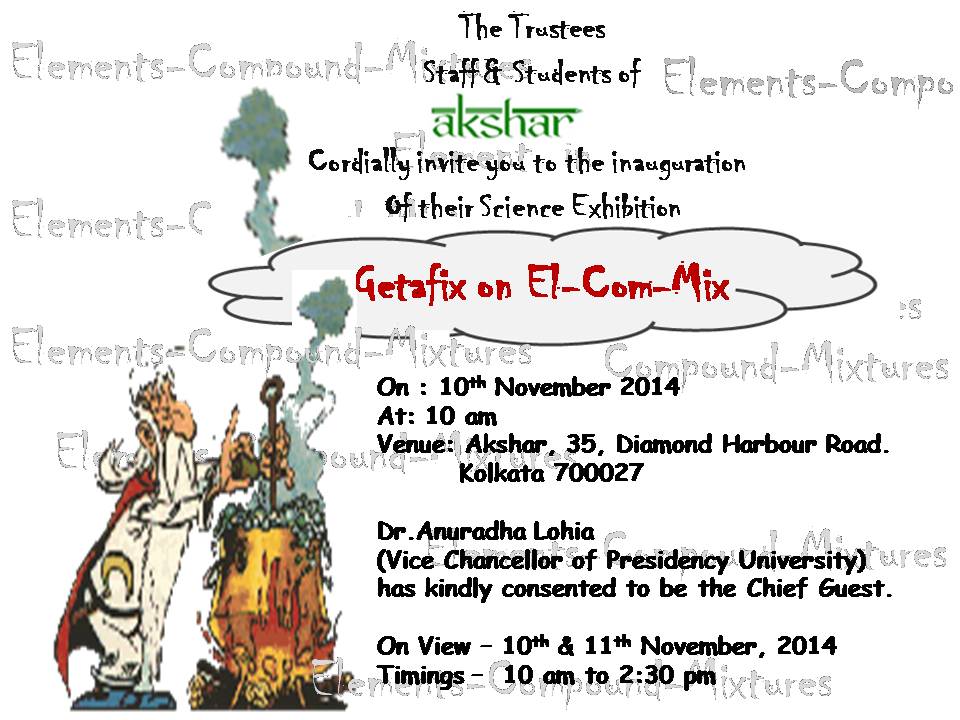 Workshops for Teachers
Some of the teachers gave of their time beyond school hours to attend the workshop and conduct the same for their colleagues'.
Two of our teachers attended workshop on 'The Challenges of Teaching Hindi to Non Hindi Speaking Learners' organised by Orient Blackswan. The resources person for the workshop was Mrs. Chandrika Mathur.
Teachers attended a workshop on "Teaching the History of the Freedom Movement to Young Children' at Victoria Memorial Hall at their 68th Independence day.
Teachers attended a lecture on "English Medium Instruction: Boon or Curse" conducted by British Council. The lecture emphasized on the global landscape on debates and issues on English Medium and content and language integrated learning, touching upon the differences between the two approaches which set the tone for wider discussions on the topic with a panel of expert respondents from Kolkata.
Teachers attended a workshop on 'Learning the Art of Quality Circle Time' by Jenny Mosely at La Martiniere for Boys.
A very interactive workshop on 'Values and Introspection 'was organised for teachers by Ms. S. Pradhan in the school premises.
Two of our teachers attended a Documentary film on 'The Revolutionary Optimists' at the American Center.
Participation by teachers
Two of our teachers / Ms. K.Khullar and Ms. Piyali Gupta participated in the Regional Summit School Principals on 'Discipline- New Challenges' organized by Institute of Counsellor Training Research and Consultancy (ICTRC)
July and August 2014
A busy month of participating in Inter School Fests

Saloni Pandey and Auntora Mitra represented Akshar in the preliminary of Frank Anthony Memorial All-India Interschool Debate Competition 2014 held at Vivekananda mission school.


'Milaap' organised by SPICMACAY. Students of classes VI to X participated and walked with many prizes.


Akshar participated in the Pariwar Milan Seva Sadan Inter School Patriotic Song Competition held at Kala Mandir. The lyric of the song was composed by one of our Hindi teacher Ms.Priyamvati Tripathi and the music was composed by our music teacher Ms. Arpita Chatterjee.
Students of Class IX participated in the Annual SLOBA Inter-school Debate organised by St. Lawerence School.


Students of class IX and X participated in the elocution Contest 2014 organised by Andrew Yule & Company Ltd.


Indradhanush – A Literary Extravaganza by Lakshmipat Singhania Academy where Akshar was declared "The Best Disciplined School'.


Inter –school quiz 'Quaestio' organised by Birla High School for Boys.


Akshar participated in Green I Contest 2014.

Inauguration of our school bus and school lift donated to us by the Rotary club.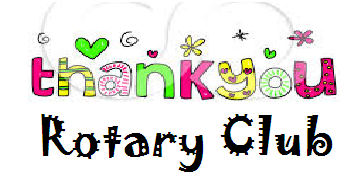 Akshar gives it student's roots and Thanks to Rotary for giving them wheels and wings to soar.
Students of class X (2013-14 batch) participated in Ram Awtar Gupt Pratibha Puraskar 2014 who secured 80% and above in Hindi in 2013-2014 ICSE examination organised by 'Sanmarg' newspaper.
The school celebrated Independence Day where each member of Akshar enjoyed the spirit of independence to the utmost. It was not just another 'holiday' for us. It was yet another day when we felt proud to be Indians. The theme for this year was 'Rights and Duties of Indian Citizens'. Students from class 6 to class 10 put forward the main idea through short enactments, songs, dance and recitations.
Grand closing of the month was with the participation of our school at the opening ceremony of The Telegraph School Award 2014 with a song- Peace in our Heart
June 2014


Annual Debate was held were the students of the senior school enthralled the audience with their speech. The topic for the motion was 'In Today's Day and Age a Stay at Home Parent is essential for the Child's Development'. There was a great response from the floor.
May 2014
Classes IX and X participated in the 3 – day fest 'Youthopia 2014' organized by The Heritage School.

Akshar celebrated 153rd birth anniversary of Rabindranath Tagore by organizing a Cultural Programme in school.
April 2014
The wait is over - New academic Year Begin
March 2014
•Time to study no time to waste – Students were appearing for their FINAL EXAMS.

•The school excursion for classes 7 to 9 to East Sikkim (Aritar, Zuluk and Kupup), a wonderful trip which once again opened the eyes to the beauty of our country. The hike was a test in endurance.
•A Dream Trip to Mumbai for the Further Education Students with Geeta Ma'am. They met Shahrukh Khan, Sonu Sood and Ram Kapoor.
Shantiniketan 'Abode of Peace', birthplace of Rabindranath Tagore, was a heritage trip with the Class V and the Life Skills unit. It was a fun filled memorable trip where we experienced the rich culture of Bengal amidst the open field s and enjoyed the breathtaking experience of studying in the open fields. It was a truly a journey one must undertake.

February 2014
•Saraswati Puja was celebrated in the school premises.
•Class IV's visit to the Indian Museum was exciting. The children were welcomed by the new friendly museum staff. A very meaningful trip, children came back satisfied.
•Class II went for an educational trip to the Horticulture garden on the 7th of February, 2014. Children enjoyed observing and learning about different kinds of flowers. Children enjoyed 'The Flower Show'
January 2014
•The junior sports day was held on 25th January, 2014 at the Hastings Ground. Akshar believes in doing things differently. Like every year this year the theme was 'Sports' children had great fun running the races and the parents too.

December 2013
•On the 5th of December Akshar organized an Integrated Cricket tournament At Vivekananda Park. The integrated teams were Manovikash and Heritage school, IICP and Laxmipat Singhania Academy, lamertenere for boys with Oral school and of course the Akshar Integrated team. The tournament was played with true spirit of inclusion between regular school boys and children with special needs including Akshar. It was a knockout tournament and after the first round matches each comprising of 6 overs of bating and bowling by each team. Children with special needs bated and bowled with immense enthusiasm. Final matches were between Manovikash and heritage inclusive team Vs Akshar .Akshar lost the match though showed true spirit of the game by helping each other in the game.
On the 6th the participating teams were Heritage school, Laxmipat Singhania Academy, lamertenere for boys and Akshar .Akshar and Lamertenere for boys played the final match in which Akshar lost.
•Upcoming event: The wait is over- the countdown begins! the first of its kind a inclusive fest 'AVSAR' will be held on 12 -13 December.
• Participating schools in partnership
*Apeejay - Apeejay
*La Martiniere for Boys - The Oral School for Deaf Children
*Manovikas Kendra - The Heritage School
*Indian Institute of Cerebral Palsy- Ballygunge Shiksha Sadan
Lakshmipat Singhania Academy
*Akshar - Akshar
November 2013
• Students of class IX were privileged to attend 'Golpomela' - Peace works Storytelling Festival organised by The Seagull Foundation for the Arts.
• Children day : Students of classes LKG to Class I visited Horticulture Garden for Children's Day Celebration.
• Akshar students of scouts, guides, bulbuls, cubs went for a three day Annual training Camp at Gadiara.
• Akshar was pleased to have visiting teachers from Dycorts School as a part of an exchange programme between Akshar and Dycorts. Students were excited to learn Christmas stories, crafts and songs. On the last day of their stay in Akshar we had a Christmas Carnival were the children presented a lovely song on Christmas..
• Students of Akshar participated in the Inclusive Fest organised by Loreto House ' Kalakriti'.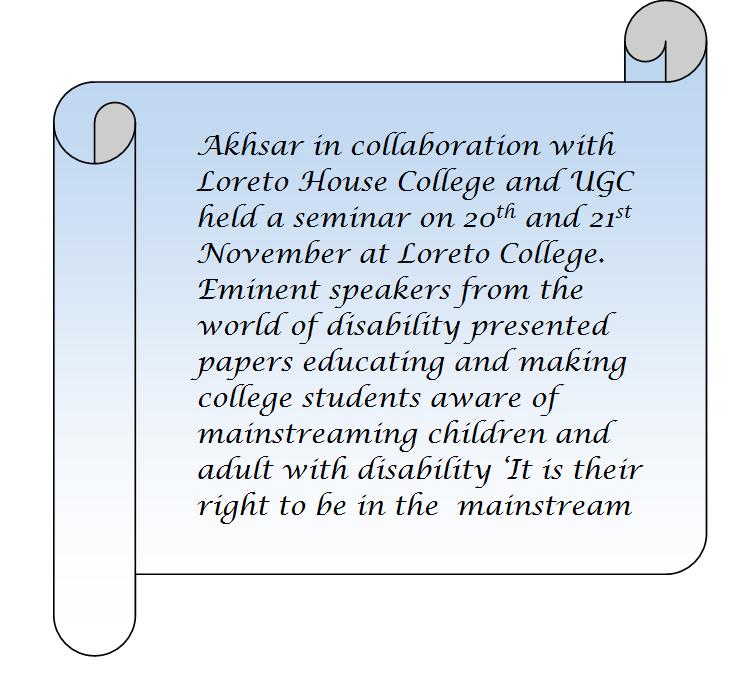 • Students of Akshar got the opportunity to visit the IICP Carnival Theme 'Yes We Can'.
• The Akshar 'Life Skill Unit 'showcased their talents and products to various Consulates members and Special Guests at the Exhibition organised by Akshar at The Harrington Street Arts Centre..
• The Akshar students participated in the National Level Painting Competition organised by Paryavaran Mitra..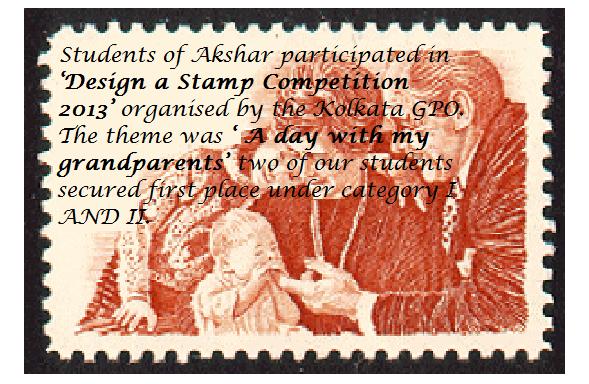 October 2013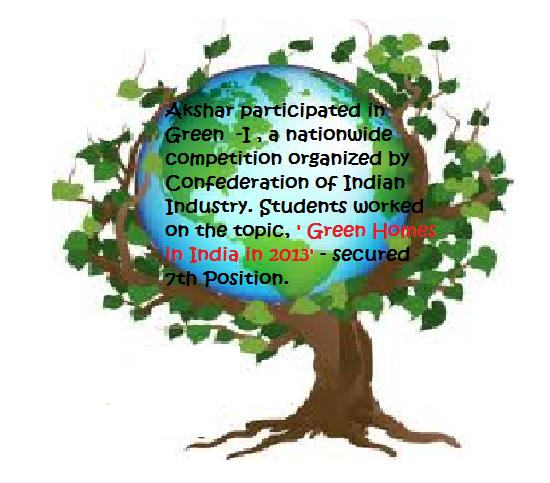 • Students of Akshar Participated in an Inter - School Basketball tournament for middle school girls organised by Calcutta International School. Students played the match with good spirit.
• Akshar students were privileged to campaign for the Awards Ceremony for the 'Backseat Buddies'- students campaigned for carpooling with slogans, jingles, road shows and final stage performance at Rotary Sadan. Akshar won the prize for school with best Props
September 2013
• A busy month of participating in Inter School Fests
- Little Akshar Participated in Abhivyakti – Inter school Fest organized by Delhi Public School.
- Participated in Inter school Quiz 'Quaestio' organized by Birla High school. Akshar got through the first round and went into the last eight, secured 7th position.
- Participated in the Inter- school Literary Meet 'Sanglaap' organized by the Heritage School.
•Workshop 'Out of thin air' was conducted by Ms. Shaili Sathya in Akshar premises. The workshop was about the methods of creating stories out of ordinary objects in classroom.
August 2013
• Students of Akshar participated in the 'Yule Elocution' contest organized by Andrew Yule and Company Ltd.
• Students of Class VII were privileged to watch a film in the school premises on 'Environment' by Earthsmiles.com.
• Students of Class IX got an opportunity to attend An Audio Visual Exhibition titled "Voices of India' organized by Weavers Studio Centre for Arts at the I.C.C.R.
• Odyssey 2013, Inter School Fest at Birla High School- bagged the 3rd position in Rock Climbing and the Talent show. Walked away with the Second Runner's up trophy of Starblitz.
July 2013
December Events and Only "Senior Sports Day Pics".
• Conservation crusaders, an art installation with waste is one such effort, to bring to the forefront the need to conserve our natural resources. The exhibition aims to spread the message of conservation and sustainability by showcasing the beauty that can be created from waste. The exhibits have been made out of reused and recycled products.
• The exhibition was inaugurated by the eminent artist Sri Shuvaprasanna and special guest Mrs. Bharati Deveshwar. Work done by outgoing students (ICSE 2013) with impressions on plaster of Paris and Linoleum prints showcases their Footprints in the sand of Time. Photographs taken by the students in the current batch of class X are also on display. Waste to art; spread over two rooms, as toys and installations made entirely out of waste such as old toys, boxes and perfume bottles. Junkyard science is filled with science models made out of recycled items. It also includes a demonstration on science with waste. Ecolibirium living showcases an urban eco-friendly house, with household items that have very low carbon footprint. Also on display are models of extinct animals, again made from recycled matter.
• NGOs such as Living Free and WWF, along with our Life Skills training Unit at Akshar put up stalls showcasing their products.
• Students from Birla High School, Modern High School, Heritage, IICP and The Oral School visited the exhibition. Also the faculty and teachers trainees from MAC came to visit the exhibition.
April 2013
• The wait is over - New academic Year Begin
March 2013
• Striving for success and strengthening of mind- Students were appearing for their Final EXAMS.
February 2013
• Children of class VII conducted an exhibition for the whole school and for their parents. An integral part of each student's life 'E-Electricity – Magnetism'. Brainstorming in class led to the chapter being dealt as a total 'hands –on activity only' topic. This resulted in a wonderful exhibition showcasing the children and their creative and innovative exhibits.
• Class VI students wer4e taken to a Military Tattoo conducted by the Indian Army. Students cherished the chance they got to get into bunker and tanks and also to see rifles and other machines used by the Army. A display of one day of life of our armed forces on the war front, paragliding, horse riding, rescue mission and Shwet Ashwa left students spellbound and made their heart fill with pride.
• Class VII students hosted a music soiree 'Baithak' for their teachers and parents. They presented songs based on Hindustani Classical Music. They sang patriotic songs and Rabindra Sangeet too. There was also a presentation on 'Raag Taman' and 'Teental', the basics of this raag and taal.
• Saraswati Puja was celebrated in the school premises along with 'Saraswati Fiesta' by TTIS. It started with a puja done by teachers and was followed by music, dance, unconventional orchestra and even quiz. Students got a chance to showcase their talent in non-fire cooking, flower decoration and rangoli and quiz when competitions were conducted on the same day.
• A troupe of artist from Germany performed 'Clown without borders' in the school. The children had a funfilled afternoon watching the clowns perform. The artists lived upto their name and called themselves Raita, Chilly, Palak. The colourful costumes, innovative props, interesting musical instruments and a hilarious performance had the children rolling with laughter. An exposure of this kind has a major impact on young minds and will stay in their minds for long time
• Class IV students were happy to see an exotic variety of plants and colourful flowers when they were taken to the Horticulture Society.
• Cubs and Scouts of the school participated in the Inter District Cubs Scouts competition held at St. Lawrence's High School.
JANUARY 2013
• Children of class IX went on their annual visit to the Rehabilitation Home for children, Barisha. It proved to be an eye opener for many of them. Stationery items were given by ITC. Chips and cake brought smiles to the children recovering over there
• Mr. Mohan Rai Origami, an artist of Pigeon Art, New Delhi had given a demonstration of paper cutting at Akshar. It was a marvel to watch him transform a simple kite paper into flowers, trees, lanterns and many more items
• Students of Class V went on an educational trip to Santhiniketan for three days.
• Students got an opportunity to have an interactive session with Ralph Dutt Ballerstadt, from United States of America. He had fruitful discussions with children on various cultures, resources like trees and birds, politics, connection between arts and maths etc.
December
December Events and Only "Senior Sports Day Pics".
• Akshar students participated in SMAYAN 2012 organised by SNEH, The Social Service Unit of Sushila Birla Girls' School.
• Students of Akshar were a vital part of a Baithak organized by Akshar, The Harrington Street Arts Centre and Sangeet Research Academy. The students got an opportunity to listen to some melodious music by renowned classical musicians like Vidushi Girija Devi and Ustad Rasheed Khan.
• An explosion of speed, colour and skill awaited us on our Senior Sports Day held on the grounds of SAI in Salt Lake on 15th December. The children from classes VI to X blazed their own trails of glory in track and field events. The hallmark of Sports Day was the inclusion of each and every child from the aforesaid classes. Chief guest was Mrs. Jane Thompson, Early Intervention specialist and wife of the U.S. Consul General, Kolkata.
• A visit to an old age home run by All Bengal Women's Union class X students proved to be an exercise in awareness and compassion. The ladies of the home and students had very lively interactive session of music, a medium that crosses all barriers of language and class. Our youngsters came away humbled and touched by their experience.
November
Activities
• Akshar students were privileged to attend a short play in school premise by Jana Natya Manch and discussions thereafter.

• A novel occasion of "Get Pet and Go" (much awaited annual pet show) was organized in school with Biped, Quadruped, Winged and Finned pets.
Click here..

• Akshar students participated in PCRA painting competition organized by Centre of Environment Education.

• Students of classes IX and X set out for a IAYP and Geography trip to Baranti Village and area of Damodar Valley Corporation (Panchet and Maithon dams)

• Students of Akshar performed in a musical soiree organized by The Harrington Street Arts Centre& ITC Sangeet research Academy.

• Students participated in a UN Interface- an interactive session with DerekO'Brien at La Martiniere School for Boys.

• Children's Day: Akshar Teachers proved to be magicians once again. They pulled out many rabbits from their hats to entertain the children. The children seemed to enjoy the programme which comprised a Medley of songs, a spoof on Cinderella and an energetic dance to the chart buster Disco Deewane. The Teachers perhaps enjoyed more than the students in putting up the show.

Click here..
Workshops:
• Akshar students got an opportunity to attend a Scottish Dance Theatre workshop in Calcutta School of Music at The Harrington Arts Centre which gave students an introduction to contemporary dance, the performance work of Scottish Dance Theatre, new movement skills, partner skills and creative tasks devised from various themes.

• Students of Class IX attended a special programme called Ranan School Connect Week. It encouraged students to discuss and foster opinions on theatre art and got opportunity to interact with International and national performers.

• Students attended a workshop on energy conservation conducted as part of URJA Chetana progamme organized by CESC.
October
Activities
• Students of Akshar took part in 'Kalakriti', an annual event organized by Loreto College for differently-abled children. It enabled our children to exhibit their talents and they bagged two gold, one silver and one bronze medal.

• Students took part in the Annual Science Quiz contest conducted by BITM and the Maggi Quiz held in the school premises.Click here..

• 'Spell Linc' competition was held in our school organized by Linc. Students of classes VI to IX participated and students have been selected for the next level (Inter-school competitions).

• Avsar 2012 (A Tribute to Charles Dicken's 100th Anniversary), An Inter School Fest was held in the school on 11 and 12 of October. Students of La Martiniere for Boys, Birla High School, Sushila Birla Girl's High School, Future Foundation school, Delhi Public School, Calcutta International School, Heritage school, Modern High School and Apeejay School participated and we were privileged to have noted luminaries of the city as our judges.

Tremendous creativity of ideas and effort was evident in varied events- Thematic Display, Yours Quizzically, Cover to Cover, Theme Music, Dumb Charades, Power Point, Theme for a dream, The Proverbial jam, Argumentative Indian, All the World's a Stage, Photography. The children outdid themselves in reaching out towards excellence. Our senior children were brilliant in organizing the entire event. Click here..

• Students of Akshar participated in Green I. They proudly prepared project report on our eco-endeavours. It is a nationwide competition organized by Confederation of Indian Industry. We worked on the topic, 'Your school and your environment'. Out of 115 schools Akshar secured the third position.

• Students took part in a marathon, poster making and quiz competitions as a part of 'Right to Green' conducted by Apeejay School, Park Street.

• Little Akshar held an exhibition on 17th October celebrating the different seasons, their uniqueness and exploring the different festivals that fall within these seasons. To reinforce the joy that each season brings we also looked at various festivals like Holi, Durga Puja, Diwali, Christmas and others which we celebrate. Click here..


September
Activities
• TEACHER'S DAY: A morning full of fun and frolic was presented by students to the teachers on the 5th of September. Thank you to the parents of classes Kg to V who made it such a success.

• High tea at Akshar: Class X students celebrated a tea festival in the school. The aroma of different types of tea welcomed the teachers into the room. It served a dual purpose- as a part of geography project and to inculcate interest in research.

• Akshar students participated in "Quaestio", an Inter School Quiz organized by Birla High School and attained the third position in.

Awards
• Akshar is ranked India's Number One day School on the parameters of Special Needs Education in the 'Education World India School Rankings' 2012

• Sourya Sinha, from the 2011-12 ICSE batch students received the much acclaimed The Telegraph School Award for Courage. We are proud of him.

Click here..
Workshops:
•Teachers and students of Akshar attended "A Blindfolded Sensory Photography" workshop conducted by Beyond Sight Foundation at The Harrington Street Art Centre which proved to be an enriching experience. It is a not-for-profit organization prompting the art of photography in people with visual impairment and capacity building around the "Non-Retinal" Art culture in India. It provides a platform for the visually impaired to share their "Inner Gallery" of images – their imagination and point-of-view of the visual world, and speak out about their unique experience, feelings, challenges and hopes. One of our teachers observed "It is an unusual experience- it gave me new perspectives and insights. It also answered many questions I had wondered about."
August
Activities
• Students attended a three-day long Peace-Lit Debate conducted by Seagull Foundation for the Arts. They dealt with the topic, 'how to make the world peaceful' by discussing various issues of division in society.
• ' Today when almost everything is available on the net, teachers are becoming redundant', a topic that can set a stage on fire was dealt well by our students who participated in St. Lawrence Platinum Jubilee Inter-School Debate organised by St.Lawrence Old Boy's Association (SLOBA) on the occasion of St.Lawrence Day.
• Little Akshar students were taken to witness recreation of Krishna's life in the form of a tableau. The presentation was put together by grandparents of Nilesh Moore, a former student. Our Little Aksharites were entranced by the spectacle.
• We were privileged to get an opportunity to interact with students from Europe. The students are also known as YAPs (members of the Young Ambassadors programme). The session proved to be interesting, fun filled and at the same time informative.
Click here..
• The school celebrated Independence Day where each member of Akshar enjoyed the spirit of independence to the utmost. It was not just another 'holiday' for us. It was yet another day when we felt proud to be Indians.
Click here..
• Students of Akshar took part in "TIRANGAA – Inter Cultural Fest 2012", an Inter-school platform for children to exhibit the best of their talent in Art organized by Pailan World School on the topic 'save the roar save the tiger.
Click here..
• Students of Class VI were taken to visit the architectural wonder, the Victoria Memorial Hall. It was conducted as a part of ISA (International School Awards) Programme.
Click here..
• Students of Class VI were mesmerized by the show on the formation of solar system when taken to Birla Planetarium.
Workshops:
• A very interactive workshop on environment was organised for teachers by Ms. Jayanti Neogi. The art of waste management was explained in a very novel way.
July
Activities
• Non- fire cooking competition - A very exciting morning at Akshar with parents and their children cooking up a storm with their culinary skills.
Click here..
• Milaap- Inter School competition organized by SPICMACAY at Apeejay School. Students of classes VI to X participated in this colourful fest of spirited bonhomie.
• ODYSSEY 2012, Inter School Fest at Birla High School – Our students went on their own odyssey of discovery.
• Musical stage show "AMRA SHABAI RAJA" a tribute to Tagore organized by Margam, an NGO in collaboration with Ministry of Cultural Affairs, Government of India and conceptualised by Dr. Rajeev Chakraborty, a renowned Sarod player- a beautiful rendition by our little princes and princesses.
Workshops:
• Workshop on silk screen printing and block printing conducted by Mr. Bappaditya Biswas of Byloom for Class X and children with additional needs.
• Teachers attended a workshop on "Teaching and Practicing Language" conducted by Mini Joseph at the British Council. Click here..
• Teachers of Akshar attended a workshop on "Making independent learners" conducted by British Council which emphasized on 'Task Based Learning'.
• Teachers attended workshop on 'Teaching and Practicing language' at the British council which aimed at teaching grammar in a more meaningful manner.
PT Meetings
• Junior school
• Senior school
• OBE, NIOS, Further Education.